Colleagues Connect in Classroom, Coaching
September 17, 2019
MATTAWAN — When students enter one of the social studies rooms at Mattawan High School, they should not be surprised to see a white board full of Xs and Os.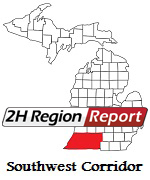 It is not a game of tic-tac-toe, just a series of football plays.
With three head football coaches teaching in the same wing, there is plenty of pigskin conversation being tossed around before and after school.
Ryan Brown, who teaches social studies and power training, is in his fifth year coaching Mattawan. Wade Waldrup, who teaches social studies and English, is the first-year head coach for Lawton. And Matt Stephens, a social studies teacher, is in his fourth year guiding the program at Paw Paw.
The coaches, who are also friends, do not have to worry about going head-to-head at any time.
"There's no chance we'll play against each other, not in the playoffs or anything," Waldrup said.
That is because the schools vary in enrollment enough that, should they qualify, they will end up in different MHSAA playoff divisions when those are determined after Week 9. The three schools also play in different conferences, with Mattawan in the Southwest Michigan Athletic Conference West, Lawton in the Southwestern Athletic Conference and Paw Paw in the Wolverine.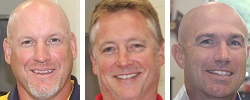 "I'm glad we don't play each other because for me, I take my competition very personally and I think they're both the same way," Brown said. "It wouldn't cause issues, certainly not professionally, but personally you're not as close. You can't share, and I would miss that."
Added Stephens: "I appreciate the fact that I coach at a school where I come to work every day and don't have to look at the athletes from Mattawan and know that I'm going to have to play against them.
"I think that allows me to have some comfort in that I can root for Mattawan and I can root for Lawton because I'm at a different level."
Sharing is what the three often do, and all agree that they tap into each other's strengths.
"Matt is more of an offensive guy," Waldrup said. "I'm more of a defensive guy. Matt's probably the more creative one and I think Ryan is really good at fundamentals and technique."
Stephens said another advantage is understanding the ups and downs of the season.
"We've known each other for so long, honestly when one of us is down and one of us is up, it's 'We feel your pain,'" he said.
"It's not this issue of we won and you didn't. It's more like, 'We've been there before.'"
Although Lawton is 3-0 on the young season, "Matt is probably the top dog because Paw Paw (3-0) is ranked No. 1 in the state," Waldrup said.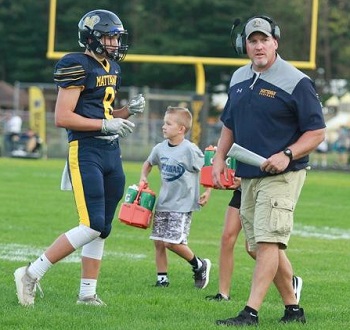 Mattawan is 1-2, but like Paw Paw made the playoffs last season and opened this fall with an impressive win over Kalamazoo Central.
"Honestly, rankings are just media's way of trying to keep people interested," Stephens said. "We're talking to our kids about what they're going to do to earn it. Being No. 1 is great, but Plainwell doesn't care if we're No. 1 and neither do any of our other opponents.
"If you get a No. 1 ranking, that just fuels the fire for other teams. We feel fortunate, blessed to be given that credit, and it's nice for the kids. But at the end of the day, it all boils down to how you perform."
The trio's coaching connection goes way beyond this season.
"There's a little bit of a coaching tree with Ryan, myself and Wade and I guess it all filters under me, but not necessarily intentionally," Stephens said.
"I was head coach at Mattawan, so Ryan worked under me quite a while and Wade worked under me for one year before going to Constantine."
In addition, both Stephens and Brown played football at Vicksburg High School.
Stephens was an assistant under then-coach Denny Patzer while Brown was a player there.
Brown connected with Waldrup after starting his teaching career at Mattawan 19 years ago.
"Many moons ago, Wade was my student teacher," Brown said. "That was a fantastic experience.
"He left and went to Constantine, then came back this way."
Waldrup said he came late to education, joining the U.S. Marine Corps after graduating from Clawson High School near Detroit.
He spent nine years as a Marine, then decided to go into education after returning from three years in Okinawa during Desert Storm.
Before taking the job at Lawton this year, Waldrup was Brown's defensive coordinator at Mattawan, making a splash at the first game last season.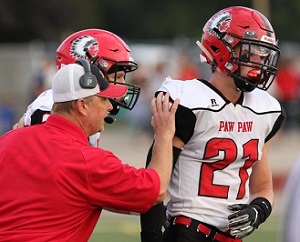 "Our first game last year, I always get coaches the pullovers, shorts, polos and hats, and Wade shows up wearing this gold hat and gold shirt and bright pants, and I was like 'Where's that from?' Brown said, laughing.
"And he said 'I've got my own stuff.' I always tease him that he had to stand out. He was the golden child. He said he wanted the defensive guys to see him, which makes perfect sense. But at first it was like this bright yellow and I was like, 'Whoa.'"
Stephens and Waldrup keep their teaching and coaching lives separate.
"When we're here during the school day, we try very rarely to talk about the other schools that we coach at so we can be a fan of our kids," said Waldrup, adding that they never wear gear from their football schools while teaching at Mattawan.
When Friday nights roll around, the three are rooting for each other, and they dissect the games on Monday.
"We throw ideas off each other absolutely all the time," Stephens said.
Brown said there is a definite coaching connection between the three.
"There are some things only they get, only they understand," he said. "They talk about the Presidents Club, the ex-presidents and how they're so close after they leave office.
"That's how I feel like with those guys. I can look at them and give them a look and they're like, 'Yeah, I know.'
"I always say I would want my kids to play for either one of those guys, to have that experience. They're good men, and that's the first mark of a good coach, I think."

Pam Shebest served as a sportswriter at the Kalamazoo Gazette from 1985-2009 after 11 years part-time with the Gazette while teaching French and English at White Pigeon High School. She can be reached at pamkzoo@aol.com with story ideas for Calhoun, Kalamazoo and Van Buren counties.
PHOTOS: (Top) Clockwise from left, Paw Paw's Matt Stephens, Mattawan's Ryan Brown and Lawton's Wade Waldrup all teach at Mattawan during the day and coach local varsities after class is done. (Middle) From left, Brown, Stephens and Waldrup. (Middle below) Brown prepares to talk to his team during a break. (Below) Stephens sends players back onto the field during the team's 3-0 start. (Mattawan photos by Haley Hagen/Paw Paw Courier-Leader. Paw Paw photos by Matthew Day/Hot Shotz Photography. Lawton photo courtesy of Wade Waldrup. Head shots by Pam Shebest.)