Constantine Comeback Gets Running Start
September 6, 2018
Shawn Griffith is fully aware of the fact he's now coached fathers and sons, uncles and nephews during his tenure at Constantine High School.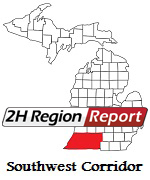 That doesn't make him old, he says; it just means he's "seasoned."
It also means he's now been around long enough to experience both the highs and lows of coaching. Traditionally one of the state's small-school powerhouses, Constantine lost its way in 2017 with a 3-6 record — Griffith's first losing season since taking over the program in 2007 and the school's first sub-.500 season in 26 years.
With a pair of Division 6 championship game appearances (2011 and 2012) and a 114-36 overall record to his credit, last autumn's fall from grace, though somewhat expected, he said, was a reminder that high school sports still have a cyclical nature.
Attrition, inexperience, lower participation numbers, defensive struggles and fractured team chemistry all attributed to the disappointing season. Still, the Falcons were four points away from five wins, which likely would have been enough to qualify for the playoffs. With a 5-4 regular-season record back in 2013, Constantine went on to advance to the Regional Finals, underscoring Griffith's mantra of improving each week and what can be accomplished by doing so.
"We knew last year we were going to go through some growing pains," Griffith said. "I think the 3-6 thing really helped these guys focus in the offseason, and they have done a great job coming together."
Now the Falcons, 2-0 this year after blowout victories against Gobles (56-0) and Quincy (42-7), are out to reclaim their seat at the table, with expectations just as high as they've always been. A few players only need to look at their family trees to be reminded of what's possible.
Senior fullback Brendon Schragg in particular has a bloodline that traces back to the most memorable year in Constantine football history, as his uncles literally carried the Falcons to their only MHSAA football championship.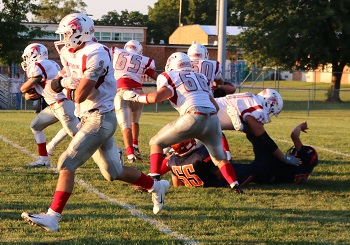 With Griffith then serving as offensive coordinator in 2004 — just the second season after he transitioned the offense from an I-Formation to the Wing-T — senior twins Jim and Mike Schragg lined up in the backfield for the Falcons and combined for nearly 3,800 rushing yards, fueling the team's title run and 13-1 record.
Mike Schragg, a tailback, rushed for more than 100 yards in the championship game against Suttons Bay, a 34-13 Constantine victory. But it was fullback Jim Schragg's legendary effort that put him atop the MHSAA record book list for yards in a Final after he went for 307, including an 89-yard run.
"We were loaded with backs," Jim Schragg said. "It's a fun offense to run. Some parents get ticked off that we don't throw it enough, but you have three bad things that can happen with a pass and not too many bad things can happen with a run.
"It's cool to have your name there with the record and all that. But the state championship is more important to me than the record and running for over 300 yards. The state finals was the whole goal for our senior class. It was state championship or bust. That was what every single kid played for on that team."
Some things haven't changed. Though going from a three-win season to a state title is extremely unlikely, Brendon Schragg and his teammates believe they can put together a pretty special year.
"They were superstars to me," Schragg, who rushed for 575 yards and five touchdowns as a junior, said of his uncles. "I always had the dream that if you go to state, I want to go to state. That's been a goal since I was 4 years old.
"In my opinion, come Week 5 when we start our (Southwestern Athletic Conference) games, I think we are going to come out and compete. There isn't a doubt in my mind we can't win a league title. I ask myself a question every day, 'Why not us?'"
Brendon Schragg is a three-year starter and one of three returning backs this season. The Falcons haven't needed complete games out of the trio in the victories so far this year, but Schragg has 145 yards and two TDs on 14 carries. He and teammates Hunter Lindbert and Josh Lawson will probably split the load the rest of the season. Lindbert has compiled 188 yards and 4 TDs on 14 carries, and Lawson has 235 yards and two TDs on 18 carries.
Of course, none of it would be possible without the big guys up front.
"We're just more physical in the trenches this year," Schragg said of linemen such as Trenton Stears, Marquise Wykle, Matt Hutton and Austin Loose. "Hutton, our center, both his uncles played on the state championship team, believe it or not."
Part of Griffith's job is to both encourage his players to shoot for the moon and to make sure they also have their feet firmly planted on the ground. He certainly understands there are challenges ahead with teams like Kalamazoo United, Watervliet and Schoolcraft.
"We look a lot better," he said. "But we're certainly not naïve; we see some pretty darn good football teams on our schedule here coming up. I think our guys have done a real good job of not blowing this out of proportion. It is what it is; it's a good start. They have done a good job of concentrating and preparing week to week."

Wes Morgan has reported for the Kalamazoo Gazette, ESPN and ESPNChicago.com, 247Sports and Blue & Gold Illustrated over the last 12 years and is the publisher of JoeInsider.com. He can be reached at wmorgan@joeinsider.com with story ideas for Berrien, Cass, St. Joseph and Branch counties.
PHOTOS: (Top) Constantine defensive players motion for a turnover during their win over Gobles in Week 1. (Middle) Brendon Schragg, far left, breaks through the Gobles defense. (Photos courtesy of JoeInsider.com.)