De La Salle Collegiate Quickly Sets Pace, Aces Ford Field Return
DETROIT – Rhett Roeser and his Warren De La Salle Collegiate teammates weren't fond of the feeling they walked away with a year ago following the MHSAA Division 2 Football Final.  
They acted in quick and ruthless fashion Friday to make sure history didn't repeat itself. 
Led by junior quarterback Brady Drogosh's four touchdowns and 316 total yards, the Pilots cruised to a 41-14 victory against Traverse City Central at Ford Field, claiming the fourth Finals title in school history. 
"This is a great feeling," said Roeser, a sophomore running back. "This is what we've been working for and what we've been striving for. After we lost last year, we knew we were going to be in the same place and we were going to be on the other side of the ball with this one." 
The Pilots were Division 2 runners-up last season, losing in the Final against Muskegon Mona Shores. They responded with the first unbeaten season in school history, and first title since 2018. 
"We had high expectations for this group and the program," De La Salle coach Dan Rohn said. "We lost last year in the Finals, and it kind of left a little mark on us. We kind of weren't ready, and that was a great Shores team; they did some great things. Playing Traverse City Central and getting the opportunity to come back here and compete at the highest level, that was important. But our goal was not to get here, it was to win it, and it's awesome that we played so well and got off to a quick start." 
Rohn became the third football coach in MHSAA history to win a Finals title with two schools, as he led Grand Rapids West Catholic to championships in 2010, 2013, 2014 and 2015. Pete Kutches (Muskegon Reeths-Puffer and Muskegon Catholic Central) and Mike Giannone (Macomb Dakota and De La Salle) are the others. 
"To take a little time off and reflect on things, then to get embraced by a community like De La Salle, it means a lot," Rohn said. "Some people don't get a chance to come and do this, and I've been fortunate to be here seven times and win a number of them. It's not just about me, it's about the guys that I surround myself with – the coaches and these players. We have some tremendous kids, tremendous support, and we hope that we can build something really special at De La Salle." 
De La Salle controlled the game from the outset with a suffocating defense and a balanced offense. Traverse City Central was held to 31 total yards in the first half, and gained 100 of its 149 yards for the game on a pair of drives in the fourth quarter after De La Salle had built a 41-0 lead. 
"Coming in they averaged 50-some points per game, so we knew we had to get off to a good start and punch them in the mouth from the beginning," said De La Salle senior linebacker Will Beesley, who led the team with eight tackles. "Our motto this week was bring the wood, be the most physical team on every play, and I feel like we did that today."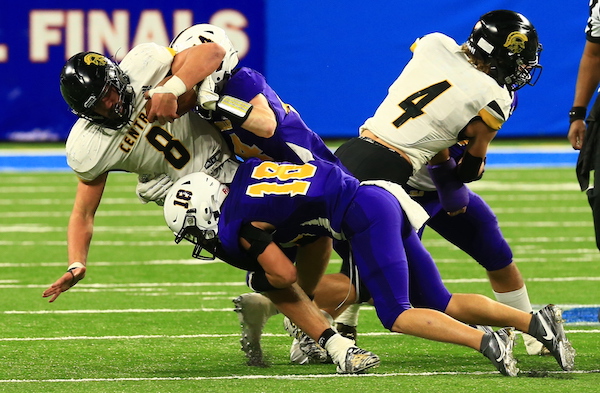 Drogosh had accumulated a solid game's worth of stats by the time the first half ended. He was 14-of-17 passing for 142 yards and three touchdowns, and he added 128 yards on the ground, including a 45-yard touchdown. He didn't add to his passing total in the second half, but finished the game with 174 yards on the ground.  
"I've been saying all year long that Brady Drogosh is probably the best athlete on the football field," Rohn said. "There's a number of positions he could play, and I think a lot of teams would probably play this kid on defense, too, because he runs so well. We've played some great competition all year long and he hasn't hesitated, he hasn't backed off. We got our passing game going, we got our quick game going and I think that just opens up so many more things for us." 
The Pilots (13-0) scored on all five of their possessions in the first half, and dominated the time of possession, holding the ball for 17 minutes, 11 seconds and putting together three drives that lasted more than five minutes apiece.  
Roeser opened the scoring with a 1-yard run, closing out a 13-play, 80-yard drive. The Pilots went 62 yards on 12 plays on their second drive, ending with a 20-yard touchdown pass from Drogosh to Triston Nichols. The third touchdown drive was much quicker, as its second play was Drogosh's 45-yard touchdown run. 
Nichols and Drogosh combined again for a 13-yard score during the final 30 seconds of the second quarter, and following an interception by Devin Schmelter, the Pilots struck again when Drogosh hit Alton McCullum for a 24-yard score. The lone blemish for the Pilots in the first half was a 15-yard penalty following that score which pushed back the extra point try, which missed wide left.  
"Our receivers, they've been starting for two years, so we put the ball in their hands a little bit and let them take advantage, and Brady distributed the ball, we didn't turn it over and we didn't have penalties," Rohn said. "When you do all those things and put it together, you're going to win some football games. We grinded it out a little bit. We didn't force and try to get big plays. We stuck with the game plan and took what they gave us early, and kind of put them in a position they haven't been in." 
DeNiro Johnson added a 1-yard touchdown run late in the third quarter for the Pilots. Jamari Allen set up the score with an interception and return deep into Traverse City Central territory. 
Jack Yanachik led De La Salle receivers with seven catches for 64 yards, while Nichols had five catches for 50 yards. James Milkey finished with 1½ sacks for the Pilots.  
Josh Burnham put the Trojans (12-2) on the board midway through the fourth quarter with a 5-yard touchdown run. Joshua Klug scored on a 24-yard run with 1:28 to play. 
Klug had nine tackles to lead the Trojans, while Burnham had eight. Reed Seabase led the Trojans offense with 56 yards on five carries. 
"These guys mean a lot to me, our staff and our program – and the Traverse City community," Traverse City Central coach Eric Schugars said. "These guys have just buckled in and committed to the process. They've played a lot of football. When you think about it, we played in January last year, and you don't take off. You take a little bit of time for other sports, but these guys have been with us, they've committed to the process and done everything possible.
"I couldn't be prouder. Obviously, we didn't play our best game tonight. I really believe we have a best game in us still, and we didn't play it tonight, and that's a credit to De La Salle." 
PHOTOS (Top) De La Salle's Brady Drogosh (12) breaks into the open Friday, with Central's Brayden Halliday (20) in pursuit. (Middle) The Pilots' Devin Schmelter (18) helps bring down Trojans quarterback Josh Burnham (8). (Photos by Hockey Weekly Action Photos.)