FHC's Hallock Shines in Green & White
August 22, 2018
By Dean Holzwarth
Special for Second Half
GRAND RAPIDS – It was pretty much a foregone conclusion that Tate Hallock would eventually wind up wearing green and white.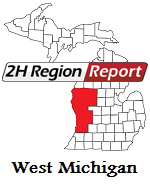 The Grand Rapids Forest Hills Central senior receiver already has had plenty of success wearing those colors, and he's always wanted to follow in the footsteps of his family members.
In June, Hallock verbally committed to sign with Michigan State's football program. He will join his brother Tanner, a second-year walk-on who redshirted last year.  
Hallock's father, Ty, played at MSU from 1989-92 and was drafted by the Detroit Lions in 1993. Ty Hallock played eight seasons in the NFL with three teams (Detroit, Jacksonville and Chicago). Tate's mother, Jennifer, also graduated from MSU.
"I think my whole life I knew I wanted to go to Michigan State," said the 6-foot-4, 190-pound Tate, who also was recruited by Notre Dame and several Mid-American Conference schools.
"Obviously my brother plays there, so that was a huge factor, and overall the legacy of my family going to Michigan State played a huge role in that, too. My brother and I had a plan when we were younger that we were going to play together there, so I was able to get that opportunity and commit."
The Spartans will get a playmaker who produced on both sides of the ball last season as the Rangers turned in one of the best in school history.
Forest Hills Central set a school record for wins, finishing 12-1 with the lone loss a shutout by Livonia Franklin in the Division 2 Semifinals.

Hallock had 779 receiving yards and 10 touchdowns a year ago, while also recording 81 tackles on defense.
"He is a threat to score on every down on offense," FHC coach Tim Rogers said. "He has excellent speed and can go up and take the ball away from most defensive backs. We will move him from free safety to strong safety this season. He's always around the ball, and he's a violent tackler."
Tate Hallock is in daily contact with his brother, who played a major role in FHC's resurgence two years ago as the starting quarterback.
Tanner Hallock helped lead the Rangers to a nine-win season and playoff berth in 2016.
"We are very close, and I talk to him every day," Tate Hallock said. "We're always keeping each other in line, and I've learned a ton from him. He was a huge leader two years ago, and he really helped put the program back on track."
Tate Hallock was just born when his father retired from the NFL, but he's been around football his entire life.
He credits his father for teaching him the game and providing encouragement when needed.
"My dad has really taught me everything, and he just talks to me about being a leader and playing my role," Tate Hallock said. "He's my best motivator and the one I really look up to."
While Tate Hallock waits for his time in East Lansing, he's excited to play one more high school season and build off last year's historic run.
"I'm definitely looking forward to next year, but I'm glad I'm finally done with the recruiting process so I can focus on this year and bringing home something for FHC."
Hallock will benefit from having his longtime friend around to throw him the ball.
Senior dual-threat quarterback Luke Majick returns to engineer a potent Rangers' offense. He threw for 1,787 yards and 21 touchdowns last season while also rushing for 840 yards and 15 touchdowns.
"I think it's very important that we're both back, but definitely Luke, because you need a quarterback and he brought a lot to us last year," Tate Hallock said. "I think that will be the key to our success this year."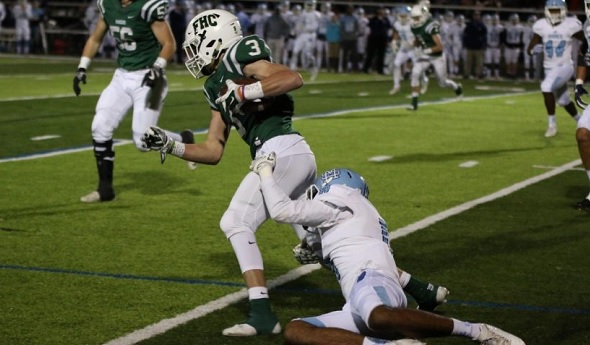 Tate Hallock and Majick aren't just teammates. They've known each other since elementary school and have developed a bond on and off the field.
It's a connection that has enabled both of them to thrive.
"We've been best friends since fourth grade," Tate Hallock said. "I think I'm capable of getting open, and he just knows where I am. We have good chemistry because he's used to throwing me the ball."
Majick echoed those sentiments, as both seem to always be in sync.
"We have great chemistry because we're best buds, and I always know where he is going to be at on the field," Majick said. "He's so fast and tall, he makes my job a lot easier.
"Going to Michigan State has always been his dream, and I've been to a couple games with him. It seems that's where his heart's at, and I'm sure he'll do great there."
Tate Hallock hopes to prove last season wasn't a one-time phenomenon. The Rangers have similar goals in mind, and ending the season at Ford Field instead of watching at home would be at the top of the list.
"I think you should prove something every year, and we definitely showed that last year and the year before," he said. "The senior class really took a step forward last year, and now we need to take another step forward and show what we are all about.
"We definitely want to go undefeated during the regular season again and get to the state championship, but it's really a day-by-day process starting with Jenison (on Thursday) and going from there."

Dean Holzwarth covered primarily high school sports for the Grand Rapids Press and MLive for 16 years and more recently served as sports editor of the Ionia Sentinel and as a sports photojournalist for WZZM. Contact him at dream100@comcast.net with story ideas for Allegan, Kent and Ottawa counties.
PHOTOS: (Top) Tate Hallock (3) turns up field looking for yardage last season against Traverse City Central. (Middle) Hallock works to pull away from a Muskegon Mona Shores defender. (Action photos courtesy of The Central Trend.)