Football Teams Mourn, Regroup, Remember
September 2, 2015
CLINTON TOWNSHIP – A rash of deaths of high school football players in Macomb County and elsewhere in the Detroit area has shaken those communities and the football programs within them.
Three football players at Clinton Township Chippewa Valley have died in the past 16 months. This past May, two players from Sterling Heights Stevenson and one from Utica Ford died in a horrific automobile crash at Stoney Creek Metro Park. Another football player at Southfield High drowned in a swimming pool shortly before the start of practice last month.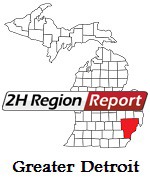 One player at Chippewa Valley died of cancer, another died from injuries suffered as the result of an accident that took place in a home and the third died Aug. 5, five days before the first official day of practice, in an all-terrain vehicle crash that took place in the northeast region of the Lower Peninsula.
Chippewa Valley coach Scott Merchant played for coach Al Fracassa at Birmingham Brother Rice and then went on to play at Albion College before becoming a coach. Merchant remains shaken by the tragic events that have befallen his program.  
In addition to the deaths of his players, two parents of former players, one only 46 years old, died during this time frame.
"They don't give out manuals for this," Merchant said. "It's taken a lot out of me, personally. I don't know. I've spent so much time away from my family, going to hospitals, going to funeral homes. You're talking about young people's lives here.
"I don't know. I go to church. I believe in God. He has a plan. It's hard to look a 16- or 17-year-old in their eyes and make sense of it all."
Coaches coach, but there is so much more they are asked to do. They are expected to be mentors. They are often expected to be father figures. Sometimes they act as counselors, even if it isn't in their job description. Perhaps most importantly they are leaders. They instruct their coaches and give them responsibilities. Players follow their directives and look to them for guidance.
On top of this, coaches are expected to be successful on the field. And a vast majority accept these responsibilities and a modest financial reward with a smile.
But when one of their players dies while still in high school, coaches must also remain emotionally strong for those who are too young to comprehend the finality.
Words of encouragement and a strong embrace can go a long way in times of trouble.
"We tell them, we're here for you," Merchant said. "We love you. We're all hurting. We tell them there are two options. You can quit and be miserable. Or you can get off the ground and keep their memory alive."
Nick Ureel was a senior at Chippewa Valley when he died of cancer in April 2014. Ureel played football his first two years but the cancer, which began in his testicles, prevented him from playing his junior and senior years.
Alex Mackmin was 16 years old when he died this May. He played on the junior varsity as a sophomore last season.
Merchant held workouts on Aug. 3 and 4 before letting his players go and enjoy the final few days before the start of practice Aug. 10. Duncan Blair, a senior who would compete for a starting position at linebacker, travelled north on vacation. He died while riding a four-wheel off-road vehicle that struck a tree.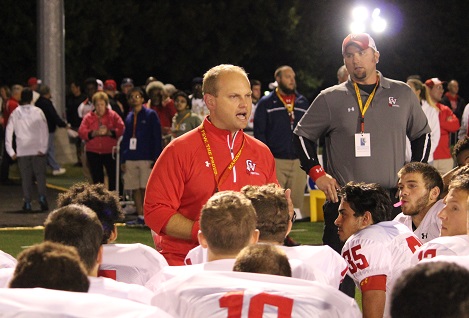 Coincidentally the Mackmin and Blair families attended the same church in Utica. Both funerals were held at that church.
Blair's parents rode the fan bus to Wayne State University for Chippewa Valley's opener against Lake Orion. Rhys Blair runs the concession stand at Chippewa Valley.
The circumstances were much different for the players who died in the crash in early May in northern Macomb County – but it was no less tragic.
Jonathan Manolios and Emanuel Malaj from Stevenson and Michael Wells from Utica Ford were killed in a car crash. All three played varsity football as juniors in 2014. Two other high school students were injured in the crash and both survived. All five were 17 years old at the time of the crash.
Last season was Kevin Frederick's first as head coach at Stevenson. He was the former head coach at Whittemore-Prescott.   
Frederick had never dealt with anything like this before.
"It was devastating," he said. "We had a meeting with the kids at school and discussed why it happened. There were grief counselors available. I did meet with some of the parents. Some reached out and said their son wasn't handling it well.
"We warned our kids not to go on social media after. People forget (the students) were very young. There were some very unkind things said on social media. Alcohol was involved. Their mistake cost them their lives. We tell them to think before you get into a car. Think before you take a drink.
"Scott's circumstances were different. Kids act in a way … it costs them dearly. Some walk away and grow. This time they didn't walk away."
Chippewa Valley and Stevenson are members of the Macomb Area Conference Red, and the teams will play Sept. 11 at Stevenson. Both coaches say they will do something to remember those who died. 
Chippewa Valley opens its home season a week later against Warren Cousino. Merchant said his players will wear black jerseys instead of their traditional red to remember those who died.
"Football isn't an escape," Merchant said. "It's a distraction. It takes your mind off of it, but it really doesn't. We have pictures of all three (students) in our locker room. They are there to remind us."

Tom Markowski is a columnist and directs website coverage for the State Champs! Sports Network. He previously covered primarily high school sports for the The Detroit News from 1984-2014, focusing on the Detroit area but also contributing to statewide coverage of football and basketball. Contact him at tmarkowski@statechampsnetwork.com with story ideas for Oakland, Macomb and Wayne counties.
PHOTOS: (Top) Chippewa Valley players are wearing the numbers of three deceased teammates on the backs of their helmets this season. (Middle) Coach Scott Merchant addresses his players after last week's win against Lake Orion at Wayne State University.