Harbor Beach is Title Town
November 23, 2012
By Geoff Kimmerly
Second Half editor
DETROIT – Harbor Beach always has considered itself a football town. Beginning with its last run to an MHSAA championship game in 1991, the Pirates have amassed six seasons with at least 10 wins – including four over the last decade.
But the 1,600 residents living along that stretch of Lake Huron shoreline now can call it the home of a champion as well.
Harbor Beach claimed its first MHSAA football title Friday, beating two-time champion Beal City 35-10.
Only two years ago, the Pirates were coming off their third straight losing season. But they bounced back with a District title in 2011, and also set a school record for wins this fall finishing 13-1 – guaranteeing this group will be remembered with special regard among the many who have made marks on the program.
"We're state champions," Pirates senior Aaron Ginther said. "That's all I have to say," leaving junior quarterback Eli Kraft to elaborate.
"I couldn't be prouder of our team. We lost Sloan earlier in the year, and everybody gave up on us. But what matters is we stuck together and we believe in ourselves, and we believed that if we worked hard every day in practice we could get it."
"Sloan" is senior running back/linebacker Sloan Klaski. He's 6-foot-2 and 195 pounds and ran for 1,041 yards and 19 touchdowns last season, but was knocked out for this one by an injury on opening night.
That could have knocked the feet out from under Harbor Beach's title march before it got started. Instead, the Pirates began a stand that carried through the season's final day.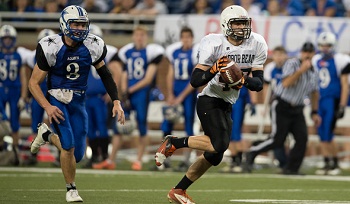 Harbor Beach's defense began Friday by showing off that resolve. Beal City took the ball away on an interception barely more than a minute into the game, but gave the ball back on downs when senior nose guard Josh Keyes led a fourth-down pile-up that stopped the Aggies inches from the goalline.
The Pirates held their ground again when Beal City appeared to be gaining steam. Down 28-10 with 1:53 to play in the third quarter, the Aggies were driving to make the game close again and pushed to Harbor Beach's 2-yard line. But Keyes and junior linebacker DeAndre Ridner stopped an inside run for no gain, and senior defensive end Brandon Oswald chased down the runner on a fourth-down pitch that also failed to reach the end zone.
Five minutes later, junior Colin Cook snagged an interception that effectively ended the game.
Beal City had scored 40 or more points in eight games this fall and never fewer than 25. The Aggies also averaged 372 total yards per game entering the day but gained only 291 in the Final. They became the 10th team to score 10 or fewer points against Harbor Beach – although Schelke said after that his team played above its usual high level to shut down the Aggies.
"The momentum changed when we didn't get that score at the beginning. It really stoked them up and set us back a little bit," Beal City coach Lou Rau said.
"We might've made three stands. One time we held them to a field goal too, and that felt like a little bit of a victory," Schelke added.
And his offense did plenty to give the Pirates a cushion.
Kraft, an all-state honorable mention, completed 8 of 13 passes for 168 yards and two scores and ran for 70 yards and another touchdown. His scoring passes set the tone early – the first 54 yards to Ginther and the second 69 yards to junior Travis Essenmacher, both before the end of the first quarter.
Ginther also had 12 tackles at linebacker, and Keyes had 10. Senior defensive end Kyle Kramer had two sacks for the Pirates.
Junior running back Ty Rollin ran for 76 yards and Beal City's lone touchdown. Junior linebacker Hayden Huber had 13 tackles and sophomore linebacker Alex Schafer had 10. Kicker Paul Anders, a foreign exchange student from Germany playing football for the first time this season, drilled a 30-yard field goal – the first in a Division 8 Final since Climax-Scott's J Rustenholtz hit a 26-yarder in his team's 42-8 win over Crystal Falls Forest Park in 2004.
Beal City fell to Forest Park that season in a Semifinal. But the Aggies are used to making this trip – Friday's was their sixth championship game appearance, with their last title coming in 2009. The Aggies finished 13-1. "Thirteen wins in a season is pretty admirable, and you can't ask for a better group of guys," Rau said.
Harbor Beach's community came out in en masse for a Thanksgiving send-off parade that sent chills through Schelke and his players alike. They then followed the Pirates to Ford Field on Friday.  
"We are a football town. We have a great tradition at Harbor Beach starting with coach John Jack Dillon that led the team here in '91, and it's just carried on," Schelke said. "We're on a great streak right now with great seniors leading, and we think we have some great players coming from behind. There's a lot of alumni here that played on great Harbor Beach teams."
"Our fans are fantastic, and they support us, and they had a blast today."
Click for full statistics and to watch a replay of the game. See below for the full press conference.
PHOTOS: (Top) Harbor Beach senior Derek Pfaff (7) holds up the Division 8 championship trophy to the crowd with teammates Brandon Pfaff (4) and Justin Lasceski. (Middle) Pirates senior Aaron Ginther (47) pulls in a catch with Beal City's Sam Schafer giving chase. (Click for more from Terry McNamara Photography.)