With Help, Football Returns to Carney
August 25, 2016
By Dennis Grall
Special to Second Half
CARNEY — The football players dutifully go through their drills in blistering heat, showing energy and enthusiasm as they tackle what is basically a brand new sport.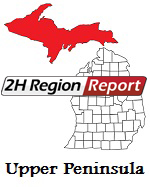 Carney-Nadeau High School returns to the high school gridiron tonight for the first time since 1973, with an assist from some Upper Peninsula schools and another team known for its green and gold colors, the Green Bay Packers.
The 8-player team visits Ewen-Trout Creek for the first of eight road games this season. The small northern Menominee County school does not have a football field.
Actually, until around Thanksgiving 2015, the school did not have a team. Some parents approached the school about instituting football last fall, with the recent inception of the 8-player game playing a big role.
Helping fuel that fire was neighboring Powers North Central, which switched from 11-player to 8-player for the 2015 season and romped to the division's MHSAA championship to complete a 13-0 season.
Jim Belec, who helped bring the football idea to school officials, became head coach and quickly picked up Dan Koffman as an assistant for the self-funded program.
Then the work began. And as the pieces started falling together, C-N students began showing interest in playing the sport.
Belec, who coached the youth football Sharks in nearby Stephenson, said, "You've got to have a lot of patience" working with players who have little or no experience. "You have to remember it is their first time out here, but at the same time you've got to remember you have to catch them up."
He installed a basic offense and defense. "If you can't do the basics, you don't have much to stand on," said Belec as he watched his players run through various drills. "They've got the want-to."
He said basic drills included safety features such as keeping the head up while going in for a tackle and reminding defenders to wrap their arms around the ball carrier. "You can definitely tell the kids who have played in the past and who haven't," he said.
About half of the 17 players have some experience, including three who played at North Central under a co-op arrangement.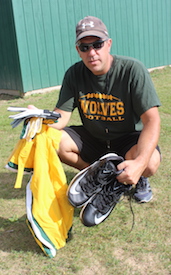 "I'm realistic. Starting off we have a lot to learn," said Belec. "I hope we are far enough along to be competitive right off the bat."
That wasn't the case when the Wolves played 11-player football from 1970-73, when they posted only one win before dropping the sport. They played the 8-player game for a couple of years before that period, before those opponents also moved to 11-player football.
"Our first goal is to have fun," said Belec, noting some players expressed playoff hopes while some hoped for perhaps two wins. "There are wins on the schedule to be had as long we work hard."
The hard work and dedication have been on display since preseason practice began, but it will take live action to see how much progress has been made. At the outset Belec said, "They would come off the ball and they would all stand up right away. Little things like that can be taught."
The Wolves received some equipment and uniforms from nearby Menominee High School and from Rock Mid Peninsula High School, which dropped 8-player football after the 2013 season.
Most obvious is the equipment and gear donated by the NFL's Green Bay Packers. Brand new gloves bearing names like Randall Cobb arrived along with shoes, shoulder pads, pants, thigh pads, knee pads, girdles and state-of-art helmets. "The ones (pants) with blood stains were valuable," said Koffman.
The items were arranged for by Belec's wife Cindy, who attended school in Stephenson with Sandy Roubal, who is the corporate giving coordinator for the Packers.
"It's been motivating and exciting to have the Packers involved," said Koffman. "They gave us sizes that would fit our kids (along with some shoes that were much too large)."
The self-funded program has hooked up with Donors Choose, a fund-raising operation that enables people to make donations toward specific areas. Sixteen new helmets were paid for right off the bat from those donations.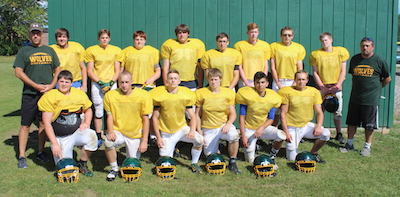 "Financially we are viable," said Koffman, noting everything on their wish list has been donated. "We didn't have to do anything. We're still in awe. Everybody has been outfitted. We have just been thrilled."
C-N superintendent Adam Cocco was sporting a huge grin while watching his new squad practice recently. His dad, Robert, was quarterback of the school's last team.
He said it "seemed insurmountable" when Belec first asked about fielding a team last fall. "The more we looked at it, the more we chipped away. It kind of came together. It is all self-funded. That speaks to the level of support from the community."
Tight end John Berg, one of the seniors, figured, "I might as well go for it because it is my last year of school." 
Tailback Dylan Kuehl said, "It was hard at first but we've pulled together, and the practices have gotten a whole lot easier." A wrestler with the Bark River-Harris High School team as part of another co-op, Kuehl added, "We are setting high expectations for each other. It would be pretty cool if we could win four games."
Fullback-linebacker Kyle Hammerberg played Pop Warner and junior varsity football at North Central. "I like helping everyone on the line fire off the ball," he said. "I tell them to look at the ball and not listen to the count. If you watch football you feel it is a lot easier, but once you're in the game it is a lot harder than you think."

Denny Grall retired in 2012 after 39 years at the Escanaba Daily Press and four at the Green Bay Press-Gazette, plus 15 months for WLST radio in Escanaba; he served as the Daily Press sports editor from 1970-80 and again from 1984-2012. Grall was inducted into the Upper Peninsula Sports Hall of Fame in 2002 and serves as its executive secretary. E-mail him at sportsdenesky@gmail.com with story ideas for the Upper Peninsula.
PHOTO: (Top) Carney-Nadeau work on agility during a recent practice. (Middle) Assistant coach Dan Koffman shows some of the donated equipment provided by the Green Bay Packers. (Below) The first Carney-Nadeau football team since 1974 will take the field this season as a self-funded program. The team includes: front row from left, Hunter DuPont, David Green, Alex Rhode, Bryce Montague, Arturo Rangel and Dylan Kuehl; middle, assistant coach Dan Koffman, Kyle Hammerberg, Brett LaFord, Norman Collins, head coach Jim Belec; back, James Imhoff, Jordan Belec, Calvin Haddock, John Berg and Jordan Lindstrom. (Photos by Dennis Grall.)