History-Making Huskies Reverse Course
October 12, 2016
By Geoff Kimmerly
Second Half editor
Breckenridge football coach Kris Robinson is doing his best to remain guarded despite his team's history-making run to begin this season.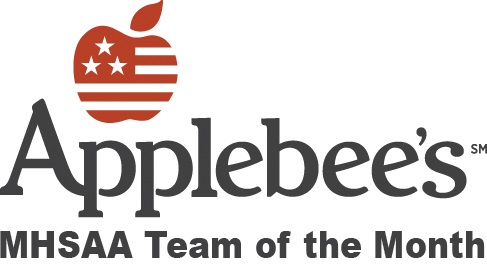 But the signs something special is playing out in his community are impossible to miss.
Like the multiple TV crews that came to practice Tuesday, one from WJRT, a local channel that still is based more than 60 miles away in Flint. The second crew, from Fox Sports Detroit, was putting together a feature for its statewide audience.
And they are just the latest to take note of the undefeated Huskies, who are 7-0 and clinched their first league championship Friday since 1946 after finishing 0-9 last season.
"The atmosphere here Friday night against Merrill was ridiculous. Our student section, the outpouring has been pretty awesome," Robinson said. "I was always told – our AD Ryan Sklener played basketball here in the (19)80s and he said when our team was good, they would line up four deep around the basketball court. He said that would happen (for football). I was waiting for it. It didn't happen when we went 5-4, so I've been anxious to see it happen. And it sure has."
The Breckenridge football team is the first Applebee's statewide Team of the Month for the 2016-17 school year.
The Huskies have the opportunity to become the first Michigan team in the playoff era (beginning in 1975) to follow an 0-9 finish with a 9-0 regular season – not counting Bellaire, which went 0-9 in 11-player in 2010 but then 9-0 in 8-player the following fall. Even if Breckenridge falls short on that goal, it has guaranteed it will become just the eighth team since 1975 to come back from a winless season to make the playoffs the following year.
A "perfect storm" is how Robinson describes how his team has gone undefeated heading into this week's matchup with Vestaburg. But truly, a number of pieces have fallen into place to help the Huskies make history – with more opportunities to do so on the way.
Robinson is in his fourth year as coach, having taken over a program in 2013 that went 1-8 the year before and hadn't made the playoffs since 1993 before qualifying this season with a 38-0 win over Carson City-Crystal on Sept. 30.
His first team finished 2-7, and the Huskies improved to 5-4 in 2014. But they felt all the way back to square one last fall with only three seniors on the team and freshmen at quarterback and running back. Breckenridge scored 68 points over nine games and lost all of them by at least 21.
But things were about to change – and quickly.
"They were ticked off, especially that (current) sophomore group," said Robinson, who previously coached wrestling at the school and as a football assistant at Farwell and Roscommon. "They've won at every level, and for them to come out last year and not win a game, there were some moments last year that were really tough on them."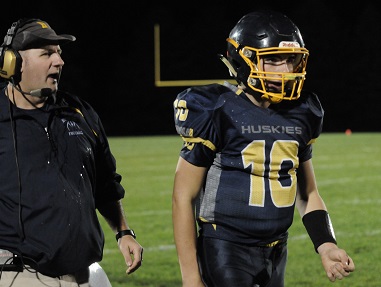 First, Breckenridge – a Class C school with 235 students – is enjoying a roster of 28 players after finishing last fall with only 12. With that jump in numbers has come the opportunity to fit players at their best-possible positions, and at least half on both sides of the ball are playing only one way. Although this team will graduate 14 seniors, another solid group is waiting that is 4-1 at the junior varsity level with only a two-point loss to Fowler. Of 110 boys in the school, 50 are playing football.
Many also put in the time during the offseason. Robinson credits commitment to the weight room for a lot of this team's turnaround as well, pointing to players like sophomore Lukas Ebright, who was a good JV player last season but added 25 pounds and increased his vertical jump to 32 inches during the offseason to line up this fall as a 5-foot-5, 155-pound cornerback.
It's also helped greatly that those freshmen playmakers from a year ago have become leading sophomores. Quarterback Carter Staley had run for 773 yards and 10 touchdowns and completed 62 percent of his passes for 711 yards and 12 scores heading into last week's Merrill game. Including that 12-0 win over the Vandals, Hunter Collins has run for 762 yards and seven touchdowns, averaging more than nine yards per carry. (Click to watch the replay of Breckenridge vs. Merrill on MHSAA.tv.)
In front of them is an offensive line that averages 240 pounds, sizable for sure relative to the size of their school. It's also been brought up that Breckenridge moved to a league this fall – the Mid-State Activities Conference – that is a better fit, as the Huskies have the third highest enrollment among eight schools in the league compared to when they were the third-smallest of eight schools in the Tri-Valley Conference West in 2015. But that doesn't mean the MSAC is some easy run; Breckenridge included, five of eight teams are 4-3 or better, and four teams are tied for second place in the league at 4-2 in conference games.
The Huskies can clinch the title outright Friday, which would represent another accomplishment – Breckenridge hasn't won an outright conference championship since 1941. 
Trophies celebrating those long-ago league championship seasons are among five total owned by the school – with two others a cup from 1917 and a 1931 trophy with a player kicking a football, except all that's left is the foot. But that will change shortly, as well.
"We broke the season scoring record in Week 6, and they knew we broke the season scoring record and actually asked me that night if we've broken the record for breaking the most records yet," Robinson said. "So they get it.
"But I don't think they understand the gravity of the situation. This is older than their grandparents."
PHOTOS: (Top) A pair of Breckenridge defenders wrap up a Merrill ball carrier during Friday's 12-0 league title-clinching win. (Middle) Huskies coach Kris Robinson (left) speaks with quarterback Carter Staley. (Click to see more from HighSchoolSportsScene.com.)