Hornets Prevail in Record-Setting Final
November 24, 2018
By Geoff Kimmerly
Second Half editor
DETROIT – Clint Galvas didn't need to tell Avery Moore what his junior quarterback already knew.
In fact, the New Lothrop coach didn't necessarily want Moore to try to match Madison Heights Madison senior signal-caller Austin Brown on Saturday. Moore just needed to stay within himself, play his game, if the Hornets were to have their best shot at winning the Division 7 championship.  
But Galvas also knew better. "He's a 16-year-old kid who wants to go out there and outplay every kid," the coach admitted, not long after the Hornets clinched a title seemingly years in the making.
Moore vs. Brown? Let's call it a draw. But New Lothrop finished with the final edge in a record-breaking championship performance, outlasting Madison 50-44 to claim its first MHSAA football championship since winning Division 8 in 2006.
The combined 94 points broke the previous MHSAA Finals record of 91 set in Belding's 50-41 Class B win over Detroit Country Day in 1994. Brown and Moore, meanwhile, both made the Finals record book in one or more categories.
"I respect him a lot. He's a heck of an athlete," Moore said of his counterpart Brown, who has committed to play collegiate baseball at Marshall University.
"But I knew to get the win I had to play my best game."
Brown completed 17 of 30 passes for 298 yards and two touchdowns and ran for 105 yards and four scores on 25 carries – his 403 total yards tied for fifth-most in a championship game, and the four rushing TDs tied for third most. Moore threw for 99 yards on 7 of 13 passing and ran for 132 yards and four scores, also making the single-game rushing TD list.
They provided historical highlights to a game already deep with narrative.
New Lothrop (13-1) has lost just two regular-season games over the last nine seasons, but before Saturday's hadn't made the Finals since 2006. Three times over that nine-year run, the Hornets were stopped in Semifinals.
One of those regular-season defeats came this fall, 35-14 to Traverse City St. Francis in Week 9. That combined with moving to the first-year Mid-Michigan Activities Conference might have nudged the program that final step back to Detroit.
"Getting in a new league, playing a tougher regular season, definitely made us more battle-tested," Galvas said. "Going to Traverse City and playing that team – that was a heck of a team that I thought we'd see down here as well. But at the end of the day, coming out of that loss Week 9, it kinda forced us all to take a step back, maybe have a little bit of humble pie because we were feeling good about ourselves.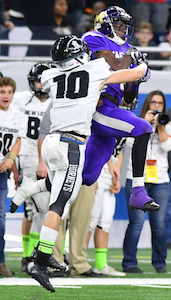 "So I think that was actually a big thing for us. Since then, we hit another gear, like we can do this."
And it was a big thing again Saturday morning.
New Lothrop built leads of 22-8 early in the second d quarter and 30-16 going into halftime. But Brown – who entered the game with 2,060 yards and 22 touchdowns passing and 1,831 yards and 33 scores rushing – capped two straight drives with short touchdown runs, and then answered a Moore scoring run early in the fourth quarter with one more to make it 36-36 with 6:38 to play.
"Our whole team is built for it, so in those situations we're just looking forward to them," Brown said of the back-and-forth. "But that's a good team over there. You've got to give credit where credit is due."
Moore led the Hornets back down the field, capping a nine-play, 66-yard drive with another rush score. And then, amid a battle of quarterbacks, a junior defensive back made one of the biggest plays of the game's 130.
With Madison facing 3rd-and-12 at its 24-yard line, and trying to match scores again with just more than two minutes to play, New Lothrop junior Dylan Shaydik ripped away what would have been a first-down pass and returned the interception 33 yards. Two plays later, Moore broke through for a 13-yard score to make the advantage 14 point.
Madison added one last touchdown with 29 seconds to play. But off the onside kick, who ended up with the ball? Moore, of course.
"I never thought that we wavered at all," Galvas said. "It wasn't like heads hanging. It was like let's go, let's get the ball back and get (the lead) back. Just from having the schedule we had, from the games we played throughout the year, we knew we'd been in tight games, been in those games. No big deal, let's keep playing, and that's kinda how they handled it."
Senior Aidan Harrison – who will play next at University of Missouri – added 93 yards and a score on the ground and returned a kickoff 96 yards for a touchdown. Sophomore Will Muron added a rushing score as well.
Senior Tanner Barndollar caught four passes for 102 yards for Madison, while senior Sylvester Whitley caught five for 71 yards and a score and junior Makai Johnson also pulled in a touchdown grab.
Madison (13-1) was making its first Finals appearance since finishing Division 5 runner-up in 2006, and was seeking its first MHSAA football title. The Eagles just missed returning to the Finals last fall, losing by seven to Saugatuck in a Division 7 Semifinal. They are 25-2 over the last two seasons.
"We definitely had a bitter taste in our mouth last year after falling short in the Semifinals," Madison coach James Rogers said. "These kids have been working super hard in the offseason and the entire season to get to this point today. And I'm glad they got here and got a taste of it. But I'm sure they'll be calling my phone in December ready to get back after it again."
New Lothrop's run included a Regional Final win over two-time reigning champ Pewamo-Westphalia and then a Semifinal victory over previously-unbeaten Lake City. The championship would have been memorable in the small community for a long time on its own.
But the Hornets also were playing in honor of Braden "Buddy" Miller, who had died Oct. 19 at age 9 after a fight with a rare brain cancer. Miller had been best friends with Galvas' son Jude, and the lime green socks worn by the Hornets on Saturday were in his honor.
"We kinda embraced him as our inspiration, and obviously when he passed it was a big healing process," Clint Galvas said. "Our football team did a huge service to help heal and continue healing with that loss. We tried the best we could to represent him, obviously with the green socks and those things, but this is really big for the community in that regard as well. … I'm just proud of the way we represented our team and represented Buddy."
PHOTOS: (Top) New Lothrop quarterback Avery Moore scores one of his four touchdowns Saturday at Ford Field. (Middle) The Hornets' Dylan Shaydik (10) snags an interception late as his team held off Madison Heights Madison.