Hudson, Morenci Fondly Recall Rivalry
January 31, 2020
By Doug Donnelly
Special for Second Half
MORENCI – It was a measuring stick for the season. It was Michigan vs. Ohio State, except inside state and county lines. It was tradition.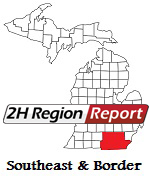 The Morenci-Hudson football rivalry was like a lot of other football rivalries across Michigan. Often pitting cousin against cousin and friend against friend, the rivalry was among the oldest in the state, with a continuous string of games dating back 99 years.
However, following a cascade of league changes in southeastern Michigan and recent one-sided history in the matchup, the rivalry has been discontinued – leaving behind nearly a century of memories for both communities.
Hudson has dominated the series of late, winning 17 of the last 20 games on the field, although one of those wins was later forfeited. Over 99 years, Hudson holds a 61-39-2 advantage in 102 all-time meetings. But to those who have coached in and played in the game between two southern Lenawee County teams nestled near the state line, the game has always meant more than wins and losses.
"That game? That game was everything," said Marc Cisco, a 1954 Morenci graduate. "It was the kind of game that kids lived for back then. Both communities would come out for that game. Heck, it would be packed for the JV game. We played in snow and rain. It didn't matter."
Cisco had families on both sides of the rivalry. His father's farm backed right up to the Hudson school district line. His younger brother ended up playing at Hudson.
Cisco is a member of the Michigan High School Football Coaches Association Hall of Fame. He coached at Monroe Jefferson for 51 years, leading his team to the Class BB title in 1994. In high school he once led the state in scoring while playing for the Bulldogs. There was nothing quite like Hudson-Morenci, he said.
"It was the type of game that everyone talked about all summer," Cisco said. "I knew a lot of players on Hudson's team. We spent the summers up at Devil's Lake, just like they did. It was really, really important to win that one."
Hudson football historian Bill Mullaly has done the research on the rivalry. The two schools first met on the gridiron in 1921, meaning the 2020 game would have marked 100 continuous years of competition.
"It is sad to see this rivalry end," Mullaly said. "I understand nothing lasts forever, but I always thought there would be a Hudson-Morenci game each fall."
Both teams have enjoyed record-setting win streaks – and games against each other kept those streaks alive.
Morenci won 44 straight games from 1948 to 1953, setting the state record at the time. Hudson tied that record at Morenci in 1972, defeating the Bulldogs 42-0.
Hudson would go on to win 72 straight games, the national record at the time, under head coach Tom Saylor. One of the players for Saylor during that streak was Chris Luma, who played quarterback for the Tigers. Luma began coaching at Hudson soon after high school and was head coach of the Tigers varsity from 1997-2019, announcing his retirement this month. In 2009 and 2010, Luma coached the Tigers to shutout wins over Morenci – which was coached by Luma's former coach, Saylor.
In 1982, Hudson opened the season with a 6-2 win over Morenci. The Bulldogs' only score came when Hudson dropped back to punt and the snap went over the head of the punter and out of the back of the end zone for a safety. The Tigers didn't give up a touchdown for the first 10 games that season but didn't get the shutout against the Bulldogs.
"We didn't allow them to score, we scored for them," said Scott Marry, who played on that Tigers team that eventually lost in the Class C Semifinals. Marry, who has coached Hudson's wrestling team to eight MHSAA Finals titles over the last 11 years, said it's sad the game won't be played going forward. "That game, every year, was so special. We'd open up with them every year, and you knew that if you won that game, you had a chance to go 9-0. That game was a measuring stick every year.
"I can still remember some of the collisions, the sound of the games against them."
Jacob Bovee of Morenci played and coached in the rivalry. His wife is from Hudson.
"I remember my uncles and my grandpa talking about playing against Hudson," Bovee said. "As a player, you liked to compete against them because you knew you were going to get their best shot. As a coach, you knew if you could play them tough you were going to be all right that season.
"We had some success against them, but records didn't matter. You knew it was going to be a smash-mouth football game."
Harley McCaskey was an all-state linebacker for Morenci before graduating in 2018. He played three games as a varsity player against the Tigers. The last two were excruciating two-point losses.
"My dad talked about the games he played against Hudson," he said. "Everyone in school would talk about the Hudson game. When you started lifting weights for the season, you talked about beating Hudson."
Hudson and Morenci were both members of the Lenawee County Athletic Association until Morenci left the LCAA to join the Tri-County Conference in 1981. Coincidentally, recent league shuffling played a major part in the move to discontinue the rivalry.
Whitmore Lake left the TCC before last season, causing a series of changes. Erie Mason left the LCAA to join the TCC. When that happened, Clinton left the TCC and joined the LCAA. Pittsford, left without an 11-player conference when Adrian Lenawee Christian and Athens decided to move to 8-player football for 2020, was added to the TCC as a football member starting this fall.
Pittsford and Morenci had been nonleague opponents for the last five years. With Pittsford joining the TCC, that left Morenci looking for a new nonleague opponent. The Bulldogs will open the 2020 season on the road at Three Oaks River Valley. Instead of keeping Hudson in the Week 2 slot – the teams have played each other that week for the last 15 years – Morenci instead will play Stockbridge.
Hudson, then, will play Erie Mason, now a nonleague opponent, in 2020.
Hudson has dominated the series in recent years, with several lopsided wins. The Tigers went 2-7 last season but beat Morenci 54-13 when the Bulldogs had fewer than 20 players on its roster. Morenci is 3-15 over the last two seasons, and the school district felt in order to rebuild the program, a new schedule would help.
But that doesn't mean the formerly annual meeting won't be missed. Marry said league or nonleague, home or away, Hudson vs. Morenci was a backyard rivalry that always seemed to be a little more important than some of the other games.
"If there was such a thing as a preseason playoff game, that was it," he said. "It was a red-letter game for sure."

Doug Donnelly has served as a sports and news reporter and city editor over 25 years, writing for the Daily Chief-Union in Upper Sandusky, Ohio from 1992-1995, the Monroe Evening News from 1995-2012 and the Adrian Daily Telegram since 2013. He's also written a book on high school basketball in Monroe County and compiles record books for various schools in southeast Michigan. E-mail him at DougDonnelly@hotmail.com with story ideas for Jackson, Washtenaw, Hillsdale, Lenawee and Monroe counties.
PHOTO: Hudson's Malik Ray (26) breaks into the open as Morenci's Harley McCaskey (20) pursues during the 2017 matchup. (Photo by Mike Dickie.)