Jesuit's Nelson Thrives in Many Roles
August 31, 2016
DETROIT – Scott Nelson and his football coaches at U-D Jesuit are doing their best to deter specialization.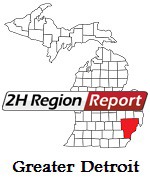 Nelson, a senior defensive back/receiver, was the sixth man on the U-D team that won the school's first basketball MHSAA title, in Class A, this past spring. He started in the outfield on the school's varsity baseball team as a sophomore – although he chose not to play baseball this past season so as to concentrate on football and basketball.
"When I grew up I just played sports," Nelson said. "I stopped playing hockey to play football.
"I love competing. I love playing sports."
U-D is an all-male private school located on the city's northwest side. The academic curriculum is demanding, and most students who attend the Jesuit school choose to go there for that reason without the thought of participating in athletics. Some programs have thrived; the school's basketball, soccer and bowling teams have won MHSAA championships over the last 15 years, while the baseball, tennis and lacrosse teams have finished Finals runners-up. 
It's different for coach Oscar Olejniczak's football program. Participation is a must for football coaches. They need players, and lots of them, to conduct practices properly. U-D has not been able to field a junior varsity team the past two seasons. Olejniczak has 44 on varsity, which is a workable number, but it is paramount that the good athletes in the school participate in more than one sport to help fill out the rosters.
"I encourage every one of our players to play two sports," Olejniczak said. "If they play three sports, no problem, but academics is so tough here that two is all most can handle.
"When you play two sports … it helps them 100 percent. Each sport uses different muscles. It helps with hand-eye coordination. 
 "It's a big mistake when you play one sport. People get into their ear. I'm sorry to say sometimes it comes from the coaches."

It's likely Nelson could have played any one of the three sports in college. In the end he chose football for the simple fact that he likes it more than the others. Nevertheless, he fully intends on playing basketball this winter. And why not? He'll have a chance to start on a team that'll once again be one of the state's best.
"I'm biased," Nelson said. "Multiple sports give you different skills. Basketball gives me that. You have to be in great shape to play basketball. On the basketball court, I'm not the best player. That helped me mentally. Playing with Cassius (Winston, now at Michigan State), people aren't concentrating on you. That's fine. Let me do my role. And that's what I'll do, and I'll do my best. In football it's different. I am an important part. With my coaches, they know I shouldn't have a bad game. I put pressure on myself. I know I can make the big plays."
Defensive coordinator George Harris knew that before Nelson did. Nelson played on the freshmen team before he was moved up to the varsity in time for the 2013 Division 2 playoffs. Not only did he dress, but Nelson was shocked to learn he would start that first playoff game against Warren Woods Tower.
"A senior was late for team prayer service," Harris said. "We have rules here, and we suspended him for the first quarter. So I asked (Nelson) if he knew the coverages and everything. His eyes got real big.
"His football I.Q. was high for a young kid. He wasn't afraid of the moment. That year we had a (preseason) 7-on-7 scrimmage and he had six interceptions in one game. I said, oh my goodness. He has a lot more confidence now. He's more physical. That comes from just growing into his body. I can pull things out of his brain, and we can now talk the same language."   
The skills the other sports taught him undoubtedly made Nelson a better football player. At 6-foot-2 and 185 pounds, he'll likely play safety in college. Northwestern is the lone school that's recruiting him to play receiver. The other schools that have offered him a scholarship want him to play defense. Nelson has narrowed his choices down to five: Northwestern, Iowa, Michigan State, Penn State and Wisconsin.
Nelson is coming off of what was a breakthrough season. He accounted for 21 touchdowns, which came passing (2), rushing (13), receiving (4) and on kick returns (2).
This season he was not expected to play quarterback, but he was pressed into service, due to injury, in the opener at Detroit Mumford. The Cubs led 2-0 late in the first half and prevailed, 23-14.
As far as his college future, Nelson is uncertain whether he'll make his decision during the season or after.
There's no hurry. The Cubs, which made the playoffs last fall losing to eventual Division 2 champion Detroit Martin Luther King 35-24 in a Pre-District, are optimistic that they'll make a return trip.

Tom Markowski is a columnist and directs website coverage for the State Champs! Sports Network. He previously covered primarily high school sports for the The Detroit News from 1984-2014, focusing on the Detroit area and contributing to statewide coverage of football and basketball. Contact him at tmarkowski@statechampsnetwork.com with story ideas for Oakland, Macomb and Wayne counties.
PHOTO: Scott Nelson (10) eludes a pursuing defender. (Photo courtesy of U-D Jesuit/Brent Wilkerson.)