Kearsley Welcomes Dawn of Exciting Era
October 9, 2019
Austin Lewis remembers going to Flint Kearsley football games as a kid and the excitement in the crowd. He also remembers that excitement being short-lived.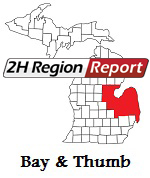 "It was fun and upbeat during the first half," said Lewis, now a senior linebacker and tight end at Kearsley. "But toward the end, people were leaving because we weren't winning."
These days, people aren't leaving, as the Hornets have given their fans more to cheer about than they've enjoyed in a long time.
With its 27-7 win against Holly this past Friday, Kearsley improved to 5-1, ensuring its first winning season since 2003. One more win, and the Hornets will clinch their first playoff berth since 1998.
"It just feels great," junior running back and defensive tackle Isaiah Stiverson said. "We've all been together since middle school, and everyone in the community, they knew our group would be the one to change it and turn it around. It just feels good."
Many of the juniors and seniors on this season's team combined to go unbeaten as a junior varsity team in 2017. The juniors also were undefeated in middle school.
This group came together at the same time new coach Kaleb Forr arrived at Kearsley. A Davison native who had previously coached at Holland Christian, Forr brought with him new schemes, including a more wide-open offense. Now that he's in Year 3, he's also provided the program with consistency.
"I think the thing that Kearsley had struggled with even before I got there, it seemed like every couple years a new coach would come through," Forr said. "It's tough to kind of build on that. They gave me a shot when I was young – I was 26 when I got the job. They wanted to try to hire somebody that could be around for a while and try to build something consistent. That's what has been great – the kids, the whole community, the staff, the administration has really bought into the mindset we've tried to bring in."
One of Forr's greatest challenges early ended up a blessing in disguise. He was hired in June of 2017, which didn't give him much time to put together a staff for the upcoming season. But Madison Heights Lamphere coach Jeff Glynn, who Forr did not know at the time, reached out to congratulate him and gave him some advice.
"I told him it's been a struggle trying to find guys that know what we're trying to do and know the system," Forr said. "He suggested something since we had six coaches on the varsity staff and couldn't put together a JV staff – to have the varsity staff coach the varsity and JV that year. That's actually the group of kids we have right now."
While that was a lot of work, it allowed Forr to get acquainted with all the players in his program right away. It also allowed them to get acquainted with him.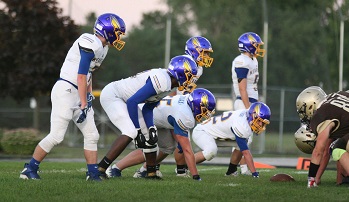 "It was big," junior quarterback Braylon Silvas said. "We were new to our offense – we went from a wing offense to a spread. Practicing with the varsity showed me what I needed to do. It helped me pick up on the speed of the game and how I needed to prepare."
In 2018, many of those JV players moved up to the varsity level, and while they were 3-6, Forr said he could see signs of things moving in the right direction. The numbers agreed with him, as the Hornets were outscored by a total of 17 points on the season despite the six losses.
"Last year was definitely a year where we saw some things that made us think, 'Man, we could be pretty good,'" Forr said. "A few plays where things didn't go our way, and that's what determines the outcome. We were competitive against teams in our league that we haven't been in the past."
Players and coaches alike say this year's team put in the necessary work in the offseason to capitalize on the talent and momentum of the program. But there's more to the success than that.
"I really think the key is that we're acting more as a family," Silvas said. "We really came together this year, and we're doing really great things. Everybody has bought in. The family – everybody emphasizes that."
With everyone in the locker room bought in, players knew they needed to get everyone in the community to buy in, as well. Through six games, it appears that has happened.
"It's different, because at Kearsley, we haven't had a winning season in a while," Lewis said. "It feels good to have the community finally on our side, to have people finally believe in us, and to show people what we're capable of."
A main goal for this year's team was to gain respect for the program. The five wins are a nice start, but there's still plenty of work to be done. The Hornets play a Linden team in Week 7 that is tougher than its 2-4 record would indicate. The Eagles haven't lost a game by more than eight points, and that includes defeats against Pontiac Notre Dame Prep, Goodrich and Fenton – teams with a combined three losses between them.
A Flint Metro League crossover game against a yet-to-be-determined opponent awaits in Week 8, while Royal Oak is the Week 9 opponent. The focus for now is clearly on Linden, but a single win from the final three games would qualify Kearsley for the postseason. Players couldn't hold back their excitement at the thought of ending a 21-year playoff drought.
"It would just mean so much," Lewis said. "Honestly, to me, it would set like a milestone. It was something I wanted to do since I started playing for Kearsley."

Paul Costanzo served as a sportswriter at The Port Huron Times Herald from 2006-15, including three years as lead sportswriter, and prior to that as sports editor at the Hillsdale Daily News from 2005-06. He can be reached at paulcostanzo3@gmail.com with story ideas for Genesee, Lapeer, St. Clair, Sanilac, Huron, Tuscola, Saginaw, Bay, Arenac, Midland and Gladwin counties.
PHOTOS: (Top) Sunlight reflects off a Flint Kearsley team huddle early this season. (Middle) The Hornets defense lines up to stop Bay City Western during a 41-21 opening-night win. (Photos courtesy of the Kearsley football program.)