Lenawee Christian Builds on Historic Win
October 12, 2018
By Doug Donnelly
Special for Second Half
ADRIAN – Adrian Lenawee Christian gave a whole new meaning to Sweet 16 last week.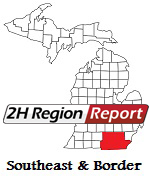 The Cougars and their roster of 16 strong won their biggest game in program history Friday, beating the No. 1 team in last week's Associated Press Division 8 poll – Pittsford – to clinch a playoff berth and share of the Southern Central Athletic Association title.
It was the first time Lenawee Christian won a conference title and the first time the Cougars have qualified for the playoffs in back-to-back years.
"It was a big night," Lenawee Christian head coach Bill Wilharms said. "It was senior night, parent's night and our last (regular-season) home game. I'm just so excited for the kids. They've worked so hard. There were only 16 of them Friday, but they came to play."
Lenawee Christian never trailed, although the game was tied briefly in the third quarter. The Cougars put up more than 400 yards of total offense against previously unbeaten Pittsford and a defense that had recorded two shutouts and allowed just five touchdowns all season.
Adam Baker, the Cougars' starting quarterback, was sensational, throwing for 317 yards and two touchdowns, rushing for the game's opening touchdown and picking up a team-best 70 yards on the ground. What was even more impressive, Wilharms said, was his junior signal-caller's calling of the plays at the line of scrimmage.
"There were a couple of times where the play would happen, and I'd think to myself, 'Okay, that was a good play. I don't know what it was or where it came from, but, hey, it worked.'"
Baker said there were times when he got to the line of scrimmage and saw something different from the defense that warranted an audible.
"When I got to the line of scrimmage, if I saw something, I would just motion to my receivers or tell my line what to do," Baker said. "I would signal something and change the play."
It's a credit to Wilharms and his staff that an experienced quarterback like Baker can make those adjustments on the fly.
"I think Coach has a lot of trust in our team to recognize the things that are happening out on the field," Baker said. "He trusts us."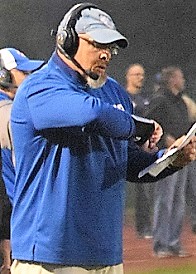 Wilharms said Baker studies film and knows what he is doing.
"We've got a lot of things built into our run-pass option offense," he said. "There are a lot of wrinkles. Adam does a great job of reading the defense. He made some fabulous reads. He went to his second or third option several times. It shows that he is a third-year quarterback."
On the season, Baker has completed 95 of his 150 passing attempts for 1,289 yards and 17 touchdowns. He's also rushed for 391 yards. One of his rushing attempts in particular ignited the LCS players and fans Friday night.
"We ran a sweep and Baker lowered his shoulder and got a few extra yards," Wilharms said. "Plays like that are big for a football team."
Lenawee Christians runs the spread offense with multiple looks and a deep crew of receivers. In the Pittsford game alone, Baker connected with seven receivers. Some teams go a full season without seven different players catching a pass.
"We're trying to do some different things out of the spread," Wilharms said. "As long as our line can give Baker time in the pocket, we can really sling it."
The line that Baker operated behind Friday did a great job, especially considering senior Jack Leisenring, the team's biggest player, was out with an injury.
"We have a sophomore that is about 210 and one of our freshman lineman is about 145," Wilharms said. "The younger kids have really stepped up on the line. We try to do things to take advantage of their quickness because they don't have a lot of size. Our kids came to play against Pittsford, who is a tough, physical team. They knew they were going to get hit, but they took it on."
The SCAA has just four teams – Pittsford, Climax-Scotts, Athens and LCS. Climax-Scotts has committed to 8-player football next year while LCS was undecided until this month, when it informed the other SCAA schools it will maintain an 11-player team in 2019. The middle school and junior varsity Cougars already play 8-player, but Wilharms said he believes the numbers will support an 11-player team at least one more season.
"We only have three seniors and a big junior class," he said. "If we keep who we have, we should be okay. Scheduling might be tough. We will probably have to hit the road to find teams."
But no one is thinking about next year yet. Lenawee Christian is among the top-five ranked teams in Division 8, and the Cougars could land the first home playoff game in school history. They will travel tonight to play at Blanchard Montabella, and the Oct. 19 game against Detroit Universal Academy will go into the books as a forfeit win. The Cougars have never won a playoff game.
Baker said the team got excited after its win Friday, but he and his teammates know they still have work to do.
"I mean, sure we beat the No. 1-ranked team in the state, but there is always room for improvement," he said. "You can always get better. That's what we did when we went back to practice on Monday, just worked and worked to try and get better for this week."

Doug Donnelly has served as a sports and news reporter and city editor over 25 years, writing for the Daily Chief-Union in Upper Sandusky, Ohio from 1992-1995, the Monroe Evening News from 1995-2012 and the Adrian Daily Telegram since 2013. He's also written a book on high school basketball in Monroe County and compiles record books for various schools in southeast Michigan. E-mail him at DougDonnelly@hotmail.com with story ideas for Jackson, Washtenaw, Hillsdale, Lenawee and Monroe counties.
PHOTOS: (Top) Lenawee Christian quarterback Adam Baker follows his blocker during last week's win over Pittsford. (Middle) Cougars coach Bill Wilharms checks out his play chart. (Photos by Stacy Kline.)