MORENCI – It would have been easy for Rodney Zimmerman to take a night off and no one would have thought twice.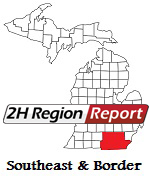 But the three-sport athlete at Morenci High School in Lenawee County wouldn't even consider it. Even while his mom was going through cancer treatments, battling COVID-19 and pneumonia, Zimmerman hit the weight room every morning, showed up for practice every afternoon and, now, has taken a step toward his dream of becoming a college athlete. 
Zimmerman committed this week to Saginaw Valley State University to run track.
"He's just one of those kids that everyone rallies around," said Morenci track and football coach Stefan Wilkinson. "He works really hard at everything he does. He goes all out, every time he's on the court or field or track. He's a very humble kid."
Outside of his own community, few people were aware that his mother was going through cancer treatments in the fall, causing her to miss some of his games. Morenci rallied around the quiet senior.
"Everyone knew what was going on," Zimmerman said, reluctantly. "Morenci is a small town. The parents and coaches were great to me. They would cook meals for us. That was really nice.
"Sports is a way for me to put that out of my mind," he said. "I just go out and play the game. It is hard, but you have to do it. Football became my escape from all of that. That really helped. It wasn't too hard to focus. Well, it was, but I just had to do it. I wanted to keep playing."
Sports has been a part of his life since grade school. He grew up near Waldron in Hillsdale County and attended Pittsford until seventh grade when he moved schools and started going to Morenci. It was a good fit for him and the community.
His first interest was basketball, but he decided to pick up other sports as well.
"At first when I came here, I just played basketball, but I eventually picked up football and then track," he said. "The coaches always told me it was good to play all of the other sports."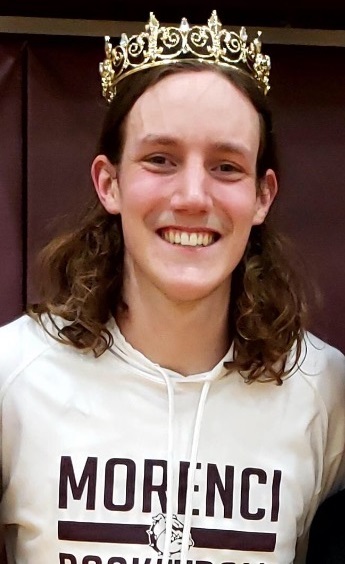 He's a familiar face at Morenci events because he stands out in three sports. He also wears a signature headband.
Zimmerman was a running back for the Morenci football team in the fall, is a point guard for the Bulldogs basketball team as they head into next week's Division 3 postseason, and he can't wait to return to the track this spring. He's a sprinter and a good one.
As a sophomore, Zimmerman finished second at the Tri-County Conference meet in both the 100 and 200 meters. At the Division 4 Finals, he placed fourth in the 100 and helped the Bulldogs 400 relay team place fourth as well. He also qualified in the 200. 
He likes how track is somewhat of an individual sport.
"I like all of the sports, but I like that in track I have total control," he said. "The only one responsible for your performance is you. It's all up to you."
He missed his junior year of track due to the season being canceled because of COVID-19. 
"I was really disappointed that I missed my junior season because that's a big season for recruitment," he said. "I was thinking we were going to still have a season. I was working out and getting ready, then it was canceled. I was still lifting and trying to stay ready."
He has goals for this season.
"I want to go to state again, and I want to be in the top three in my events," he said.
He committed to Saginaw Valley State, a Division II college, after visiting the campus and finding out the Cardinals were able to give some scholarship money.
"They made the best offer," he said. "I've always wanted to go to college. That's been my plan. I want to do something in business, maybe own my own gym."
College is still a while away. Right now, there is the District tournament looming for Morenci, then track season. His mother had a scan recently to find out where she stands with cancer.
For now, he's happy to have her in the stands, watching him compete. The community continues to rally around him. His teammates do, too. During football season, Zimmerman and other players wore green on their shoes or wrist – a lime green ribbon promotes Lymphoma cancer awareness.
"It's nice to have her watching again," he said. "She missed some football games. She just had a pet scan last week to see if it is all gone. We are hoping for the best."

Doug Donnelly has served as a sports and news reporter and city editor over 25 years, writing for the Daily Chief-Union in Upper Sandusky, Ohio from 1992-1995, the Monroe Evening News from 1995-2012 and the Adrian Daily Telegram since 2013. He's also written a book on high school basketball in Monroe County and compiles record books for various schools in southeast Michigan. E-mail him at DougDonnelly@hotmail.com with story ideas for Jackson, Washtenaw, Hillsdale, Lenawee and Monroe counties.
PHOTOS: (Top) Morenci's Rodney Zimmerman sprints toward the finish of a preliminary race during the 2019 Track & Field Finals. (Middle) Zimmeran was named this winter's Homecoming king. (Top photo by RunMichigan.com; middle photo submitted.)