New Football Coaches Rise for PCCP Schools
August 30, 2018
CANTON – Athletically, the Plymouth-Canton Community School system is like no other.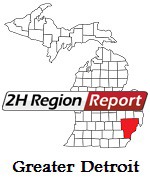 Canton, Plymouth and Salem are the three high schools and all equally share student-athletes, who are randomly assigned to one of the three high schools in seventh grade.
This football season there is an added twist for the football players. All three schools have new varsity head coaches.
Former assistant Andy Lafata has taken over at Canton, while Brian Lewis has taken over Plymouth after leading Ann Arbor Gabriel Richard last season and Justin Reed brings championship experience to Salem after most recently assisting at Warren DeLaSalle and then Livonia Clarenceville.
"We're finding out as coaches that the seniors don't care that there is a new coach," Lafata said. "There are goals that are attainable. They have high expectations. They don't care who's coaching. They want results.
"Plymouth (as a school district) has high expectations. It doesn't matter (who the head coach is). What you learn is the kids are still the same. And we owe it to them to be the best coaches we can be."
Two started 1-0 last week, Plymouth downing Livonia Stevenson 35-11 and Salem defeating Wayne Memorial 23-14. Canton opened with a 35-21 loss to Livonia Churchill.
Athletes' expectations may be the same at all three schools, but as noted, the district is unique. Without being specific to the point of confusing, here's the nutshell on how PCCS students are assigned to a high school:
As noted above, students entering seventh grade in the district are assigned at random, by computer, to one of the three high schools. It doesn't matter where they want to study or whether they want to play football at Canton or softball at Plymouth or soccer at Salem. A student's name is in the computer, and the selection process plays no favorites. If a student transfers into the school system, that student also has a 33 percent chance of attending any of the three schools.
Individual classes, however, can be a mix of students from all of them. It's common for a student at Plymouth to have algebra classmates from Canton or Salem. You could have a student sitting next to you, and on Friday that same student could be doing his or her best to tackle you in the open field. All three high schools are located on the same campus, so classrooms are equally accessible to students from all three.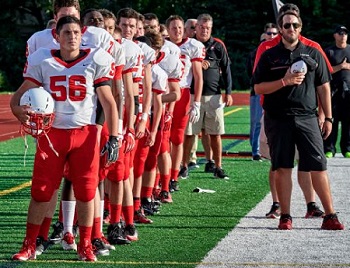 Still with me? In addition there is just one marching band that represents all three schools – and the only time it plays during a football game is during homecoming for each.
Back to football. Of the three programs, the players at Canton might appear to have the easier time adjusting to the new coach. Lafata is a 2005 graduate of Canton and spent the last 10 seasons as an assistant coach under Tim Baechler, who retired as head coach following last season's 10-2 finish. Lafata was the starting center on the 2005 team that, with Baechler at the helm, reached the school's only MHSAA Final – losing to Rockford, 31-21, in Division 1. 
Reed, Salem's new coach, is leading a program for the first time. His previous coaching experience, seven years in all, was split as an assistant between four schools – Royal Oak, Sterling Heights Stevenson and Warren DeLaSalle and, most recently, at Livonia Clarenceville in 2017. The Rocks finished 5-5 last season. 
At 29, Plymouth's Lewis is the youngest of the trio, but he does have experience as a head coach after leading Ann Arbor Gabriel Richard in 2017. Plymouth is coming off a 4-5 season, and his Gabriel Richard team was 7-3.
Lafata, 30, also benefitted by being hired in February. Reed was hired in early June, Lewis a few weeks later.
"To tell you the truth, having three schools on campus is unusual," Lewis said. "We just focus on ourselves. The other things that happened (in the district) doesn't affect us. The challenge for me, (Plymouth) is bigger than Richard. The bigger challenge is, I'm an east-sider. I have to learn the different nuances of how they run things here. It's a work in progress. I have great administrative support. I'm hitting the ground running."
Lewis was wise to surround himself with coaches who have experience at the high school and college levels. One important hire was his father Mike Lewis, a longtime defensive coordinator at DeLaSalle and Detroit Catholic Central, Mike's alma mater. Lewis also lured Mike Mach away from Catholic Central where his father, the legendary Tom Mach, coached for 41 seasons. Cory Zirbel, a former University of Michigan offensive lineman, is also on the staff. Zirbel coached with Rich Rodriguez at Arizona.
Lewis played football at DeLaSalle and then cut his coaching teeth at his alma mater, Michigan, as an offensive analysist – or what Lewis termed as a sort of graduate assistant, from 2012-14. When Brady Hoke was fired as U-M's head coach, Lewis decided to place his family (he has a wife, Teddi, and a 1-year-old child, Evelyn) above a potential college coaching career as he pursued teaching and coaching at the high school level instead.
Reed, 34, spent his first three seasons as an assistant at Royal Oak before going to DeLaSalle under Paul Verska, and he helped the veteran coach win the Division 2 title in 2015. He's been working toward this kind of opportunity.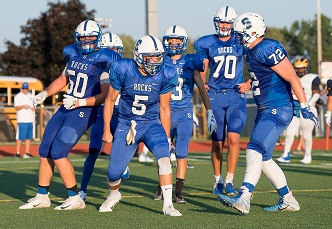 "To have your own program, for the first time, the hardest thing is to convince the community that it'll work," he said. "For Andy it's different. It's a carryover.
"It's a positive atmosphere here. They're craving for success. We're adding kids all the time. I got my 35th player (on varsity) the day after our first scrimmage. We have a freshmen team, too. They didn't have one last year. It's invaluable. It was a lot of work. I was kind of like a salesman.
"It's an exciting time. For all three of us."
Lafata, by all accounts, was the right person at the right time to replace Baechler. The retired coach had built the program into not only one of the best in the Detroit area, but one that competed well throughout the state. Since 1999, Canton has made the playoffs every season but one. The Chiefs came within one play of reaching the Finals a second time but lost to Detroit Cass Tech in a 2015 Semifinal, 48-41.
"Last year we knew every week was a special week," Lafata said. "We all knew Tim would leave once his son (Lou, a linebacker) graduated. It was like being a senior when you knew this would be the last year that this group would be together."
Lafata also is the offensive coordinator, a position he held under Baechler. Don't look for Lafata to change the way Canton plays, especially on that side of the ball. The Chiefs will continue to run the full-house, T-formation with double tight ends and on occasion slip a receiver out wide with one of the three backs on a wing.
"Canton stays Canton," he said. "We coach what we know.

Tom Markowski is a columnist and directs website coverage for the State Champs! Sports Network. He previously covered primarily high school sports for the The Detroit News from 1984-2014, focusing on the Detroit area and contributing to statewide coverage of football and basketball. Contact him at tmarkowski@statechampsnetwork.com with story ideas for Oakland, Macomb and Wayne counties.
PHOTOS: (Top) Clockwise from left: Salem coach Justin Reed, Canton coach Andy Lafata and Plymouth coach Brian Lewis. (Middle) Lafata stands for the national anthem with his players. (Below) Salem players celebrate last week during a win over Wayne Memorial. (Photos submitted by respective athletic departments.)