Nightmare Ends with Shanks' Dream Finish
December 6, 2017
By Tom Kendra
Special for Second Half
The media were fixated on La'Darius Jefferson, and who can blame them?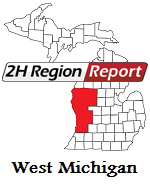 The senior quarterback validated his recent selection as the MLive statewide Football Player of the Year by rushing 32 times for 245 yards and all four of Muskegon's touchdowns in a 28-10 victory over Farmington Hills Harrison in the MHSAA Division 3 Final on Nov. 25 at Ford Field. He followed that up by giving the dejected Harrison players a classy postgame pep talk.
If it wasn't Jefferson, the cameras were focused on eighth-year Muskegon head coach Shane Fairfield, who overcame four losses in the title game by finally taking the final step and hoisting the championship trophy,
But the best story coming out of Muskegon's recently-won title belonged to senior cornerback Willie "Bo" Shanks – a tale that started with heartbreak, which morphed into an ongoing nightmare, which had to be confronted and converted into motivation, then mixed in with relentless hard work before finally culminating with redemption. Sweet redemption.
"It felt great; it felt right," said Shanks, the soft-spoken leader of the Big Reds' secondary. "I guess the lesson in my story is that with focus and hard work, you can overcome anything."
The heartbreak occurred one year ago, when Shanks was playing cornerback on the final play in Muskegon's heartbreaking 2016 Division 3 Final 29-28 loss to Orchard Lake St. Mary's. Shanks was running with receiver Ky'ren Cunningham, who abruptly turned in at the goal line. Before Shanks could react, the ball was in Cunningham's arms on the ground in the end zone with six seconds showing on the clock, courtesy of a perfectly-timed pass from quarterback Caden Prieskorn.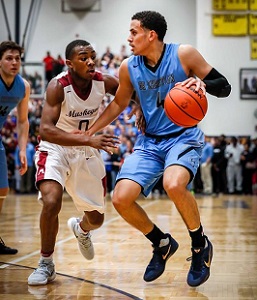 Even though player after player, coach after coach, fan after fan, and family member after family member pointed out that it wasn't just one play which cost Muskegon the championship, Shanks couldn't shake it off.
"I think about it every play," the soft-spoken Shanks said earlier this season. "I think about it every day in practice. I think about it every time we go out and play a game. I even think about it when I`m asleep. I have nightmares about it, so it just motivates me a lot to not let it happen again."
Fairfield decided right away that the best way to deal with the pain of that loss was to bring it out in the open – confront it and then work to overcome it.
"We got beat with six seconds left, so everything ever since has been six more reps, six more sprints, six more drills," said Shanks, a 6-foot-2, 180-pound senior who is also a starting guard on Muskegon's basketball team, which opens its season Friday at home against Rockford.
The hard work by Shanks and fellow seniors Clinton Jefferson and Marvin Harwell and junior Lamarion Sherrill turned Muskegon's perceived Achilles heel – pass defense – into a strength.
In both of Muskegon's losses in 2016, against visiting Chicago Lincolnshire Stevenson (38-35) in Week 2 and the Final against St. Mary's, the Big Reds were torched through the air. Led by Shanks in the secondary, the Big Reds fielded a defense for the first time in years this fall that was equally good against the run and the pass – with only Muskegon Mona Shores having even a modicum of success passing.
"He was our solid rock all year back in the secondary," Fairfield said of Shanks, who is now hoping to play defensive back at the college level.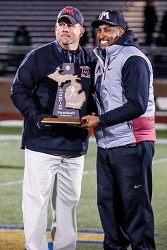 Shanks had his individual highlight in the Regional championship game against DeWitt on Nov. 10 at Grand Haven, when he intercepted three passes (including one he took back for a touchdown) as Muskegon rolled to a shocking 49-0 victory. Those three interceptions gave him 10 for the season, breaking the school record of eight held by three players, including ex-Southern Cal standout and NFL player Ronald Johnson.
If the story ended right there, it would have been a much happier ending than most ever get in the sports world. Sports Illustrated and others have told countless stories of wayward kickers, not to mention recognizable figures like Bill Buckner and Steve Bartman, who never quite recovered from a single play during a game.
But this story had a perfect ending not only for Shanks, but for the Muskegon football program as well.
After dispatching overmatched Battle Creek-Harper Creek, 42-0, in the Semifinals, Muskegon returned to the familiar confines of Ford Field, almost one year to the day of its last-second defeat.
No worries this time around. When the scoreboard clock reached :06 this year, the Big Reds were comfortably in celebration mode.
6, 5, 4, 3, 2, 1 …0.
For Jefferson, Fairfield and the entire Muskegon football family, it was a dream come true.
And for one Big Red in particular, it also was a nightmare vanquished.

Tom Kendra worked 23 years at The Muskegon Chronicle, including five as assistant sports editor and the final six as sports editor through 2011. E-mail him at kendra.tom@gmail.com with story ideas for Muskegon, Oceana, Mason, Lake, Oceola, Mecosta and Newaygo counties.
PHOTOS: (Top) Muskegon senior cornerback Willie Shanks tackles Farmington Hills Harrison receiver Joe Stevens during the Division 3 Final. (Middle) Shanks defends Grand Rapids Christian's Duane Washington during last year's Class A Regional at Grand Haven. Muskegon entered the game undefeated, before falling to the Eagles. (Below) Muskegon football coach Shane Fairfield, left, and Muskegon basketball coach and athletic director Keith Guy pose with the Class A District championship trophy after the Big Reds defeated Zeeland West this fall. Fairfield and Guy sharing great athletes like Shanks has put Muskegon's programs among the state's elite in both football and basketball. (Photos by Tim Reilly.)