P-W Triumphs in Clash of Unbeatens
November 30, 2019
By Geoff Kimmerly
Second Half editor
DETROIT – This week was the right time for Carter Thelen to pull out the film from sixth grade, to remember the start of this year's seniors playing football together a third of their lifetimes ago.
"It was kinda emotional, because this was our last game playing with each other," Thelen said Saturday after that final game was complete. "Just thinking back to when we kept blowing everybody out in sixth grade and seventh grade and eighth grade. Coach was saying how it was the last game for us seniors … (it was) emotionally sad, but physically it pushed me to go out and be better in practice and stay locked in and push everybody else."
Every ounce of that focus and every ounce of that push was necessary Saturday as the Pirates faced Jackson Lumen Christi and its 35-game winning streak in the Division 7 Final at Ford Field.
The teams entered with five MHSAA Finals championship over the last three seasons between them, and P-W emerged with the sixth over four, coming out just ahead in a physical matchup 14-0 to claim its third Division 7 title in four years to go with those won in 2016 and 2017. Lumen Christi had won the last three Division 6 championships before moving into Division 7 for this playoffs as one of seven undefeated teams in that 32-team field to start the postseason.
Their matchup indeed was 48 minutes of tug of war. P-W gained 119 yards, and Lumen Christi had 109 as both averaged 2.3 per play. The Pirates (14-0) were held under 35 points for just the second time this season, to go with a 14-0 Week 1 victory over Friday's Division 8 champion Reading. Lumen Christi hadn't been shut out since a 2010 playoff loss.
"They're the three-time defending Division 6 state champs, and they are obviously one of the storied programs in the state of Michigan," P-W coach Jeremy Miller said. "And when you're going up against them, you have to execute. So to do it against a quality opponent like that is obviously just a tremendous credit to our kids."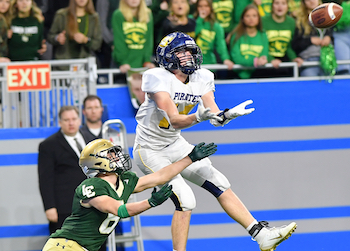 P-W scored its first touchdown when senior Aaron Bearss pulled in a pass from senior Ethan Thelen with three seconds left in the first half after a Bearss interception gave the Pirates an opportunity at the Titans' 40-yard line with 27 seconds remaining in the half.
After nearly 22 more minutes of back-and-forth, the Pirates locked up the title on Carter Thelen's 16-yard scoring run with 2:16 to play, as he burst through the middle of the line and shucked two Lumen Christi defenders at the 1 before gliding into the end zone.
The Titans (12-1) reached P-W territory on three of their 10 possessions, but only inside the 35 once – and that drive ended with a missed field-goal attempt 10 seconds into the second quarter. The three straight Lumen championships saw at least one runner gain at least 200 yards (and in 2017 two did so). Senior Walker Plate entered Saturday averaging almost exactly 200 yards per game rushing this season, but was held to just 49 on 22 carries as the team rushed for only 80 total. Lumen also completed just 6-of-16 passes for 29 yards.
"They were really physical up front, and they played eight men in the box – but we've seen that all year long," Titans coach Herb Brogan said. "We've been able to take advantage of what that gives you, and we couldn't do that today."
P-W senior lineman John Martin and Lumen senior defensive end Matt Saunders led their respective defenses with 11 tackles apiece. Lumen Christi had 12 tackles for loss, including five by junior Brody Dalton. Senior linebacker Grant Stump added eight more tackles for the Pirates.
Sophomore Tanner Wirth led P-W 63 yards rushing on 23 carries, pushing past 1,600 yards on the year as he stepped in for his senior brother Hunter, who missed the entire season after tearing a knee ligament during the summer. Ethan Thelen completed 5-of-11 passes for 52 yards and a score, two years after tearing a knee ligament as well in his final game sophomore year.
Carter Thelen said this year's P-W team was defined by how it pushed the pile in short-yardage situations and others when a full team effort was necessary. How the Pirates emerged from those two potentially success-stopping injuries on the way to a second-straight perfect regular season, defeating two unbeaten teams on the way to Ford Field – reigning champion New Lothrop and Iron Mountain – and then winning one of the most power-packed Finals this decade only seemed to back up Thelen's analogy.  
"It's every time we get in the moment," Thelen said. "Everybody goes behind and tries to push the pile.
"We're stronger than them and we've got more heart, and that pile just keeps going our way."
PHOTOS: (Top) Pewamo-Westphalia's Grant Stump (22) and Aaron Bearss celebrate during Saturday's Division 7 Final. (Middle) Bearss locks in on what will be a second-quarter touchdown catch.