Performance: Morrice's Hunter Nowak
November 15, 2018
Hunter Nowak
Morrice senior - Football
Morrice's third-year varsity quarterback continued the play Friday that has helped his team to the best season in program history. Nowak ran 28 times for 158 yards and three touchdowns to lead the Orioles to a 40-8 win over Colon in an 8-Player Division 1 Semifinal, earning the senior signal-caller the Michigan Army National Guard "Performance of the Week."
Nowak has run 204 times for 1,922 yards (9.4 yards per carry) and 33 touchdowns this season, and completed 24 of 49 passes for 529 yards and eight more scores. His 232 points rank third all-time since MHSAA-sponsored 8-player football was added a decade ago. He took over the QB spot in 2016, and Morrice went 4-5, but the Orioles improved to 9-2 last season and this fall finished the regular season 9-0 for the first time in the program's 11 or 8-player history. Last week's Semifinal was the team's second ever and first since 1996, and this Saturday's championship game against Pickford at Northern Michigan University's Superior Dome will be the Orioles' first trip to the MHSAA Finals in this sport. Along the way, Morrice avenged last season's playoff loss to North Central Thumb League Red rival Deckerville – which went on to finish 2017 Division 1 runner-up – and handed Wyoming Tri-unity Christian its only defeat this fall in the Regional Final two weeks ago.

Nowak plays only football at Morrice, but does also play on a high school-level rugby club team based in Howell. He carries a 4.0 grade-point average while dually enrolled at Lansing Community College, and hopes to study aviation after high school with aspirations of becoming a commercial airline pilot.
Performance Point: "The defense played great. They played shutout. The defense really won us the game, I think," Nowak said of the Semifinal win over Colon. "We were able to put up 40 points, but that was a great offense they had. … It's the first time we ever went to a state final for this, and we're just really excited about it. We've been playing football since third grade, and we've always had successful seasons. We always thought that especially our senior year, we always thought, man, we really need to do really good that year. For it to happen, I think it's great, because we've been working hard all year (and) ever since we started playing varsity. We're thankful to the town for showing up at the games. Everyone comes out. It's a big deal."
That's when we knew: "Our sophomore year, we didn't do too great. We got four wins as sophomores; we could've done better. Last year we were OK – we lost to Deckerville in the second round (38-0). … Our first game (this season), we beat Deckerville (34-14). I think that was big. We went there, we won by 20 points, and that's when we realized we're a good team this year – we really have a shot to go far. We had lost the second round of playoffs the year before by a lot there. So to have our first game, since playing there, be right there again, and to be able to win – it put behind all the doubt that we had last year."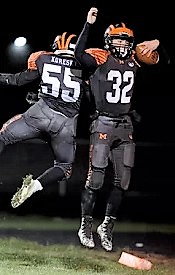 Taking this on together: "I think it's the combination of a lot of us have been playing since third grade together. And there's not a whole lot of us, so that bond has just grown through the years. And I think we're just really good at football, and the whole speed thing really helps too. … I think it's just knowing what someone else is going to do. If I'm running the ball, I can get a sense of where my lead blockers are going to go, what they're going to do. We can try to get a sense of what other people are going to do. We can communicate easier. If something happens, we can fix it real quick, because we know how to talk to each other."
It's a speed thing: "I think 11-man was more about who's going to be bigger on the line and then trying to work around that. (Eight-player) is not so much who is bigger on the line, it's who can get off the line quicker and find the hole faster. We're not the biggest team, but we're a very fast team. That definitely helps us out."
Revved and rallying: "When you're done with the game and you're walking back to the stands, there's a lot of people I've never met before. But they're all congratulating us, and they seem really excited about it. They're there. They don't know us personally, but they're excited for the football team and they want to tell us, 'Good job.' There's a lot of people talking about coming up (for the Final)."
- Geoff Kimmerly, Second Half editor
Every week during the 2018-19 school year, Second Half and the Michigan Army National Guard will recognize a "Performance of the Week" from among the MHSAA's 750 member high schools.
The Michigan Army National Guard provides trained and ready forces in support of the National Military Strategy, and responds as needed to state, local, and regional emergencies to ensure peace, order, and public safety. The Guard adds value to our communities through continuous interaction. National Guard soldiers are part of the local community. Guardsmen typically train one weekend per month and two weeks in the summer. This training maintains readiness when needed, be it either to defend our nation's freedom or protect lives and property of Michigan citizens during a local natural disaster. 
Past 2018-19 honorees
November 8: Jon Dougherty, Detroit Country Day soccer - Read
November 1: Jordan Stump, Camden-Frontier volleyball - Read
October 25: Danielle Staskowski, Pontiac Notre Dame Prep golf - Read
October 18: Adam Bruce, Gladstone cross country - Read
October 11: Ericka VanderLende, Rockford cross country - Read
October 4: Kobe Clark, Schoolcraft football - Read
September 27: Jonathan Kliewer, Grand Rapids Forest Hills Northern soccer - Read
September 20: Kiera Lasky, Bronson volleyball - Read
September 13: Judy Rector, Hanover-Horton cross country - Read
PHOTOS: (Top) Morrice quarterback Hunter Nowak (32) pulls away from a Colon defender during last week's Semifinal win over the Magi. (Middle) Nowak and teammate Sam Koresky celebrate one of his touchdowns. (Photos courtesy of the Lansing State Journal.)