Performance: Schoolcraft's Kobe Clark
October 5, 2018
Kobe Clark
Schoolcraft junior - Football
The 5-foot-10, 170-pound running back enjoyed in one game what for many is a season's worth of scoring. Clark racked up an MHSAA-record nine rushing touchdowns in leading his team to a 63-27 win over Constantine to earn the Michigan Army National Guard "Performance of the Week."
Clark ended the night with 26 carries for 380 yards, and after six games this season has run 110 times for 1,022 yards and 24 touchdowns – he also has four receiving scores. Clark joined the varsity for the eighth game of his freshman year in 2016, when Schoolcraft finished 10-1, and took on a fulltime role as a sophomore as the Eagles finished 5-5 and made the playoffs for the ninth straight season. Schoolcraft currently is 5-1 and tied for first in the Southwestern Athletic Conference Valley under first-year coach Nathan Ferency, as Clark helps shoulder the offensive load with 53 percent of the team's yardage and 62 percent of its points.

He's also carrying on quite a family tradition; his older brothers Benny Clark III and Ricky both were stars for the Eagles, Benny as a running back and Ricky as a quarterback, and their father Benny Clark Jr. is the fifth-leading rusher in MHSAA history after gaining 7,212 from 1993-96 at Ravenna. Kobe Clark also plays point guard for the basketball team – he made first-team all-league last winter – and runs the 100 and 400 meters and on the 400 relay during track season. He advanced to the MHSAA Finals as part of that relay this spring.
Coach Nathan Ferency said: "Kobe has been so impressive because of his elusiveness. He is a tremendous athlete that can do things with his feet that most cannot. Kobe needs about six inches of space, and he is gone. His football intelligence and vision while carrying the football have to be noted too. He is hands-down capable of playing at the next level. I am thankful that isn't for another season!"
Performance Point: "All of this attention, it's weird, but it's nice. It's crazy that I have the state record now, out of everyone in Michigan. … We were trapping a lot; that worked really good … when our guard pulls and leads through the whole for me. My guards and tackles were the guys who would make a block, and I would get to the next level."
Unsung up front: I love those guys (on the line). My favorite guys on the team right there. They think (the record) is awesome, but it's not just me, it's them – a whole team effort. They should be getting just as much attention. They've been talking me up and saying it's awesome for me, which I appreciate, but they're the guys who helped me get it."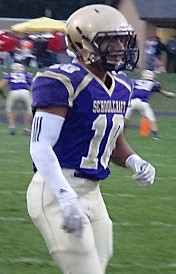 Next Clark in line: "(My dad) is glad for me. He just told me to thank the line, which I do. … I always looked up to (my brothers), and I always wanted to be better than everyone in my family, because that's what you work for. They just said, 'Keep working. You're doing great things right now. Keep it going.'"
New year, new game: "I've gotten a lot faster, and I've just been working toward getting better every year – conditioning, and I've been in the weight room a lot. I've gotten a lot bigger, especially the last year. It seems a lot different, because we're in a new offense this year too. We got a new coach and we have just bonded, and we have a good connection."
Coaching us up: "This is the most fun I've had in a long time playing football. Everyone's bonding on our team and getting along great. Coach just knows every player on our team and gets along with everyone, and he's just a great coach. He makes everything so much more energetic and fun, and he just has a great competitive side to him, and he loves to win."
- Geoff Kimmerly, Second Half editor
Every week during the 2018-19 school year, Second Half and the Michigan Army National Guard will recognize a "Performance of the Week" from among the MHSAA's 750 member high schools.
The Michigan Army National Guard provides trained and ready forces in support of the National Military Strategy, and responds as needed to state, local, and regional emergencies to ensure peace, order, and public safety. The Guard adds value to our communities through continuous interaction. National Guard soldiers are part of the local community. Guardsmen typically train one weekend per month and two weeks in the summer. This training maintains readiness when needed, be it either to defend our nation's freedom or protect lives and property of Michigan citizens during a local natural disaster. 
Past 2018-19 honorees
September 27: Jonathan Kliewer, Grand Rapids Forest Hills Northern soccer - Read
September 20: Kiera Lasky, Bronson volleyball - Read
September 13: Judy Rector, Hanover-Horton cross country - Read
PHOTOS: (Top) Schoolcraft's Kobe Clark gets past a Berrien Springs defender. (Middle) Clark, during pregame. (Photos courtesy of JoeInsider.com.)