Pickford Prepping for Next Chance to Shine
October 10, 2018
By Geoff Kimmerly
Second Half editor
The Pickford football team has relished the opportunity to learn the last two seasons.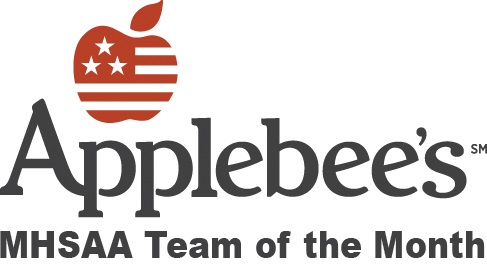 The Panthers' 2016 run ended in the 8-Player Semifinals with a loss to eventual repeat champion Powers North Central. Last season, Pickford didn't lose a game until the 8-Player Division 2 Semifinals – when it fell to eventual champion Crystal Falls Forest Park by a mere two points.
"There was a point in (last year's) game where if we could've gotten the ball back, we had a chance to win that game," Pickford coach Josh Rader said. "We know sometime during the season, it's going to be on the line, and we're doing our best to prepare for that moment. We put ourselves in different situations in practice. We practice those specific moments … that (are) going to propel you to the next level."
All signs point to the MHSAA/Applebee's "Team of the Month" for September being well on its way.
After finishing 11-1 a year ago, Pickford is off to a 7-0 start this fall. A 38-20 Week 3 win over Forest Park was the only game where Pickford didn't score at least 52 points. And the defense has given up 69 points total.
Pickford's program is the reason the MHSAA introduced 8-player football playoffs in 2011. The school, located on the eastern end of the Upper Peninsula about 25 miles south of Sault Ste. Marie, has roughly 130 students. The varsity has 14 players – with only two seniors and just one sophomore.
Three juniors were on varsity for all of last season, and two more played several games with the top team. "The last few years we've had a good group of guys; they work together, they trust each other and they're just playing good football because of that," Rader said. "They build on each other."
Five players have run for at least three touchdowns this season, with junior running back Stephen LaMothe finding the end zone a team-high 10 times to go with 539 yards on the ground – at 10.2 per carry. Junior Matthew Bush has run for a team-high 613 yards – at 9.6 yards per attempt.
But making this Pickford team even more dangerous is junior quarterback Jimmy Storey, a threat both on the ground and through the air. He also averages 10 yards per carry, with 414 yards and 10 touchdowns rushing. He's completed 63 percent of his pass attempts for 1,043 yards and 23 scores – without an interception. Junior Nicholas Edington is his leading receiver with 18 catches for 469 yards and 11 touchdowns.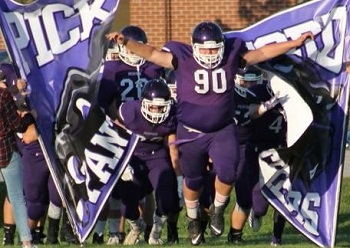 And then there's the defense. Pickford has seven interceptions and seven fumble recoveries – an average of two takeaways per game. Junior Isaiah May has a team-high 61 tackles, and junior Sam Burton has eight sacks. Bush is the team's second-leading tackler.  
How do the Panthers' pull this off with just 14 players? They stress daily improvements in practice and bringing physicality against opponents. A few defensive stops followed by quick scores, and Pickford is rolling.
Rader joined the staff in 2003 as defensive coordinator and took over as head coach a year later. The Panthers made the 11-player playoffs in eight of 12 seasons with him on staff or leading it, and are 34-7 in 8-player since making the switch in 2015.
But they're hoping for more this fall. Pickford is prepping for that next step after building up the schedule with seven 2017 playoff teams. After so much success, the Panthers are getting everyone's best shot, all the saved-up trick plays – and Rader likes that as well. All of it helps his team prepare for next month.
And the community is excited to support another run. Pickford's best-known sports legend is a boys track & field program that won 27 straight Upper Peninsula Finals from 1952-78. The football program has made four MHSAA Semifinals total over the years and is eyeing a possible championship game trip to Northern Michigan University's Superior Dome.
"We tried to step that (schedule) up to prepare for those playoff moments and those tough type of games," Rader said. "(It's) 'Let's play this as a playoff game' – so when we are in the playoffs, hopefully we'll be battle tested."
Past Teams of the Month, 2018-19
August: Northville girls golf – Read 
PHOTOS: (Top) Pickford quarterback Jimmy Storey breaks free during his team's Week 6 win over Stephenson. (Middle) Panthers senior Mitchell Miller leads the team onto the field this season. (Photos courtesy of the Pickford football program.)