Pirates Rule Air, Capture 1st Title
November 22, 2013
By Geoff Kimmerly
Second Half editor
GREENVILLE – Peck's players had started snapping at each other during their Week 6 Homecoming game against Kingston, getting on each other's cases about missed tackles and other mistakes of the first two quarters.
The bickering became enough that coach Rob McDaniel decided that at halftime he and his players would have a talk. At least, that's what he's calling it now.
The message was clear. And McDaniel's words that night proved true in Peck's 67-32 victory over Rapid River in Friday's MHSAA 8-Player Final at Greenville's Legacy Field.
"We came out after halftime and put 52 on Kingston, and we haven't looked back since," McDaniel said. "I told them you can either bicker and your season will be done after nine games. Or, with the talent you have here, if you come together and be brothers on the field ... there aren't any limits for you guys."
"It was amazing," Peck junior tight end Kyle Abrego added. "If you want to be state champions, you can't fight against each other."  
Instead, the Pirates took the fight to the rest of their opponents this season, finishing a perfect 13-0 and with their first MHSAA title.
This was only the second season of 8-player football for Peck and its third under McDaniel. The Pirates had won only one game, by forfeit, the season before McDaniel took over – and then went 1-8 in his first season of 2011, their last before switching to 8-player.
"Our numbers were down, and (8-player) was huge for us," McDaniel said. "We were able to build success. We had success last year putting in a new system. And then the seniors this year took over, and last summer they were the ones making the phone calls saying get in the weight room."
Peck stood tall all season, outscoring its opponents on average 51-16. But Abrego and the Pirates' passing game chose the Final to no longer be overshadowed by a running game that gained more than 4,200 yards this fall.
Quarterback Tristen Haener had thrown for 1,166 yards and 12 touchdowns this season entering Friday night, and then connected on 12 of 16 passes for 379 yards and seven touchdowns – including four that were caught by Abrego.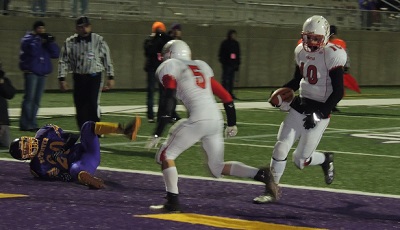 Abrego's twin brother Cody was the star of the Semifinal with 449 yards rushing against Lawrence, but the Rockets bottled him and his teammates up for a combined 165 yards rushing. Instead – and much to Kyle Abrego's surprise – the Pirates decided to take advantage of his 6-foot-4 height as he grabbed six passes for 236 yards against defenders mostly four to six inches shorter.
"We thought we had good coverage, but we just didn't turn our heads quick enough and the result was big plays," Rapid River coach Steve Ostrenga said. "We thought we could cover them, but we were worried about their speed on the outside and speed on runs. They gave their quarterback just enough time to get the ball released.
"We took the run away. But we certainly didn't take the pass away."
McDaniel credited Ostrenga as well for slowing the Pirates' rush, but was able to deploy his speedy lineup in another useful way.
Rapid River senior quarterback Jake Pearson – also the starter when the Rockets (12-1) fell to Carsonville-Port Sanilac in the 2011 Final – put up simply incredible numbers this season. He entered Friday with 2,525 yards and 42 touchdowns rushing and 1,009 yards and 15 scores passing.
But although Pearson was able to run for 180 yards and three scores and throw for a fourth, he didn't find enough room to help the Rockets keep pace when Peck pulled away during the second and third quarters.
"We have the ability to play sideline to sideline, and we pushed Pearson to the sidelines and didn't let him get the corner. We tried to keep him in the pocket or trap him," McDaniel said.
Pearson will go down as one of the first stars of 8-player football in this state, with numbers that will earn him recognition in the national record book. Senior lineman Hayden Hardwick also was a sophomore on that 2011 runner-up team, and Pearson got to finish his high school career connecting with Hardwick on a touchdown pass out of a spread formation that made the center eligible.
"The kid is humble. I'm not sure how many words I can say about Jake Pearson," Ostrenga said. "He's a true ambassador for our school, for 8-(player) football. We were 1-8 four years ago, 1-8 two years in a row, and 8-(player) football has been great. To have a Jake Pearson and this team stay together, it's been phenomenal.
"He's everything you see."
Click for a complete box score.
PHOTOS: (Top) Peck players chant while holding their first MHSAA championship trophy Friday at Legacy Field. (Middle) Pirates quarterback Tristen Haener (10) scores on a run during the second quarter.