Pivotal Playmaking Puts King Back on Top to Close 2021 Season
DETROIT – Past disappointments tucked away in his mind, Dante Moore knew what he needed to do with an elusive Finals title on the line Saturday night at Ford Field.
Detroit Martin Luther King's junior quarterback needed to make a play to put the game away. And that's exactly what he and senior receiver Chansey Willis Jr. did.
Pinned against their own goal line, Moore and Willis converted a big third-down play to seal King's 25-21 victory over last season's MHSAA Division 3 champion DeWitt in a hard-fought title game.
It was the first Finals championship for Moore, the highly recruited 6-foot-2, 195-pounder, who after the game was presented the State Champs! Mr. Football award. Facing 3rd-and-6 from his own 5 and with his team holding a four-point lead, Moore hit Willis on a 7-yard play to move the chains and enable the Crusaders (13-1) to run out the clock.
Moments earlier, King's defense stuffed DeWitt (12-2) on 4th-and-goal from the 1 in the back-and-forth contest.
"I just say, 'Hey,' I looked at Chansey – how we've been all year – 'I'll lead my guy, let's get this pass. They don't have any more timeouts. We can win this game,'" Moore said. "I gave him my trust throwing him the ball, and he's going to do what he do: Catch the ball, get down and get the first down."
The championship was King's first since 2018 and fourth in seven years.
During Moore's freshman year in 2019, King lost to Muskegon Mona Shores, 35-26, in the Division 2 Final. Last year, the Crusaders fell in the Regional to River Rouge, which lost a 40-30 shootout to DeWitt in the Division 3 championship game.
"Blessings. Ever since we lost my freshman year to Mona Shores, a shot at that great team; last year we lost in the Regionals to River Rouge. I mean, we've been hungry for it," said Moore, who finished 18-of-24 passing for 228 yards with an interception.
"A lot of seniors on this team have got rings, but a lot of juniors, sophomores and freshmen were really hungry for it. After the start of conditioning in the summer time and being out here right now, we've just been really hungry for this moment and we appreciate it."
King played like it early.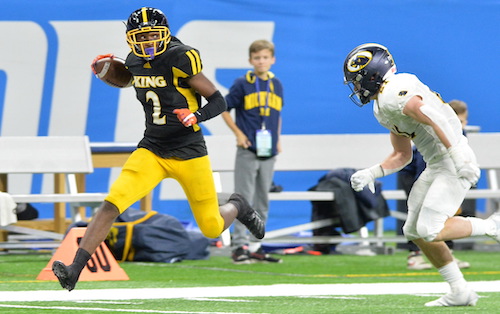 The Crusaders scored in the game's first minute, as senior Terrence Brown sprinted for a 51-yard touchdown run. They made it 13-0 just 1:18 into the second quarter when junior defensive end Kenny Merrieweather tipped a pass and turned it into a 45-yard pick-six.
"Just being a ball player, trying to just make plays to try to win the game for me and my teammates," the 6-4, 245-pound Merrieweather said about his interception return.
That was the start of a wild quarter when the teams combined for 33 points. Despite trailing 19-7 with three minutes left in the half, DeWitt stormed back to take a 21-19 lead into the break.
Senior QB Ty Holtz, who led the Panthers to the title last year, sandwiched 6- and 15-yard TD passes to seniors Bryce Debri and Tommy McIntosh, respectively, around a 6-yard scoring run by King's Brown. Then, in the closing seconds of the half, Holtz electrified the DeWitt crowd by intercepting Moore and returning it 69 yards for a TD.
That put DeWitt in front by two at halftime, a lead the Panthers held until junior Sterling Anderson Jr. scored on a 3-yard run with 8:22 remaining in the game to put the Crusaders back in front, 25-21.
Holtz finished 10-of-18 for 153 yards with two picks. Six of his completions went to McIntosh, the University of Wisconsin commit, who finished with 90 receiving yards.
Holtz guided DeWitt deep into King territory during the game's final minutes, as the Panthers had 1st-and-goal from the 10, but they could not punch it in.
"I mean, Ty Holtz, I want to give him a shoutout on defense, first of all," Moore said. "I mean, him being a quarterback and being at safety, eyeing me wherever I go. … He was throwing the ball around to Tommy and the other teammates. It was a great team, a great coaching staff. They were here last year, they won it, so big shoutout to them."
Brown led all rushers with 113 yards on 11 carries. Willis caught four passes for 111 yards. Senior Blake Bailiff led King with 10 tackles, including stops on each of DeWitt's final four offensive plays.
It wasn't Moore's best game statistically, but King coach Tyrone Spencer was impressed with the way he ran the team.
After losing at Carmel (Ind.), 42-40, on a Hail Mary in the season opener, the Crusaders finished the year with 13 straight wins.
"I just love the way that kid (operates); he's so poised," Spencer said about Moore. "He throws an interception, he's in the locker room, I mean, it doesn't faze him. He comes back out and he does what he needs to do. They were taking the pass away from him. They had safeties all over the top, bailing out late and we had to stick to the run game. Sometimes, that's going to take away from what you can do in the air, and that's fine. We got a win. He found a way for us to win."
For DeWitt, senior Nicholas Flegler paced his team with 11 tackles and 69 rushing yards.
He is one of 21 Panthers who will graduate in the spring and also played a significant role on last season's champion.
"They grew up together and played together. They've won for a long period of time and they learned from the previous group, and I think that's something that's just carried on," DeWitt coach Rob Zimmerman said. "We've got young kids coming up that want to be just like these guys."
PHOTOS (Top) Detroit King's Sterling Anderson Jr. (23) jets down the sideline as a DeWitt defender works to wrap him up. (Middle) Chansey Willis Jr. (2) prepares for contact as the Panthers' Bryce Debri (21) pursues. (Photos by Hockey Weekly Action Photos.)