Powers North Central Extends Title Legacy
November 18, 2016
By Geoff Kimmerly
Second Half editor
GREENVILLE – Their parents are taking credit for this, and for many reasons, rightfully so.
But the moms and dads who birthed the athletes rolling through Powers North Central's football and boys basketball programs these last few years never stacked championships like this. For that matter, no class at any Michigan school has accomplished what the Jets seniors added to Friday night.
North Central's 58-22 win over Deckerville at Legacy Field finished a second straight undefeated 8-player football championship season for the Jets, to go with two straight undefeated Class D championship teams for their boys basketball team – and ignited questions of how a school with only 115 students from a small Upper Peninsula community could come up with such a collection of talent.
Jets assistant coach Gerald Whitens provided his son, star quarterback and hoops guard Jason Whitens, with one explanation.
"Most of our parents went to North Central. It's coming back around," Jason Whitens said. "We had a good family group that stayed at Powers North Central, and we just kept filtering through and growing as a group. My dad said he blazed the path for us, and we just made it even bigger. So I have to give him a little credit."
Added senior running back Bobby Kleiman, whose dad Scott also is a football assistant and played with Gerald Whitens on the school's 1984 Class D champion basketball team: "(This kind of group) doesn't come by often, I can tell you that. But we're blessed to have the kids we have. The timing, everything, it just fell into place. We grew up with each other, we love each other, and it's just a blessing to have the kids we have."
That blessing to North Central athletics has been an unmovable obstacle for football opponents the last two seasons.
The Jets finished this run 13-0 to move to 26-0 since switching to 8-player before the start of the 2015 season.
But this most recent win didn't come as smoothly as the score might indicate – at least during most of one quarter.
The first belonged to North Central, and the 6-foot-4, 210-pound Whitens in particular. In 2015, Kleiman became the first player in the then-five seasons of 8-player football to run for more than 200 yards in an MHSAA Final, finishing with 205. Whitens obliterated that record in the first quarter Friday, running for 231 yards and three touchdowns on only five carries as the Jets opened up a 20-0 lead.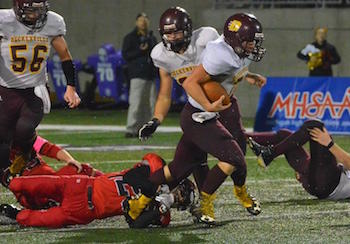 But Deckerville, also undefeated and making its first championship game appearance since winning 8-player in 2012, didn't fold. In fact, the Eagles (11-1) rode the running of senior tailback Austin Fritch and senior quarterback Brandon Pattullo, who combined for 162 yards rushing and three touchdowns during the second quarter to put the Eagles up suddenly 22-20 with 1:57 to play before the break.
North Central had trailed only once before this season, into the third quarter Week 2 against Crystal Falls Forest Park before coming back to win 60-42.
"We're not used to other people scoring on us and having close games," Bobby Kleiman said. "But we played Crystal Falls two weeks ago (a 60-50 Regional Final rematch); they're an exact replica of this team. We had one of the craziest games ever with them, and they really prepared us for this game."
Indeed, Whitens scored on a 44-yard run a minute after Deckerville took its lead, and the Jets never trailed again. Kleiman added a 49-yard scoring run less than three minutes into the third quarter, and Whitens added 37 and 2-yard scoring runs and a 71-yard touchdown pass to senior Marcus Krachinski.
Whitens finished with an 8-Player Finals rushing record that may not be broken in some time, 352 yards on only 17 carries (20.7 yards per carry) with six touchdowns. His numbers could've been greater, or at least different if for just two plays, both dropped passes that likely would've resulted in touchdowns. Still, Whitens completed 6 of his 12 throws for 100 yards despite rain that blew sideways for most of the first three quarters.
Deckerville had given up only 50 points total this season and only 18 during the playoffs despite facing two other undefeated teams.
"We made a nice comeback there, but you've still got to keep going, and we weren't able to make some plays," Deckerville coach Bill Brown said. "We can't give up big plays and expect to win. We don't have a kid like that that can get 80-yard runs every time and score."
Fritch and Pattullo did both finish with 133 yards rushing, Pattullo on only 12 carries for an average of 11.1 yards per attempt.
Kleiman added 123 yards rushing on 10 carries despite what North Central read as Deckerville aligning to stop him early on. That read led to Whitens' big first quarter, including a 38-yard run on the first offense play of the game, on the "dart" quarterback keeper play that North Central continued to throw at the Eagles throughout the night.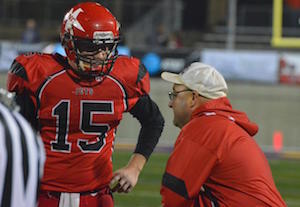 The addition of Friday's performance gave Whitens 2,496 yards and 44 touchdowns passing this season, along with 943 yards and 22 touchdowns rushing.
He's one of 11 seniors who played his last high school football game – and six of those seniors also played in last season's Class D Basketball Final.
"This is the best class probably ever in the state, to do what they've done," North Central coach Kevin Bellefeuil said. "Two basketball titles, two football titles, and they have to be a favorite to win a third one (in hoops).
"This is a special group of kids. We have the right mix of skill players, offensive linemen, linebackers; we have a little bit of everything."
And some will take only a short break. Whitens said at first he'd be back to work for basketball Saturday morning. Then he self-corrected – he'll wait until Monday instead.
"You're never satisfied with who you were last year, or the day before. You're always growing to get better each and every day of your life, and that's how I go about my life," Whitens said.
"We've got our eyes on the ultimate prize. This is our last year, last run at it, and we're going to enjoy it. … I'm going to get home, join our community, let them bask in the glory with us. And then Monday morning, I'm ready to go."
The MHSAA Football Finals are sponsored by the Michigan National Guard.
PHOTOS: (Top) Powers North Central quarterback Jason Whitens breaks away for one of his six rushing touchdowns Friday. (Middle) A Deckerville ball carrier works to get free of a North Central defender. (Below) Whitens confers with Jets coach Kevin Bellefeuil. (Photos by John Johnson/MHSAA.)