QB Follows Mentors in Leading Montague
By Tom Kendra
Special for Second Half
Sebastian Archer didn't have to look far to find role models as Montague's starting quarterback.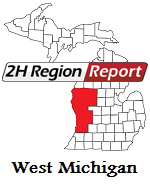 Pat Collins, Montague's 14th-year head coach, was the quarterback who first brought the Wildcats to the promised land, culminating a dream season at the Pontiac Silverdome with a 12-7 loss to powerhouse Detroit dePorres in the 1992 Class CC championship game.
Cody Kater, now the Wildcats' quarterbacks coach, took it a step further and led Montague to back-to-back Division 6 titles with wins over Leslie (41-20) in 2008 and Monroe St. Mary Catholic Central (24-21) in 2009.
"I'm pretty lucky that I get to learn from both of them every day," said Archer, a 5-foot-9, 175-pound junior who is off to an impressive start, following in the footsteps of recent Montague quarterbacks Jacob Buchberger and Dylan Stever. "They push me pretty hard, but I know it's only to make me better."
Archer will try to glean all he can from Collins and Kater this week, as the 6-0 Wildcats (ranked No. 3 in Division 6 by The Associated Press) prepare to host 5-1 Muskegon Oakridge (ranked No. 6 in Division 5) in a key battle for the West Michigan Conference championship and playoff seeding.
Montague has bolted to its 6-0 start behind one of the highest-scoring offenses in the state, averaging 57 points per game. Collins said the key for his team to stay unbeaten with a grueling final three games against Oakridge, Ravenna and then Montague's first-ever meeting against unbeaten and four-time reigning Division 8 champion Muskegon Catholic Central, is for Archer to continue his dynamic play while taking care of the ball. Archer has thrown for 945 yards, 12 touchdowns and just two interceptions.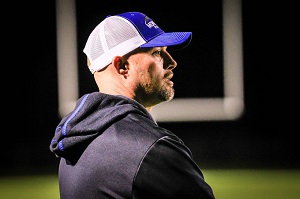 "Sebastian distributes the ball well and makes good decisions," Collins said. "We anticipated having a good team this year and hoped to be in the position where we are right now, but this is where things get really tough and we'll see what we're made of."
While Archer is continuing the Montague tradition of strong quarterback play, he is a completely different style of QB than his two mentors.
Collins engineered the tightly-packed, wing-T offense during his playing days, which usually meant about one or two passes per game.
Kater was more of a prototypical pocket passer, standing 6-4 and throwing 79 touchdown passes over his career. Kater played college quarterback at University of Cincinnati, Grand Rapids Community College and finally Central Michigan. He worked his way up to the starting job for the Chippewas as a junior, but broke his collarbone in the first quarter of CMU's 2013 season-opening game against Michigan in "The Big House."
Archer, meanwhile, is described by Collins as more of a "point guard" on the football field.
"He is definitely a dual threat," Collins said. "Like a good point guard, he is capable of taking it into his own hands if need be. But first and foremost, he's looking to get our other guys involved."
That supporting cast, many like Archer part of Montague's loaded junior class, has been stellar through the first two-thirds of the season.
Bryce Stark is explosive out of the backfield, rushing for 625 yards and 13 touchdowns this fall. Kenyan Johnston is the team's most prolific receiver, highlighted by his nine catches for 129 yards and two touchdowns in a thrilling 46-44 win at rival Whitehall on Sept. 22. The main downfield threat is burner Jake Jancek.
For the past 40 years, the road to the WMC title has gone through Oakridge, a perennial playoff team which has qualified for the postseason 21 of the past 22 years and won MHSAA championships in 1997, 2005 and 2008. The main rival for Oakridge for many years, particularly the 1990s, was Ravenna, but since the turn of the century the biggest challenges have come from the White Lake area duo of Whitehall and, especially, Montague.
Montague edged Oakridge 29-26 two years ago and led 28-14 last year at Oakridge before the Eagles rallied for a 31-28 win.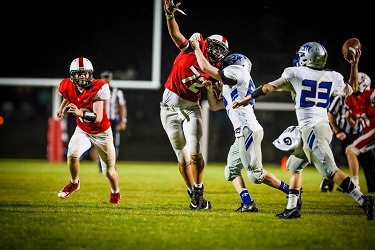 Archer expects another classic game.
 "I can't wait for Friday night," said Archer, who, in addition to his quarterback duties, starts at safety and punter and hold on kicks. "It will probably be like the Whitehall game where the stands are full and people are sitting on the grass. Those are the games we love to play in."
Part of the reason for the year-in, year-out success at Montague and Oakridge is coaching stability. Montague has had just two head coaches in the past 32 years, with Ken Diamond coaching from 1986-2003 and Collins from 2004 to present. Oakridge has had an even longer stretch with just two head coaches, led by Jack Schugars from 1979 to 2010 and now Harger from 2011 to present.
Montague has made the playoffs in 12 of 13 seasons under Collins, with the back-to-back championships in 2008 and 2009 capping an amazing stretch which saw the Wildcats make it at least to the Semifinals five straight years from 2005 to 2009.
Getting back to that elite level is what motivates Archer to come in to "Camp Kater" on Monday and Friday mornings before school. Kater emphasizes building up arm strength on Mondays, and switches the focus to pocket awareness on Fridays. Those sessions have transformed Archer from a running back playing quarterback to a well-rounded QB, Collins said.
Archer grew up idolizing Kater in small-town Montague, but he lists his favorite professional quarterbacks as Tom Brady and Doug Flutie, the 5-10 quarterback who was an inspiration to little guys everywhere. Flutie retired in 2005 when Archer was just 4 years old.
"The roster lists me as 5-9, but I'm 5-7; I'm not gonna lie to you," said Archer, who also plays basketball and baseball for Montague. "I've watched old films of Flutie, and I love how he found a way to make things happen even though he was a little guy. That's what I try to do."

Tom Kendra worked 23 years at The Muskegon Chronicle, including five as assistant sports editor and the final six as sports editor through 2011. E-mail him at kendra.tom@gmail.com with story ideas for Muskegon, Oceana, Mason, Lake, Oceola, Mecosta and Newaygo counties.
PHOTOS: (Top) Montague junior quarterback Sebastian Archer, a true dual-threat for the unbeaten Wildcats, looks for running room Sept. 22 during his team's 46-44 victory over rival Whitehall. (Middle) Archer tries to throw over 6-4 Whitehall defensive end Brandon Rake; Archer completed 14 of 20 passes for 217 yards, four TDs and no interceptions in the win. (Below) Montague coach Pat Collins played quarterback for the Wildcats in the early 1990s, leading them to the Class CC championship game in 1992. Collins, now in his 14th year, has a 121-38 record at Montague, highlighted by back-to-back MHSAA titles in 2008 and 2009. (Photos by Tim Reilly.)