QB Gives MCC New Look, Same Success
October 31, 2017
By Tom Kendra
Special for Second Half
Beating Muskegon Catholic Central in the playoffs was hard enough before Cameron Martinez came along.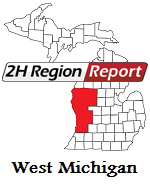 Martinez, a 5-11, 180-pound, dual-threat sophomore quarterback, has added many new dimensions to the Crusaders' offense – which had become synonymous around the state with ground-and-pound, power football.
"It's pretty apparent that if we're sitting in the T (formation) all the time, we're not maximizing his abilities or our other guys' abilities," said fifth-year MCC coach Steve Czerwon, who has won a Division 8 championship in each of his first four seasons as the Crusaders' head coach. "Cameron makes us coaches look good, too, because with him sometimes a bad play turns into a good play."
MCC, which is 8-1 and ranked No. 1 in Division 8 by The Associated Press, goes on the road this week for a showdown with a familiar foe and another playoff powerhouse, Mendon (10-0 and ranked No. 3), in a MHSAA District championship game at 1 p.m. Saturday.
Mendon fans will see a different MCC team than they have become accustomed to during the two schools' seven prior meetings (MCC has won five) – a team that often operates with Martinez in the pistol formation, with just one running back, no tight ends and four receivers spread wide across the field.
The point man is Martinez, whose athletic ability was noticed by Central Michigan University two years ago as a 14-year-old eighth grader. His potential was so apparent that he was offered a scholarship at the conclusion of that camp, before he ever played a snap of high school football.
Last fall, he split time at quarterback with senior Trenton Bordeaux, and started to prove himself on the field as a quarterback, free safety and punt returner. Many other Division I schools are now following him as he is the unquestioned leader of this year's Crusaders.
Martinez, who was born on the infamous day of Sept. 11, 2001, knows that college is still three years away. More immediate on his mind is the challenge of a 240-mile roundtrip journey to face a Mendon program which has amassed 10 MHSAA championships, the most recent in 2011. MCC has won 12 MHSAA titles during the playoff era.
"We're all very excited," said Martinez, whose older brother, Christian, guided MCC to Division 8 titles in 2014 and 2015 and now plays quarterback at Northwood University. "It's a little bit of a trip, but I've always liked playing on the road. We know all about them and their tradition."
Mendon will have to, first and foremost, contain Martinez if it wants to snap a three-game losing streak to the Crusaders.
The numbers tell the story: Martinez has rushed for 979 yards on 90 carries (10.9 yards per carry) and 15 TDs, more than double as many yards as MCC's second-leading rusher, sophomore Tommy Watts (441 yards). Others sharing carries in the backfield-by-committee are juniors Dawson Steigman and Avery Davis and senior Riley St. Amour.
Martinez' completion percentage is down considerably from a year ago, but he has still hit on 45 of 94 passes for 720 yards, six touchdowns and three interceptions. His primary targets are seniors Ryder Smith (14 catches) and Jackson Riegler (11 catches) and sophomore Nolan Convertini (10 catches).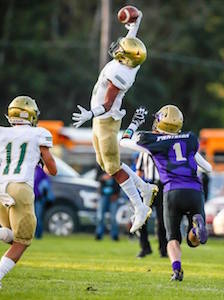 Martinez & Company looked flat-out unbeatable and a mortal lock to complete the "Drive for Five" – and join East Grand Rapids and Farmington Hills Harrison as the only schools to win five titles in a row – until Montague rolled into Kehren Stadium on Oct. 20 for the first-ever meeting between the two schools.
Montague frustrated the Crusaders with a disciplined pass rush and stingy coverage, limiting Martinez to just 10 of 31 passing for 131 yards, no touchdowns and two interceptions, as MCC's 27-game winning streak was snapped in a stunning 34-10 loss.
 "I put that loss on me," said Martinez, who did rush for a team-high 80 yards in the defeat. "I need to react better and make better adjustments during games. All respect for Montague, they are a great team, but that game was a wake-up call for us."
MCC bounced back with a 42-20 win over visiting Decatur last week, in a game that was much closer than many expected.
Now comes the big test against Mendon, which appears to be back to its old, powerful self after posting its first undefeated regular season since 2104.
 "This is a classic Mendon football team," said Czerwon, who is 2-0 against the Hornets as a head coach, posting playoff wins in 2013 and 2014. "They are a power team that wants to run downhill on you. They make very few mistakes and rarely have a negative-yardage play."
Mendon, champions of the Southwest 10 Conference, are led by quarterback Cole Decker and running backs Wyatt Cool and Austin Rensi. Bobby Kretschman, a former standout player and 10-year assistant coach for the Hornets, is in his second year as head coach after taking over from legend John Schwartz.
MCC will use many different formations, all directed by Martinez, in an attempt to move the ball against a Mendon defense which has six shutouts in its first 10 games.
"We are very diverse, which is what I like about this team," said Martinez. "Our coaches come up with a lot of different schemes for every game. We just have to go out and execute it."

Tom Kendra worked 23 years at The Muskegon Chronicle, including five as assistant sports editor and the final six as sports editor through 2011. E-mail him at kendra.tom@gmail.com with story ideas for Muskegon, Oceana, Mason, Lake, Oceola, Mecosta and Newaygo counties.
PHOTOS: (Top) Muskegon Catholic Central's Cameron Martinez, a 5-11, 180-pound sophomore, surveys the field while awaiting the snap from center Owen Linstrom during the Crusaders' 42-20 victory over visiting Decatur in last week's Division 8 Pre-District game. (Middle) Martinez goes airborne for an incredible interception from his free safety position during the Crusaders' 31-6 victory at Frankfort on Sept. 1. (Photos by Tim Reilly.)