QB Leads Ithaca Back to Legendary Level
November 27, 2015
By Geoff Kimmerly
Second Half editor
DETROIT – At halftime of Friday's Division 6 Final, Ithaca coach Terry Hessbrook told his quarterback Jake Smith he was the best player on the field and needed to play like it. 
Or something like that – no doubt a little more directly, with a few more words that got right to the heart of Smith's importance in helping the Yellowjackets avoid the disappointment of taking home the second-place trophy for the second season in a row.
Two quarters later, the list of Ithaca quarterbacks who have put up memorable performances at Ford Field grew by one. 
Cementing his place in a line of signal callers who have led Ithaca to 83 wins in 84 games, Smith directed a second-half rally that pushed the Yellowjackets past Clinton 27-20 for their fifth MHSAA championship in six seasons.
A year ago, Smith and his teammates left the field after a loss to Monroe St. Mary Catholic Central ended a national-best 69-game winning streak. This time, Ithaca trailed 13-0 early in the third quarter before scoring 27 straight points over 15 minutes to take a lead it wouldn't relinquish. 
"He knew he could get more out of me, and as an offense we definitely produced," said Smith of his coach's halftime cajoling. "I wasn't really panicking. I knew if we get behind, we've still got to keep playing. I wasn't going to let it happen like it happened last year. I didn't want to experience that feeling again, so I just played as hard as I could.
"It means so much to everybody on our team. Everybody really just wants to go out on top. Everybody wants to be number one. We finished that climb this year and we stuck the flag in the mountain, and it just feels so great." 
And it surely was a bit of a relief too.
Many of the team's 17 seniors saw the field for most of the 2014 trip to Detroit, perhaps offering a little more motivation to bounce back for the program's fifth perfect season over the last six. 
"It was immense pressure, and to be honest, that made me very nervous. I talked to the players about it before the game today, that I was so happy because since day one last year after we got beat their goal was to get back to Ford Field," Hessbrook said. "And I thought we had a championship-caliber football team, but I think a lot of people had championship-caliber football teams and somewhere along the line they get caught up and something goes wrong.
"I was glad they were able to play their last game in an Ithaca uniform here at Ford Field and have a chance ... to play for a championship." 
The Yellowjackets (14-0) finished off their best defensive performance of the run in terms of points allowed, giving up only 107 this fall despite dealing the first and only losses to three contenders over the last four weeks.
That defense played a massive role Friday, holding a Clinton rushing attack that averaged 297 yards per game this season to only 179. The Redskins had only 14 yards rushing over five second-half possessions after taking the 13-0 third-quarter lead. 
But while the Yellowjackets held Clinton's offense in check, it came down to Smith to carry them over the top.
The Ithaca run of quarterbacks starring at Ford Field started with Alex Niznak, who ran for five touchdowns in 2010 to lead the Yellowjackets to their first title. Then came Jake's older brother Travis Smith, who put his name all over the record book in 2011 and 2013 wins – sandwiched around 2012, when back-up Logan Hessbrook came in after Travis Smith was hurt and led Ithaca to another MHSAA Finals victory. 
Jake Smith was decent in last season's Final, running for 90 yards and a score and throwing for 147 yards and the other touchdown as Ithaca fell 22-12. But his first half Friday was not at all noteworthy – six yards rushing and 60 passing.
Then came Hessbrook's pep talk.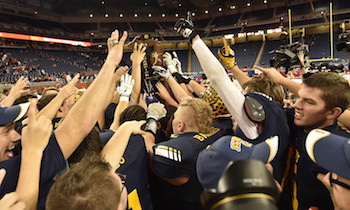 "The first half, we did what we wanted to do," Clinton coach Scott McNitt said. "We kept him in front of us. We didn't let him get loose. But the third quarter, he found something. And he showed he was the best player on the field."
Four minutes into the third quarter, Smith scored Ithaca's first touchdown on a 14-yard run. Three and a half minutes later, Smith connected with senior Spence DeMull on a 22-yard pass in the seam, and two plays later connected with DeMull on the same route for a score that put the Yellowjackets ahead 14-13. 
The next possession saw Smith's performance climb toward another level.
With 14 seconds left in the third quarter, he dropped back and rolled left, spun away from a near-sack, down the left sideline – and just as it looked like he would dive at the near pylon, Smith side-stepped right and whirled into the end zone. Ithaca 21, Clinton 13.   
Smith added one more touchdown run from a yard out to put the Yellowjackets up 27-13 with 7:47 to play. Noah Poore's 4-yard run at 4:59 pulled Clinton back within seven. But after Ithaca ran the clock down to 1:47 on its next possession, Clinton went to the air and completed only one of four passes before Ithaca senior Derek Teed ended the threat with a fourth-down sack.
Teed had three of his team's 11 tackles for losses. Senior linebacker Jace Demenov led the effort on that side of the ball with 10 tackles, and junior linebacker Lane O'Boyle had eight.
Smith ended with 126 yards rushing to go with three scores and 180 yards passing with a touchdown. 
For Clinton, senior running back/linebacker Mathew Sexton ran for 141 yards and a score and had six tackles. Senior linebacker Ken DeShano had 11 tackles.
Sexton also played a major role when Clinton fell to Ithaca 41-22 in the 2013 Final, and ran for more than 2,000 yards this season as the Redskins (13-1) charged through this run toward the rematch, eliminating reigning champion St. Mary among one of the most impressive slates of playoff opponents in any division. 
"The gauntlet we've gone through these past four weeks – St. Mary, Madison Heights (Madison), (Jackson) Lumen Christi, (Grand Rapids) NorthPointe Christian, may have taken some of what we needed in the tank out of us," McNitt said. "But these kids battled to the end … and had a chance at the end."
Coaches almost always decline to compare teams from year to year, and especially championship winners. 
But Hessbrook admitted this run was a little sweeter than some of the rest because of what it allowed for the players who walked off sadly a year ago and the legacy they were able to finish on a winning note.
"It would be hard for me to put them into numerical order and say this one is my favorite one or that one is my favorite one," Hessbrook said. "But I'll say this about this group of seniors: I don't think that any class at Ithaca has ever dedicated themselves to winning a championship more than this class has, and that's why it was so important for them to do that." 
PHOTOS: (Top) Ithaca quarterback Jake Smith breaks a tackle during Friday's Division 6 Final. (Middle) The Yellowjackets celebrate their fifth MHSAA title in six seasons.