Restarted Fall Becomes Madison Dream Season
October 30, 2020
By Doug Donnelly
Special for Second Half 
ADRIAN – It's always fun to be first.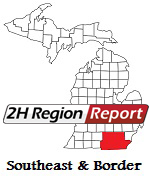 Tonight, when the Division 6 football game between Adrian Madison and Quincy ends, one of the two teams will walk off the field by enjoying its first-ever playoff win.  
For the Madison Trojans, it's been a dream season. As they get set to host their first playoff game in school history, however, the team isn't just resting on its 5-1 record and best season since 1974. 
"We're certainly not just happy being in the playoffs," said head coach Taz Wallace. "We're going to enjoy it, but it's time to get to work." 
Madison is making just its third football playoff trip ever, and first since 2009. But the school certainly is familiar with athletic success, across a variety of sports.
The track & field teams both have long Tri-County Conference winning streaks. In fact, the current senior class of boys was in grade school the last time Madison wasn't the TCC track champion. The boys basketball team won three league titles between 2013 and 2016 and contended almost every year since. The volleyball team won its fifth-straight league title this fall. The golf teams have won multiple titles. Madison's girls basketball team is the perennial league favorite having won eight titles over the last nine seasons. 
Football success, however, has eluded the school. The last winning record for the Trojans was 6-4 by that 2009 playoff team. They've sent multiple players into the college ranks the last couple of years, but a winning record on the field just hasn't been in the cards. 
Until now. 
This year, something is different. Wallace says the Trojans are playing for each other like never before. 
"They've always had the ability," Wallace said. "The difference is they believe in themselves. They hold each other accountable." 
The season started when Madison beat Ottawa Lake Whiteford, a Division 8 powerhouse in recent years. Madison won 42-24, breaking a string of losses against the Bobcats that dated back to 1980. It was a monumental win for the program. 
"It was huge for our kids," Wallace said. "To go out and win that game started all of it. In that moment, our kids realized they could play at that level."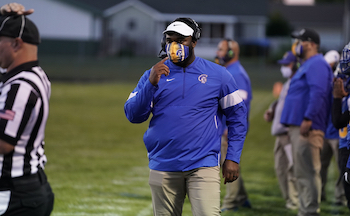 Although Madison lost in Week 2 to still-undefeated Erie Mason, the Trojans have won four straight games since to finish 5-1 and earn the No. 3 seed in their Division 6 District.  
"For us, it doesn't change," said Wallace. "It's about our kids and how we execute. We need to keep getting better." 
Madison's done it this season with a superior ground game. Three Madison backs have run for at least 200 yards in a game. Rovahn Roberts is averaging an amazing 23.5 yards per carry with 446 yards in just 19 attempts. Dante Cerasuolo was leading Lenawee County in rushing at one point before hurting his foot. Now, Isiah Casarez-Ruiz leads the team in rushing and is second in the county. 
Sophomore center Xavier Soss, senior guard Robert Gauna and senior tackle Davion Wheeler have led the Trojans up front.  
"Davion is our energy guy," Wallace said. "He plays with great emotion. They all feed off each other." 
End Marcel Theriot, linebacker Vince Williams and the electric Roberts lead the Trojans on the defensive side of the ball.  
Wallace is a Madison graduate, having moved to Adrian from Tuscaloosa, Ala., while in high school. He was a multi-sport athlete at Madison and went to Adrian College, where he grew into an All-American linebacker. After four outstanding seasons with the Bulldogs, he earned a tryout with the Detroit Lions as an undrafted rookie free agent and survived several cuts before ultimately his NFL dream ended. 
He is the student success coach at Madison and in his ninth season as varsity football coach. In August, Wallace announced he was stepping down as head coach saying he felt it was just time. When the MHSAA announced football was going to re-start in September, school officials went to Wallace and asked that he stay on for the season. 
This season, the hard work has paid off and Wallace has Madison on the brink of its best-ever finish. 
"It's never been about me," Wallace said. "I love all of these kids. It's about them. As soon as I was back, it was all-in. There's no other way to approach it. 
"I love our kids like they are my own. Once I came back, I gave these kids everything I had. There's no other way to do it. I love these kids. They deserve the best." 

Doug Donnelly has served as a sports and news reporter and city editor over 25 years, writing for the Daily Chief-Union in Upper Sandusky, Ohio from 1992-1995, the Monroe Evening News from 1995-2012 and the Adrian Daily Telegram since 2013. He's also written a book on high school basketball in Monroe County and compiles record books for various schools in southeast Michigan. E-mail him at DougDonnelly@hotmail.com with story ideas for Jackson, Washtenaw, Hillsdale, Lenawee and Monroe counties.
PHOTOS: (Top) Adrian Madison coach Taz Wallace, far left, confers with Ryan Fisher (58) and Mario Garcia (27). (Middle) Wallace this fall has led the Trojans to their best football season in more than a decade. (Photos by Mike Dickie.)