Rouge Primed for 1st-Time Repeat Attempt
September 17, 2020
Mareyohn Hrabowski has a tough act to follow after a historic season for the River Rouge football program.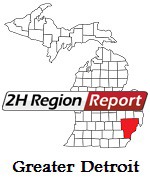 All the same, Hrabowski, now a senior quarterback for coach Corey Parker, is just thankful he and his teammates will get that opportunity.
Hrabowski's three rushing touchdowns led the Panthers to a 30-7 victory over Muskegon in the Division 3 title game last November at Ford Field. The title was the school's first in football, and the win over the Big Reds to earn it shocked many football enthusiasts throughout the state.
"It was awesome," Hrabowski said. "To think the year before I was playing (on the junior varsity). To make the move up, the game was faster and the energy we got throughout the season was amazing.
"Before the season we talked about a state championship. When we got to the (MHSAA) playoffs we knew we had to put the foot on the gas.
"This year, expectations are the same. We don't want to push anything. We don't want to make this a one-man show. That title made us hungrier."
River Rouge weathered a rugged schedule in 2019 finishing 13-1, highlighted in part by a 16-3 victory over state power Detroit Catholic Central in Week 8. Of its five playoff wins, only one, a 14-7 victory over Chelsea, came by fewer than 23 points.
With more than half his starters returning, Parker was optimistic heading into this season. Then COVID-19 hit. Normal preparations were all but cancelled, and until schools were given the go-ahead to begin preseason practice midway through the summer it looked like this season would be cancelled or postponed. The ups and downs continued when football shut down after the first week of practice and before teams were to begin training in full pads.
Earlier this month, Governor Gretchen Whitmer relaxed restrictions that in turn opened up the opportunity to play football again, and the MHSAA Representative Council voted to allow programs to resume practice with the start of the season pushed back to Sept. 18. What we're left with is a shortened season, six regular-season games for most teams, with the playoffs set to begin Oct. 30.
"You're setting up dates, scrimmages, games, then you're shut down," Parker said. "We didn't know what was happening. Then we had to deal with the parents and fans, and explaining to them what we would do.
"(The virus) is very scary. Some of our players live with their grandparents. Some have younger siblings at home. (If you get infected) you don't want to bring that home to them. I have (three) young children at home. We had one player who said he was in contact with someone who had tested positive. We couldn't let him practice with us. He said he might transfer if he couldn't practice and I said if that's your best option, go ahead."
Parker's practices are highly monitored. He has what he terms a sanitation station for the players where, when they're finished with a drill, they wash down and are told to keep their distance.
With its classrooms empty, River Rouge has adopted a virtual classroom schedule for all students from 8 a.m. until 1 p.m. As the dean of students and athletic director, Parker's responsibilities have changed. In addition to the virtual classroom, students have the opportunity to safely meet with teachers, face-to-face, from 2-4 p.m.
"We call it a drop-in center," Parker said. "It's like a Q&A. If a student has a question about the work they did (virtually), they can come in and meet with their teacher. We allow two or three students, something like that, in an area at one time."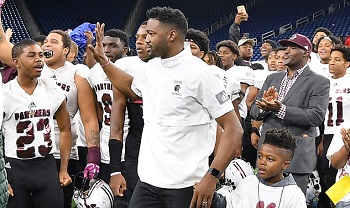 This is Parker's 12th season as football coach and dean of students. In addition, four years ago he became athletic director. Since his arrival, the football program has taken off and the high school's enrollment has more than doubled to more than 1,000 students.
In the six football seasons prior to Parker's first (2009), the Panthers were a combined 13-41 with no playoff appearances. Before Parker arrived, over its football history, Rouge had made the playoffs four times with one playoff win.
River Rouge has made the playoffs the last 10 seasons including runs to Division 5 Regional finals in 2012 and 2014, Division 4 Semifinals in 2016 and 2017, and to a Division 5 runner-up finish at Ford Field in 2015.
Success has equated to an increase in participation. Parker had approximately 20 players in the program the first four seasons. This season he has 130 including a freshman team for the first time (River Rouge will not play a freshman schedule due to the lack of freshman teams in the area).
"When I got here, football was something they did before basketball," Parker said. "We were successful and in 2012 our goal was to win a playoff game then a District title, and we did that. We beat Almont (44-22). That was a turning point. We kept it simple back then. We ran the ball. We're still a single wing, but we spread it out now.
"(Defeating Muskegon) was huge. (Muskegon) is the cream of the crop. If you talk about football in Michigan, you have to talk about Muskegon. Winning a title changes everything. Our numbers are up, the most ever, and the fan base is different. We have people in their cars in the parking lot now watching practice. It puts our players under a microscope. They realize they're representing something bigger than yourself.
"Sure there's pressure. Pressure either bursts pipes or creates diamonds."
The strength of this year's team is experience on the offensive and defensive lines plus the play of Hrabowski. Many of River Rouge's linemen are college-bound players like Jalen Johnson, Chance Moore and Tyler McMillan on the offensive side; Mark Gilbert, Pius Odjugo and Deavontae Miles on defense. Safety Armorion Smith is a playmaker. He had six sacks in the victory over Detroit Catholic Central.
Offensively the Panthers will pin their hopes on Hrabowski, who at 6-foot-3 and 215 pounds can control a game with his strength and athleticism. Hrabowski answered the bell time and time again during last year's Final. He rushed for 175 yards on 15 carries and completed half of his 12 pass attempts for 45 yards. River Rouge did not commit a turnover.
"(Hrabowski) does not believe in turning it over," Parker said. "He's a bigtime teammate. He's old school. At lunch, he's always sitting with his offensive linemen. He's a great runner and a better passer. When he has the opportunity to run, he makes plays."
Lurking in the back of everyone's mind is the virus. Coaches and players know they must be constantly on their guard, adhering to protocol and using caution at all times.
"I'm an only child, so there isn't that many I come in contact with at home," Hrabowski said. "I have my childhood friends, but I've noticed I'm not around as many people as I used to. I know my limits. Coach does a great job of reminding us of social distancing and wearing masks."
River Rouge, which plays an independent schedule, opens the season at Ecorse on Friday. East Lansing is scheduled the following week and, later, Detroit Catholic Central and Detroit Renaissance.
As the COVID crisis continues to evolve, players are expected to wear masks, not only on the sidelines but while participating as well. As difficult as this sounds, Parker said his players are ready for the challenges that await.
"(Wearing masks) is going to be uncomfortable," he said. "But we don't mind dealing with that discomfort for these seniors to have a chance to perform and earn a scholarship to move out of their parents' house."

Tom Markowski is a correspondent for the State Champs! Sports Network and previously directed its web coverage. He also covered primarily high school sports for the The Detroit News from 1984-2014, focusing on the Detroit area and contributing to statewide coverage of football and basketball. Contact him at tmarkowski@statechampsnetwork.com with story ideas for Oakland, Macomb and Wayne counties.
PHOTOS: (Top) River Rouge quarterback Mareyohn Hrabowski finds a path during last season's Division 3 Final against Muskegon. (Middle) Panthers coach Corey Parker and his players prepare to except their championship trophy at Ford Field.