'Sailor Salute' Honors Those Who Serve
September 5, 2016
By Tom Kendra
Special for Second Half
It's hard to believe a game with the magnitude of Zeeland West at Muskegon Mona Shores could be anti-climactic.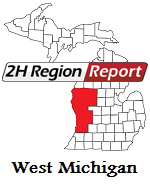 But that was certainly the case on a special night Thursday at Sailor Stadium in Muskegon, where the real story unfolded before the opening kickoff.
The "Sailor Salute" was a massive tribute to all of those who serve their country and their community, combining the magic of a high school football game with military responder vehicles, a U.S. Army Lakota Helicopter, 300 motorcycles, 1,500 students and community members decked out in red, white and blue singing "God Bless America" and the national anthem on the field and then two flyovers by the Hooligan Formation Flying Flight Team.
And that was all before the game began.
"We have done a military appreciation night for quite a few years now, but this year we decided to try and step it up a little bit," said Mona Shores athletic director Ryan Portenga, explaining a pre-game event which drew national television exposure. "These people that serve our country and our communities deserve it. So we just kept bringing in more groups and ended up with huge, patriotic community event."
The pre-game festivities went off pretty much without a hitch, helped by sunny skies and ideal temperatures in the low 70s.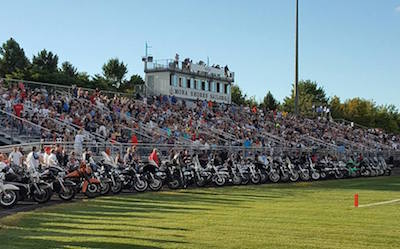 The football game capped off a day where Mona Shores also hosted volleyball, soccer and tennis competitions. School officials opened the gates to the stadium at 5 p.m. to allow time for fans to walk around the north side of the track and explore and get pictures with 10 different military and emergency responder vehicles.
Around 6:30 p.m., an estimated 300 riders from different motorcycle groups who support military veterans roared into the stadium and filled the south side of the track. At 6:50 p.m., the community choir joined the marching band on the field for two emotional songs, timing things perfectly as the four military planes flew by in their precise formation, white smoke trailing them, just as the giant choir sang "home of the brave" with a booming crescendo.
Having to compete against a pre-game show to end all pre-game shows, the game itself certainly held up its end of the bargain – continuing the excitement for more than 4,000 fans in a classic matchup of the wing-T system and precision execution of Zeeland West against the speed and athletic ability of Mona Shores.
Zeeland West put on a power blocking and running clinic and jumped out to a 24-14 halftime lead. Mona Shores fought back valiantly in the second half, sparked by a 95-yard touchdown pass from junior quarterback Tristan Robbins to junior wideout Keyshawn Summerville late in the third quarter, then taking its first lead, 28-24, on a 14-yard run by bruising running back Marcus Collins on its next possession.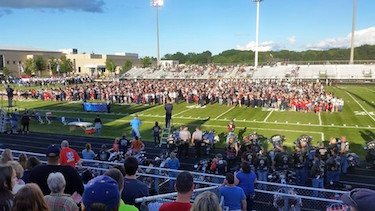 But that's when the Dux did what they do best, churning out a 16-play, 73-yard drive – using up more than 7 minutes off the clock – before senior Drake Fincannon scored what proved to be the winning touchdown on a 1-yard plunge with 1:50 remaining.
Perhaps inspired by the pre-game festivities, the Sailors did not quit. Shores marched down to the 10-yard line, and Summerville made an amazing one-handed catch in the back of the end zone on fourth down, but was unable to get a foot down in-bounds.
"Tonight was a terrific game from both teams," said veteran Zeeland West coach John Shillito. "We're happy to be part of something so good. I compliment Mona Shores for doing it in such a classy way where it didn't interfere with the football game at all."
In terms of an early-season, nonconference matchup, high school games don't get much bigger.
Zeeland West is the defending Division 4 champion, with that latest title its third in the past five years and fourth overall since its first year of football in 2005 – all under Shillito, who previously took Muskegon Orchard View (1995 and 1999) and East Kentwood (2002) to MHSAA championship games.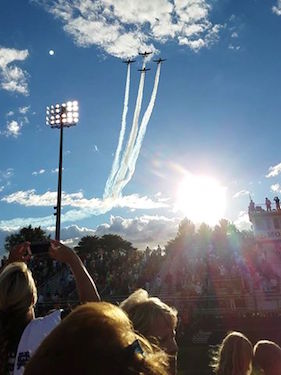 Mona Shores, meanwhile, is emerging as a new football force after years of struggle. The Sailors made the playoffs for the first time in school history in 2013, then followed that up with a run to Ford Field and a Division 2 runner-up finish in 2014. Shores registered its first 9-0 regular season last year, before falling to rival Muskegon, the winningest program in state history, in the District Finals.
Shores graduated 21 of 22 starters off its 2015 team, but has proven in a big opening win over Holland West Ottawa and its hard-fought loss to Zeeland West that it's a program that isn't going anywhere. The tough schedule continues this week with a trip to Rockford before Ottawa-Kent Conference Black play begins.
The victory moves Zeeland West to 2-0, after winning a grueling defensive battle, 14-9, over visiting Cedar Springs in Week 1. The Dux, who compete in the O-K Green, play another blockbuster nonconference game this week at defending Division 5 champion Grand Rapids West Catholic in not only a battle of unbeatens, but also defending title winners.
But no matter what happens the rest of the way, it's unlikely that either team or its fans will be part of another event quite like the Sailor Salute.
"It was an awesome community atmosphere, and on top of that, a great football game," Mona Shores coach Matt Koziak said afterward. "If you love high school football and the United States of America, this was the place to be."

Tom Kendra worked 23 years at The Muskegon Chronicle, including five as assistant sports editor and the final six as sports editor through 2011. E-mail him at kendra.tom@gmail.com with story ideas for Muskegon, Oceana, Mason, Lake, Oceola, Mecosta and Newaygo counties.
PHOTOS: (Top) The Mona Shores logo on the field was painted red, white and blue as part of the Sailor Salute tribute to those who serve the country and the community Sept. 1 at Mona Shores High School. (Middle above) More than 300 motorcycle riders who support veterans roared into Sailor Stadium shortly before kickoff as part of the Sailor Salute. (Middle below) A giant choir of 1,500 students and community members from both Mona Shores and Zeeland West sing "God Bless America" and the national anthem as part of the tribute. (Below) The Hooligan Formation Flying Flight Team flies high over Sailor Stadium at the conclusion of the national anthem. (Photos courtesy of Mona Shores High School.)