Saints Remember, Rally During Semifinal Run
November 20, 2015
By Dennis Grall
Special for Second Half
ST. IGNACE – Tradition and excellence are distinctive parts of the athletic program at LaSalle High School at this eastern tip of the Upper Peninsula.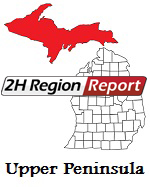 Located at the north end of the Mackinac Bridge, St. Ignace has won five MHSAA girls basketball championships since 1999, and the school's football team won the 1983 Class C title. The football team also is currently preparing for its third MHSAA Semifinal appearance since 2011.
When the Saints face two-time defending Division 8 champion Muskegon Catholic Central on Saturday at Thirlby Field in Traverse City, they will have an extra player in their huddle.
Mitchell Snyder, a three-year starter at center, was killed in a car accident following the school's homecoming in October when he was struck by an alleged drunk driver.
"Since his death, the team has really come together as a unit," said veteran St. Ignace News sportswriter Dave Latva.
Head coach Marty Spencer, in his 19th season at the helm, agreed. "This has been a rallying point for us," said Spencer, noting the Snyder family has become an integral part of every football game.

"This has brought us closer; it has brought his family closer to us. We have rallied around him. He is with us. He is on our shoulders. He is in our huddle."
Snyder's father, Brent, wears his son's No. 69 jersey to every game, and the players reach out and touch the jersey as they leave the locker room for the field. His number also appears on the back of each player's helmet.
In the first game after the accident, against Ironwood and played in Gladstone, Brent Snyder asked the Saints what they thought Mitchell would want them to do. Snyder told them Mitchell loved to play football, and they should continue to play the game.
The Saints ran their opening two plays against Ironwood with just 10 players, in memory of their deceased teammate. "Mitchell was there blocking for us," said Spencer.
Spencer said the coaching staff and players talked extensively about the tragic accident. "It was tough that first week. We struggled," said Spencer. "We talked a lot trying to find answers, and you never can answer those questions.
"We had to do that for our well-being, for us to survive. As he helps us through each game, it gets better and better for us. Not just for us, for the whole community."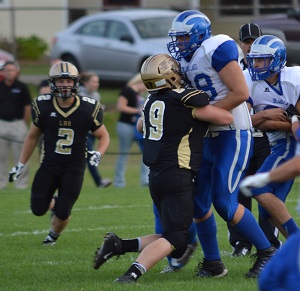 Spencer has guided St. Ignace to an 11-1 record. Its only loss was 20-14 to unbeaten Ishpeming, which is in the Division 7 Semifinals for the fourth straight year. Last week the Saints beat perennial Division 8 power Crystal Falls Forest Park 22-8.
"Our kids are pretty resilient," said Spencer. "He (Mitchell Snyder) has been our backbone for this run. It could have destroyed us all. Mitchell's dad said there should be no more crying. Mitchell is not crying. He wants you to play football."
Because the Saints have played such powerful foes as Ishpeming and Forest Park, they will not be intimidated going up against a team the stature of Muskegon Catholic Central. "They are bigger than us, they have size and speed," said Spencer. "Our kids are confident. We have played some good teams (including also Fowler and Johannesburg-Lewiston). We are ready."
Leading the Saints is senior Gage Kreski, an all-state prospect in football and basketball and highly-sought college recruit in both sports. Kreski is the team's quarterback and was the Upper Peninsula's defensive player of the year (small school division, as voted by media) as a back. He also does the punting and returns punts.
"He does so much," said Spencer, noting Kreski had 11 interceptions as a sophomore and this year has scored off two of his three interceptions as offenses steer away from him. "He is a constant athlete who keeps working. He can play anywhere. He could be one heckuva wide receiver," said Spencer.
Kreski has rushed for 851 yards and added another 1,235 yards passing. He has solid backfield support from Mitchell Peterson, Andrew Goldthorpe and Dave LaVake, with linemen Cole Garen and Jared Helms setting the interior tempo for the two-time Ski Valley Conference champions.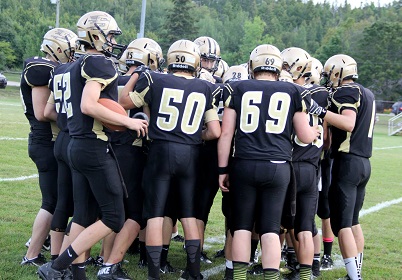 Spencer said the heavily balanced Saints have emphasized defense this year with a 52 alignment (five linemen, two linebackers). "Against the run, this is the best it has ever been," he said.
The narrow loss to Ishpeming provided a confidence boost for the Saints, who have a fully home-grown coaching staff under Spencer, a downstate native. Spencer coached nearly every assistant coach when they played and said having St. Ignace grads on the staff "helps continue the legacy that has been built."
Two of the aides are volunteers who moved back home this fall, Chase and Zach Pierson, the sons of legendary St. Ignace football standout and coach Barry Pierson.
"It is nice having people who know the tradition here, the ins and outs of what the program means to people," said Spencer.

Denny Grall retired in 2012 after 39 years at the Escanaba Daily Press and four at the Green Bay Press-Gazette, plus 15 months for WLST radio in Escanaba; he served as the Daily Press sports editor from 1970-80 and again from 1984-2012. Grall was inducted into the Upper Peninsula Sports Hall of Fame in 2002 and serves as its executive secretary. E-mail him at sportsdenesky@gmail.com with story ideas for the Upper Peninsula.
PHOTOS: (Top) St. Ignace players all wear a decal on their helmets in memory of late teammate Mitchell Snyder. (Middle) A Saints defender stacks up an Indian River Inland Lakes ball-carrier earlier this season. (Below) St. Ignace huddles during a break in play. (Photos courtesy of Kristi Gustafson.)