Scoring Record Falls, North Central Soars
January 16, 2021
By Tim Robinson
Special for Second Half
BRIGHTON – It's not often when a pair of defensive plays are key in a 70-48 decision.
But that's the way it went for Powers North Central, which beat Portland St. Patrick by that score in the 8-Player Division 2 championship game at the Legacy Center.
The North Central Jets (11-0), who won their third MHSAA Finals championship, sacked St. Patrick quarterback Connor Cross seven times. But he completed 25 of 38 passes for 374 yards and six touchdowns.
"My hat's off to Portland St. Patrick," North Central coach Leo Gorzinski said. "They tested our kids like no one has this season."
The Jets were led by Luke Gorzinski, who rushed for 299 yards and four touchdowns and threw for 156 yards and three more scores. 
"I was on the team last year, when we lost in the Final," he said. "It was a heartbreaking loss, but this is the top of the world."
Wyatt Raab rushed for a pair of touchdowns and caught two passes for scores. He also sacked Cross in the end zone for a safety that gave the Jets a 10-0 lead after the first quarter. 
But the Shamrocks (10-1) then got going, scoring 22 points in the second quarter, only to see the Jets add 24 to take a 34-22 halftime lead. 
While the game would go on to set multiple 8-Player Finals scoring records, including for most points scored by both teams combined, the aforementioned pair of defensive plays helped North Central pull away during the third quarter.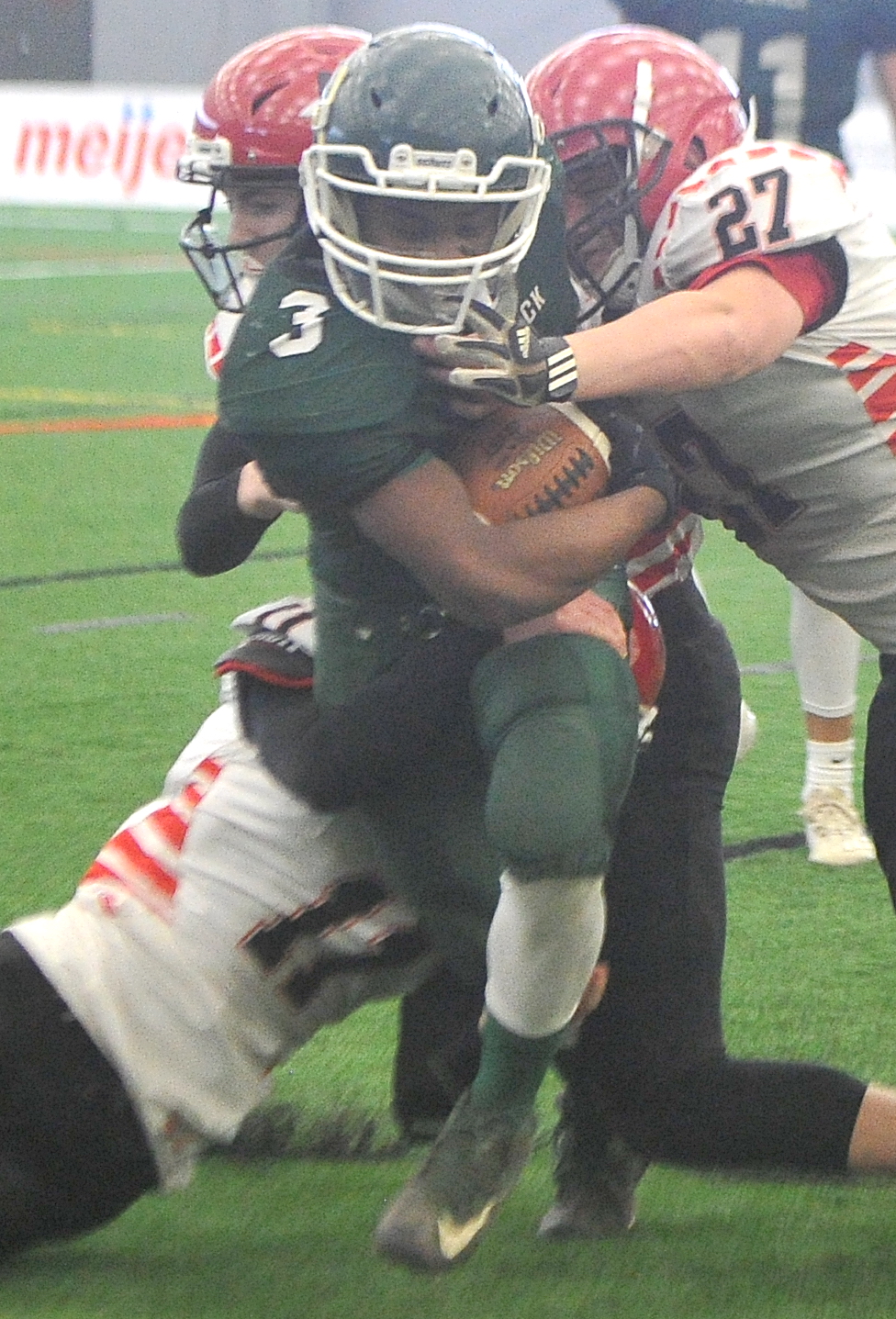 The Jets thwarted the Shamrocks on the first drive of the second half, when Luke Klieman intercepted a pass at the Jets' 40. After the teams exchanged touchdowns, North Central forced St. Patrick to turn the ball over on downs. Raab then scored two plays later from 28 yards out to effectively put the game out of reach.
The Jets' defense, which allowed St. Patrick 404 yards in total offense, allowed only 31 on the ground, most of them after the game was out of reach, and stopped the Shamrocks on four attempted two-point conversions. 
Both teams were without starters due to the coronavirus or contact tracing.
"We were missing some key players," Luke Gorzinski said. "But their replacements stepped up. We had freshmen and sophomores out there, and they were awesome."
North Central racked up 579 yards in scoring 70 or more points for the fifth time this season.
The Shamrocks, to their credit, kept after the Jets to the end.
"That's the way we've played all year, through the shutdown and everything" St. Patrick coach Patrick Russman said. "They want to play and have fun, and that's what they wanted people to see. That's their character."
Shane Cook had 13 catches for 179 yards and three touchdowns for the Shamrocks.
But a North Central team that had several starters and their defensive coordinator at home had enough to take the championship trophy home to the Upper Peninsula, thrilling the 100 or so fans who made the long drive.
"It was fun to play in the (Superior) Dome last week," Raab said, referring to the Jets' Semifinal win over Cedarville, "but it felt weird with no fans. To have our families here to watch meant a lot."
PHOTOS: (Top) North Central's Wyatt Raab celebrates a defensive stop during Saturday's Division 2 Final. (Middle) Portland St. Patrick's Jacobe Hayes-Dunning works to get out of the grasp of a pair of Jets defenders. (Click for more from Hockey Weekly Action Photos.