Traverse City Neighbors Chase 9-0
October 21, 2015
By Dennis Chase
Special for Second Half
TRAVERSE CITY – It hasn't happened here in 30 years.
But this weekend Traverse City Central and St. Francis can put the wraps on 9-0 regular seasons, marking the first time two Traverse City football teams have accomplished that feat in the same season since 1985. Traverse City Senior High – before the school was split – won the Class A state championship that year.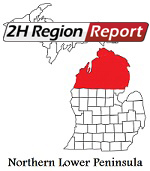 "We know both our programs have a good thing going," Central athletic director Mark Mattson said. "Regardless of what school you're at, you want the other Traverse City programs to be successful, too. Right now we appreciate where we are. We're enjoying the ride."
So is St. Francis, where coach Josh Sellers, back for his second stint, is hoping an amazing trend continues. The Gladiators have made just four coaching changes in the last 42 years. In the first year after each coaching change, St. Francis is a combined 44-1 with three MHSAA Finals championships – and now the possibility of a fourth.
It all started in 1974 – the year before the playoffs began – when Larry Sellers took over an 8-1 program from Waldo Keating and finished 9-0 en route to a Class D mythical state championship. The beat continued in 2003 when Josh Sellers inherited a 10-2 team from his Hall of Fame father and went 14-0 in capturing the Division 7 crown. When Sellers moved to Tennessee after a 12-2 season in 2007, Greg Vaughan came aboard and led the Gladiators to a 13-1 mark and another Division 7 title.
Now, Sellers is back as head coach and St. Francis is riding high with an 8-0 record and a No. 1 ranking in The Associated Press' Division 7 poll.
"This team is very workmanlike, very similar to the 2003 team," Sellers said. "We don't have a lot of vocal leaders, but we have kids who like to play for each other and that's half the battle."
Across town, another change is producing impressive results. First-year head coach Eric Schugars' Traverse City Central Trojans are 8-0 and ranked No. 7 in this week's Associated Press Division 2 poll. Schugars served as defensive coordinator for four years under Tom Passinault, who stepped down after a successful eight-year run.
"Going 9-0 is hard to do, but we're pretty excited about having that opportunity," Schugars said.
There are links between the St. Francis and Central programs. Former Gladiators standout and assistant coach Greg Sherwin is now the offensive line coach at Central. His two sons are the starting tackles. Two former Central head coaches, Joe Forlenza and Passinault, are assistants at St. Francis. Forlenza is the long-time defensive coordinator for the Gladiators while Passinault joined the staff this season as defensive line coach.
In addition, 16 players from the two teams – including the starting quarterbacks, St. Francis' Joe Coates and Central's Reagan Cotton – were teammates on a Pop Warner squad coached by Sherwin and Rick Coates. Joe Coates and Cotton also trained together in the Popp Quarterback Tutor Camp for seven years.
The two seniors direct entirely different offenses. St. Francis relies on a potent ground game, Central likes to air the ball out in its wide-open spread attack.
Sellers added some new wrinkles to the Gladiators' offense, but he's not deviating from what's been the program's staple.
"It's still old fashioned St. Francis smashmouth football," Sellers said. "We're going to run the football, control the line of scrimmage and control the clock."
The Gladiators average 327 rushing yards a game. Joe Trucco and Jacob Klingelsmith are picking up nearly 11 yards per carry. Trucco has a team-high 835 yards, Klingelsmith 686.
Coates is efficient when the Gladiators take to the air. Of his 20 completions, nine are for touchdowns.
"Joe does a great job making decisions, getting the ball to the right receiver," Sellers said.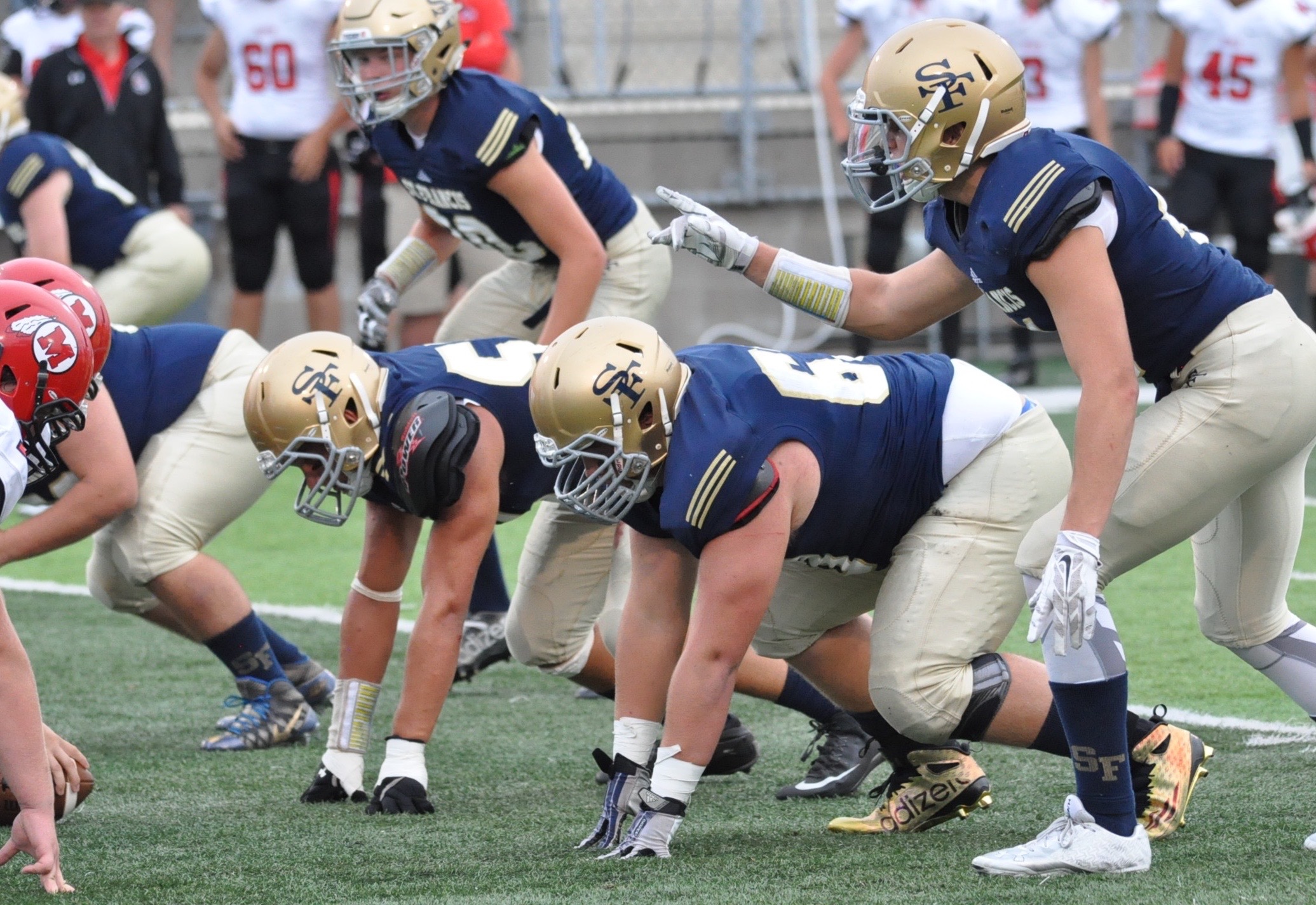 St. Francis is averaging nearly 50 points a game. The defense, led by Gabe Callery and Tyler Picardat, is surrendering just 7.5 points a contest. The team's signature win is a 32-13 triumph over 7-1 Boyne City, which snapped the Ramblers 13-game regular-season win streak. The score was 7-7 at the half.
"That was such a battle," Coates said. "Both teams played hard. That (second half) was probably the one moment where I've seen our team reach a level of greatness. But I don't think we've reached our full potential just yet."
Sellers agreed. He said his team is improving every week.
St. Francis returned a strong nucleus from a team that went 9-3 last season, so the 8-0 start is not a surprise.
"The team expected it," Sellers said. "A lot of people around the team expected it after having made a push into the third round of the playoffs (last season) and having only two regular-season losses, both in overtime. I think the kids were hungry to work hard this summer and come back and try to prove those losses were flukes. These kids have high expectations."
Those high expectations come based on the long-term success of the program, Coates said. St. Francis has won 76 percent of its games since it started playing football in 1951. In the last 13 years, the Gladiators have reached the MHSAA Finals five times, winning four titles.
"It's crazy to look back at it," Coates, a one-time waterboy for the team, said. "You're brought up in an atmosphere where success is almost the only option. When you think of St. Francis football, you think of winning (games) and winning state championships."
It's been a rather seamless transition for Sellers, thanks in part to a veteran coaching staff that includes Jim Carroll, who's been with the Gladiators 51 years. In his first stint, Sellers was 57-7 with two MHSAA crowns in five years.
"The biggest hurdle was I didn't know the kids and they didn't know me," he said.
Sellers, 41, was hired in March to replace Vaughan, who had coached the Gladiators the last seven years and had also won two titles.
"Greg (Vaughan) did such a great job for us the time he was here," St. Francis athletic director Tom Hardy said. "To our seniors, Greg Vaughan was St. Francis football. It did take some time for Josh to get to know the kids and for the kids to understand who he is and what he believes in. That was done very quickly. From my perspective, it was like Josh had never left. He's done a fantastic job. There is a sense of calm, a sense of determination and a sense of pride that he brings (to the program)."
St. Francis hosts 5-3 Kingsley on Saturday. The last time the Gladiators went undefeated in the regular season was 2009. Coates was at Ford Field that year when the Gladiators captured the championship. In fact, he was there in 2008 and 2005, too.
"I'm hoping to make my own trip this year," he said.
An 8-0 start might not raise eyebrows at St. Francis, but it has come as a mild surprise at Central. Petoskey and Traverse City West were considered the favorites in the Big North Conference, but the youthful Trojans rallied to win both those showdowns in overtime. Central was down 21-0 at halftime at Petoskey.
Schugars said one of his first objectives as head coach was to develop the character of his team and get the players to believe in themselves. He said that was a key in creating a winning mentality.
"There's a certain edge you have to play with," he said. "You don't want to go out there and see what happens. You want to go out there expecting to win. It's about creating high expectations amongst our players. We're trying to set standards of excellence. Our kids have certainly done a good job buying in."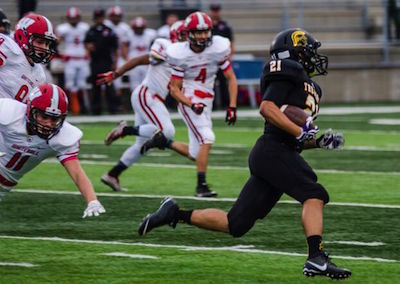 Schugars said the players worked hard, starting in the winter, to prepare for this season. Cotton, who took over as the starting quarterback late last season, became the catalyst as Central made changes in its offense, implementing a fast-paced no-huddle system.
"He's steady, he's poised," Schugars said of Cotton. "He has a calming influence on our team."
He's accurate, too. Cotton's completed 96 of 147 passes (65 percent) for 1,337 yards and 16 touchdowns. He's thrown just three interceptions. 
He's also spread the ball around. Playmaker Devante Walker leads the team with 28 receptions, five for touchdowns. Walker's averaging nearly 17 yards a catch. Griffin Cencer's pulled in 22 receptions and Terrell Solberg 19.
John Pupel and Walker lead the ground game. Pupel's rushed for 612 yards and 13 touchdowns, Walker 474 yards and seven scores.
Schugars credits the offensive line of tackles Ben and Sam Sherwin, guards Jacob Steelman and Brendan Arnold and center Alex Windholz for giving Cotton time to pass and the backs room to roam.
"We're riding them and they know it," he said.
The defense is anchored by Pupel at strong safety, Fitz Doud at inside linebacker and senior ends Zach Mayo and Max Franz.
The two overtime wins were milestones in the season and showed the team's resolve, especially the comeback win at Petoskey when the outcome looked dire with Central down 21 points.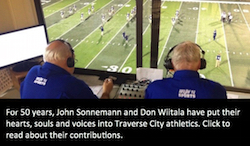 "We challenged the kids at halftime," Schugars said. "We needed a break in that game and we got one, a turnover and we scored quickly after that. Right then you could feel the momentum changing. It was like this is our game. That's all it took. It goes back into believing in each other."
"We were disappointed in ourselves (the first half)," Cotton added. "We knew we could play better. Coach told us to take it one play at a time, go out and give 100 percent each play."
Never looking too far ahead has been a theme with this team.
"Going into a season every team wants to go 9-0," Cotton said. "The biggest thing for us is that we've taken it one game at a time."
Central is a young team that relies heavily on a talented junior class. Although Pupel, Walker and Ben Sherwin were mainstays on the varsity as sophomores, Schugars didn't know how long it would take for the team to jell.
Turns out, it didn't take long. Now the Trojans, if they can beat Cadillac on Friday, are on the brink of accomplishing something that hasn't been done since 1988 – a perfect regular season.
"And we all know what happened that year (a state championship)," Schugars said.
It's been quite a start for the 38-year-old Schugars, whose father Jack is in the Michigan High School Football Coaches Association Hall of Fame.
Even his father didn't go 9-0 his first year. He went 6-3 at Muskegon Oakridge.
"That's about all (I have on him)," Eric Schugars said, laughing. "I'm a proud son, proud of what he's done. If I can (achieve) half of what he's done, it will be a success."
Mattson said the players instantly took to Schugars.
"We brought the football players into the cafeteria when we made the announcement," he said. "They roared (with approval). That indicated he had their support.
"The kids and his staff have worked hard for him and that's a sign of a good coach, a good leader. It's been extremely fun to watch."
Mattson said Schugars' character has had a positive impact on the players.
"Eric is such a good person and family man, and a fantastic teacher," he said. "It's who Eric is as a person, even more so than a coach, that's impressive. They (players) know him as a person. They know he cares."
Central honored the 1975 and 1985 teams at last Friday's game with West Branch Ogemaw Heights. Now, that 1985 season could come up again this weekend.
"9-0 would be a big deal for us," Cotton said.
It would be for St. Francis, too.

Dennis Chase worked 32 years as a sportswriter at the Traverse City Record-Eagle, including as sports editor from 2000-14. He can be reached at dennischase@charter.net with story ideas for Manistee, Wexford, Missaukee, Roscommon, Ogemaw, Iosco, Alcona, Oscoda, Crawford, Kalkaska, Grand Traverse, Benzie, Leelanau, Antrim, Otsego, Montmorency, Alpena, Presque Isle, Cheboygan, Charlevoix and Emmet counties.
PHOTOS: (Top) A Traverse City Central ball-carrier drags a defender toward the goalline, left, and a St. Francis player appears to signal his team's possession of the ball. (Middle) The St. Francis defense lines up during a game this season. (Below) A Central ball-carrier runs away from would-be tacklers. (Photos courtesy of Traverse City Central and Traverse City St. Francis.)