Trojans Find Familiar Success in 8-Player
October 5, 2016
By Dennis Grall
Special for Second Half
Football players, coaches and fans all know what it takes to produce winning teams: score a lot of points, don't give up many, run, pass, catch and tackle.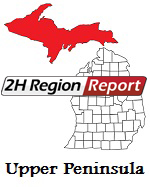 While 11-player football is the traditional way to play the game, declining school enrollments have forced numerous schools to adjust if they want to keep offering the sport. They are learning that 8-player football requires the same things to be successful.
Crystal Falls Forest Park for decades dominated the ranks of Class D, which later became Division 8. The Trojans used a pretty simple game plan: find a stud running back, hitch their wagon to his burly shoulders and overpower any team which happened to be on the field.
Forest Park claimed the initial two Class D championships when the playoffs began in 1975 and added another title in 2007. The Trojans also won 23 Great Western Conference crowns.
But enrollment kept dropping, as it has throughout the state, and a year ago Forest Park officials decided to join the movement to 8-player football. There are 51 teams at that level this year, and nearby Felch North Dickinson, another long-time small-school power, will join the mix in 2017.
The decision was controversial when it was accepted by a 4-2 board of education vote last October, and many staunch Forest Park fans were aghast. But that apparently has cooled down, no doubt helped by a 5-1 start to this initial season.
"I don't hear the griping of people against it," said veteran coach and former Forest Park player Dave Graff. "The people in the know realize where our numbers are. That type of (negative) talk has gone by the wayside.
"We still have traditionalists out there who think 8-man is not football. This program is steeped in tradition, and you don't get acceptance in one year's time."
The Trojans suit up 22 players for each varsity game, but nine are freshmen and sophomores who would be playing junior varsity football if Forest Park offered that level. "If we had jayvees we would not be able to function as a varsity unit," Graff said.
The school enrollment is about 150 students this year, and Graff said he has been hearing it may drop by about 25-30 students next year. Forest Park has not fielded a full jayvee schedule for the past six years.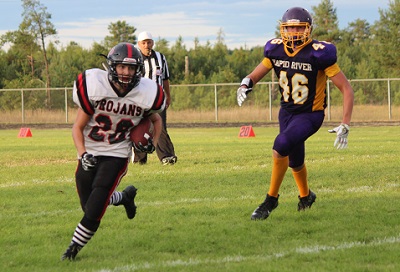 Even more astounding is this observation from Bill Santilli, the school's athletic director since Aug. 1 and a former all-state running back and long-time coach: "I really fear that in the next two years Forest Park will not have a football program."
Wow … this tradition-laden, statewide power on the threshold of no football?
Santilli added: "I'm fearful in the sense that four freshmen are playing, and we lose eight seniors. You do the math."
He said Graff and Forest Park are being proactive and have worked with their Western Eight Conference to institute a junior high level of 8-player football and are also trying to get a grade 5-6 program started, possibly in flag football.
The school's youth program has stayed with the 11-player game, and 2015 8-player MHSAA champion Powers North Central has kept an 11-player junior varsity. "It just doesn't seem to be working because we're all struggling with numbers there also," said Santilli.
To give football a chance to hang around, he said, "We have to focus our attention on that youth level. We're trying to build interest."
While declining enrollment is forcing the switch to 8-player football, Santilli said, "Declining participation is probably more of a factor than it is enrollment. There are athletes in our school that in my opinion would make our football team better, but for some reason have not elected to play."
Noting the game "nationwide is under attack," he said it is safer now than ever because of increased improvement in equipment and extensive stress on safety. "Changes being made at every level are making the game as safe as it can be," Santilli added.
Graff and Santilli, as players and coaches, have seen the values the sport provides.
"What are you trying to teach in football? We're trying to teach work ethic, morals, not doing what is wrong when people aren't watching, trying to teach character," Graff said. "We are trying to raise people to be successful in our society and improve our society. We stress doing it right, we stress not missing the opportunity to do something good, the little things in life.
"Football is not just a rough sport. There are such great opportunities to teach things in life like discipline, teamwork, effort, enthusiasm, mental toughness, making good people."
Santilli pointed out those lessons occur in both the 11-player game and the 8-player game. "It is still football. I've seen some great blocks and tackles and collisions out there," said Santilli, who still resembles the powerful fullback who led the Trojans to their first Class D title in 1975 en route to a distinctive U.P. Sports Hall of Fame playing and coaching career.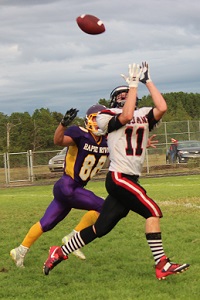 "I don't see that any different with 8-man; there are just fewer players."
Santilli said some of his former teammates who now have youngsters playing have been hard to convince the switch to 8-player was necessary. "It is taking them a little bit longer to adapt to the change," he said.
But, he said, "The players have slowly bought into the change. For them it is still the same game. There is the same excitement with the players, the same intensity when they take the field. They are just ready and waiting for the competition."
Santilli, with his strong and successful background with the Trojans, might be the ideal observer of the switch, agreeing the game still requires athletes to make plays to stop other athletes.
"It is a different technique, a different style player more geared to open field situations (on both sides of the ball). Dave is still bringing Forest Park style football into his coaching, giving the ball to (Dan) Nocerini and powering it right at you."
Nocerini is the latest standout back in a string of stars from Santilli and Graff who also included Mark Flood, Lee Graff, Dan Lato, Gerard Valesano and Dean Arcand. In just six games this season, the 6-foot-2, 217-pound senior has rushed for 1,186 yards and 20 touchdowns, highlighted by an opening-game 414 yards rushing and seven TDs.
"It is definitely a lot more open than I expected," Nocerini said after that explosive opener at Rapid River. "Instead of beating a safety or a corner, you just have to beat one guy (downfield)."
He also said the players "have moved on. Everybody likes football; you just put your helmet on and go play."
The acceptance of 8-player has been easier because the Trojans are as powerful as ever, losing only to North Central 60-42 in Week 2. They are averaging 56.3 points per game and allowing 28.3.
"People will see we have to go 8-man. There isn't a choice," Graff said. "We as coaches have come to grips with that ,and I think the community is coming to grips with it. The tradition is always there."

Denny Grall retired in 2012 after 39 years at the Escanaba Daily Press and four at the Green Bay Press-Gazette, plus 15 months for WLST radio in Escanaba; he served as the Daily Press sports editor from 1970-80 and again from 1984-2012. Grall was inducted into the Upper Peninsula Sports Hall of Fame in 2002 and serves as its executive secretary. E-mail him at sportsdenesky@gmail.com with story ideas for the Upper Peninsula.
PHOTOS: (Top) Dan Nocerini of Crystal Falls Forest Park barges through a huge hole for a four-yard touchdown against Rapid River defenders David Johnson, left, and Gavin Harris (55) in their season opener. (Middle) Parker Sundell finds some running room after getting around Rockets defender Levi Miller. (Below) Roy Hagglund of Crystal Falls Forest Park reaches for a pass as Austin Wicklund of Rapid River defends. (Photos by Dennis Grall.)