'Unknown' Suits Whitmore Lake Well
October 11, 2019
By Doug Donnelly
Special for Second Half
WHITMORE LAKE – The move to a new athletic conference has put some renewed energy into the Whitmore Lake football team and has the Trojans thinking playoffs for the first time in years.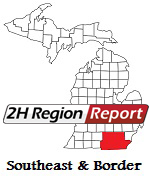 Whitmore Lake, a Class C school on the northern edge of Washtenaw County, moved to the Michigan Independent Athletic Conference this season after 46 years in the Tri-County Conference. It was a big move for the school, which hoped to inject some enthusiasm into its student-athletes, including a football program that was lagging in numbers and had made the playoffs just once during the last decade.
"I feel pretty good about the buzz and excitement that is going on," said fourth-year Whitmore Lake head coach Brian Boron. "There's definitely a resurgence with a lot of new things."
Four-year starting offensive tackle Alex Williams noticed the change soon after Whitmore Lake announced the move from the TCC to the MIAC after last football season.
"I feel like interest in football picked up a lot more," said Williams. "Being a captain, you see it in school. The eighth graders will come up to you and talk about football. We had more people in our weight room all winter. The culture has definitely changed."
The first year in a new conference has brought all sorts of new experiences to the football team, both for players, coaches and fans.
"Do we miss the TCC? Absolutely. We were one of the founding teams," Boron said. "We miss being part of that history and tradition.
"From a win-loss standpoint, things are going well. But this year I also have 12 seniors on the team, by far the most of any team I've had in my four years here. Are we competitive more because of that, or because of the new league? I don't know."
Whitmore Lake beat Auburn Hills Oakland Christian 62-33 last Friday to improve to 4-2 on the season. Its only losses were nonleague games to undefeated and state-ranked Royal Oak Shrine Catholic and Ann Arbor Father Gabriel Richard. Against Shrine, the Trojans fumbled three times; and against Richard, Whitmore Lake thought it had tied the game late in the contest, but a 2-point conversion was called back and the Trojans didn't convert on the next attempt.
Several teams on Whitmore Lake's schedule are first-time opponents, including Sterling Heights Parkway Christian, Auburn Hills Oakland Christian and Friday's opponent, Southfield Christian. 
Senior running back Evan Romeo, a 1,000-yard rusher as a sophomore, is enjoying a big senior season as well.
"Evan is having a great year," Boron said. "Last year he missed five games with a hamstring pull."
Logan Kurth, Cole Henning and Evan Vaughn are other backfield mates, and the quarterback is Zach Brady.
"He doesn't get a lot of credit, but he's the architect of the whole thing," Boron said of Brady. "He makes it go. Every game we have a referee or member of the chain gang come tell us that they can't find the ball because Zach is doing such a great job with his fakes."
Whitmore Lake's biggest win this season came against Oakland Christian, which came into the game 4-1. The Trojans appear to be on a league title-deciding collision course with Week 9 opponent Livonia Clarenceville, also undefeated in the MIAC. Whitmore Lake's last league championship in football came in 2002.
"In this league, we are playing against teams with 18 or 19 kids on the varsity, just like us," Boron said. "When I took the program over, we had maybe 17 kids in the entire program. They aren't great numbers, but now we are closer to 30. I'm hoping to add more."
In making the move last fall, Whitmore Lake Superintendent Tom DeKeyser said it had become apparent that, at least in some sports, the Trojans were not competing at the same level as other TCC schools.
"We have built a lot of great relationships in the TCC," DeKeyser said. "But our coaches and athletes are excited to try something different."
Everyone in Trojans camp hopes that "different" translates into more student-athletes.
"We had 10 or 12 freshmen come out this year, some who had never played football before," Boron said.  "That's been a good thing. We're not sure about next year, how many kids we'll get up from our youth program. We'll have to see. The team having success, I believe, will help that."
One thing Boron has found is that the move is demanding on the coaching staff, which has a whole new set of opponents for which to prepare. It used to be one or two new teams would join the schedule. This year, nearly all of the Trojans' opponents are new.
"No other team in our league runs the 'T' which means we don't see how anyone is going to defend it on film," Boron said. "We kind of rep everything because we don't know how they are going to line up against us. We're still getting a feel for these other teams. It's fun. As coaches, we watch a lot of film. We have to be able to adjust and be ready for just about anything."
The Trojans already have scored more points than any team it has fielded since 2008, which is the last time Whitmore Lake finished with a winning record. The 2013 team made the playoffs but finished 5-5 after a first-round loss. That 2008 season capped the greatest football era in school history, when Whitmore Lake made the playoffs seven times during an eight-year span. 
Boron isn't making predictions for Whitmore Lake's future just yet. There are still a lot of unknowns.
"Everybody is still trying to figure things out," he said. "We will sometimes get to a school a half-hour or 45 minutes early because we are unsure of the traffic patterns still. Teams get to our school way early some weeks for the same reason.
"I think it's a good thing for the future of football at Whitmore Lake. The unknown is exciting."

Doug Donnelly has served as a sports and news reporter and city editor over 25 years, writing for the Daily Chief-Union in Upper Sandusky, Ohio from 1992-1995, the Monroe Evening News from 1995-2012 and the Adrian Daily Telegram since 2013. He's also written a book on high school basketball in Monroe County and compiles record books for various schools in southeast Michigan. E-mail him at DougDonnelly@hotmail.com with story ideas for Jackson, Washtenaw, Hillsdale, Lenawee and Monroe counties.
PHOTO: Whitmore Lake now-senior running back Evan Romeo breaks into the open. (Photo courtesy of the Whitmore Lake football program.)