Veteran Coach Shows Wayne the Way
September 16, 2015
WAYNE – Donald Anderson watched the Wayne Memorial football program lose game after game after game.
As a fan of high school football and a resident of Westland, Anderson, at times, just shook his head. As a former coach, Anderson thought about the possibility of doing something about it.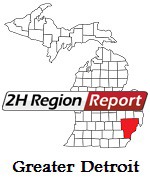 Few Class A programs have had less success than Wayne. The Zebras have made the playoffs twice and have yet to win a playoff game. Wayne's last winning season came in 2006, when it finished 5-4. From 2010-2013, Wayne won one game. The Zebras were 2-7 last season.
Wayne is a member of the Kensington Lakes Activities Association and competes in the South division with such well-respected and successful programs like Canton, Livonia Churchill and Plymouth. Even its sister school, Westland John Glenn (the schools are part of the Wayne/Westland school district), has been a playoff team on a regular basis.
As a point of fact, four members of the KLAA South (Canton, John Glenn, Livonia Franklin and Plymouth) have reached an MHSAA Final. 
Wayne's road to rise is not an easy one.
But they have begun the climb.
"We're getting better. We moved it well against Plymouth (in a 36-13 loss last week). We just don't have a lot of firepower," Anderson said. 
"We've got a good young squad. We have just seven seniors, and we don't have a JV. We have just 12 sophomores and I didn't want to take away from our freshmen, because they're good, and we can build on that."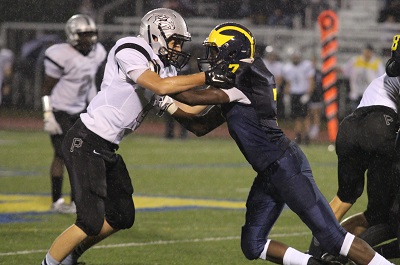 Last April the Wayne/Westland school district had openings for a head varsity football coach, at both John Glenn and at Wayne. Anderson applied for both and was hired at Wayne. This season he became the school's fourth head coach in as many years.
Anderson, a Detroit Cody graduate and former NFL player (he was the 32nd player taken in the 1985 NFL Draft after playing four years at Purdue University), has had success as an assistant or head coach at every school he's been at since he starting coaching in 1989. 
Anderson was the defensive coordinator at Cody before becoming the head coach in 1995. In 1999, he went to Detroit Henry Ford as an assistant under Mike Marshall before going to Detroit Northwestern in 2003 as an assistant under Michael Crayton. In 2009, Anderson became the head coach at Northwestern. The school closed after the 2009-10 school year, and Anderson decided, at that time, enough was enough.
He's been a spectator ever since. Until this season.
"I was still involved," he said. "I was in consultations with other schools. They wanted to pick my mind. I had a lot of opportunities to coach. It wasn't the right time. I've lived in Westland since 2009. I live between Wayne and Glenn, and I've been watching Wayne for a while. I decided to give it a shot. The subject just drew me in. When the opportunity came, I said let's try it."
But coaches at Wayne don't last long. Why would a person, 52 years old and a successful businessman, take a position there when he passed up other coaching opportunities?
A big part was wanting to help local athletes pursue their dreams at the college level. But there also was the challenge. 
"I like a task," Anderson said. "It's like when I left Henry Ford and went to Northwestern. People thought I was crazy. Low and behold, look who's on my staff."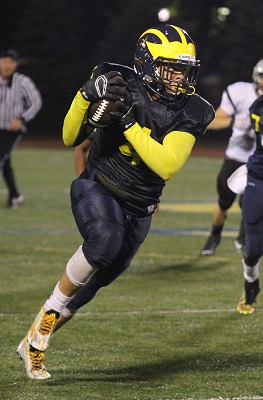 Marshall is now Anderson's assistant, as is Charles Spann, a former head coach at Detroit Chadsey and Detroit Pershing. It's people like Marshall and Spann who waited for Anderson to get back into coaching to return to the sidelines themselves.
Both Marshall and Spann won Detroit Public School League titles as head coaches. Now they're trying to help a friend experience the same.
There are definite reasons for optimism. Anderson sees a lot of potential in 6-foot-3, 215-pound sophomore Reggie Micheaux, a receiver and defensive end. "He can go up and get it, and he's a big target," the coach said. 
Running backs Jarvis Martin and Malik Bryant, the latter also a defensive back, are among others who are impressing early.
Anderson said former players like himself are different. They have their pride. Their egos push them into circumstances others wouldn't tread.
But for Anderson, it's more than his ego he's trying to satisfy. Ten years ago he was diagnosed with kidney failure. He went through dialysis until he received a kidney transplant five years after the diagnosis. After two years, his new kidney failed. Anderson has received kidney dialysis, three days a week, since 2012. With all of that comes a different perspective.
The winning, for now, has had to wait. Wayne is 0-3. Still, those 13 points represented the most they've scored against Plymouth since 2007.
It doesn't get any easier with Canton (3-0) next, but the Zebras will continue to build.  
"It's about passing it on," he said. "God has been good to me. It's about helping others."

Tom Markowski is a columnist and directs website coverage for the State Champs! Sports Network. He previously covered primarily high school sports for the The Detroit News from 1984-2014, focusing on the Detroit area and contributing to statewide coverage of football and basketball. Contact him at tmarkowski@statechampsnetwork.com with story ideas for Oakland, Macomb and Wayne counties.
PHOTOS: (Top) Malik Bryant breaks past pursuing Plymouth defenders during last week's game. (Middle) Jarvis Martin works against a Plymouth player. (Below) Kyle Brooks turns upfield. (Photos courtesy of Wayne Memorial athletic department/Kathy Hansen Photography.)