Whiteford Completes Championship Climb
December 15, 2017
By Geoff Kimmerly
Second Half editor
Ottawa Lake Whiteford football had been building toward this.
Coach Jason Mensing took over a program in 2012 that had gone 4-5 the previous fall, and immediately the Bobcats doubled their wins to finish 8-2. Next came seasons of 9-3, 7-4, 10-3 and program's first MHSAA Semifinal in 2015, and 13-1 with its only loss in the Division 8 championship game a year ago.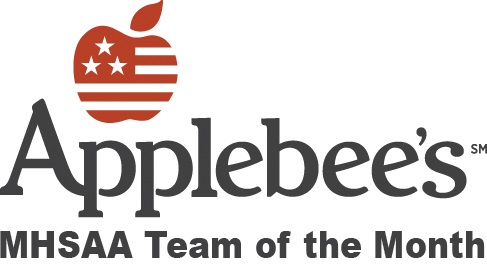 And yet, for the bulk of this season Whiteford still had to look up at a few others, relatively speaking. Reigning champion Muskegon Catholic Central was most people's favorite to win the division again – until the Crusaders lost their District Final to Mendon, which became the new favorite.
Meanwhile, Whiteford – the MHSAA/Applebee's Team of the Month for November – bided its time until receiving its opportunity to make history. The Bobcats made the loudest statement with a 50-21 win over Mendon in their Semifinal on Nov. 17, and then assumed the top spot in Division 8 for the first time with a 42-21 championship game win over Saginaw Nouvel on Nov. 24 at Ford Field.
The Bobcats moving forward will still be looking up – but now at a championship banner to be hung and at a goal that certainly will seem more attainable now that they've achieved it for the first time.
"My hope is all the boys within our community and school see it and want to accomplish that for themselves," said Mensing, also the school's athletic director. "Obviously, it's not realistic that it's going to happen every year. But that aspiration for greatness and success … the idea that I can accomplish this, the idea I want this and I'm going to strive for it. Wherever you end up matters less (than) the pursuit of excellence."
Whiteford pursued and attained excellence and dominance this fall on the way to a 14-0 record, starting with an offense that scored 737 points – tied for second most in MHSAA history, and an average of 52.6 per game.
Tri-County Conference rival Petersburg-Summerfield came within 16 points of catching the Bobcats in the District Final, Whiteford's closest game of the entire fall as they won on average by nearly 40 points. During the playoffs alone, Whiteford outscored five opponents by an average of 50-18.
The Bobcats had fallen in the 2016 title game 35-6 to Muskegon Catholic Central, but certainly benefited from that first-time experience. Mensing sensed his team's calm this time around, but also praised his players and coaches for staying focused week in and week out on improving and paying attention to details – no small tasks when everyone knew early on that Whiteford should be in the championship mix.
To win it all, teams generally must have size and speed, and Whiteford certainly had both, even as a school with roughly 240 students – but with nearly 50 on the roster for the championship game.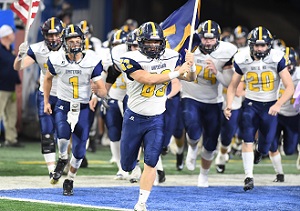 Let's start with size. Senior Lucas Tesznar (6-foot-5, 285 pounds) set the tone up front offensively and senior Jarret Atherton (6-1, 255) was an all-stater on both sides for the ball. Junior DeShaun Williams (6-5, 280) was an all-leaguer on defense.
Speed and skill? Senior quarterback Thomas Eitniear and junior running back Logan Murphy keyed a dynamic backfield – Eitniear throwing for 1,403 yards and 17 touchdowns and running for 919 yards more, while Murphy ran for 1,873 yards. Together they combined to set eight school records including Murphy's for yards gained on the ground. Junior Braden Clark-Gilmore added another school record with 10 receiving touchdowns.
On a defense that gave up only 206 yards of offense and 13 points per game, junior Ty Eitniear set a school record with seven interceptions. Senior lineman Matthew Taylor, senior linebacker Eli Shelton and junior defensive backs Hunter Lake and Zack Bertz joined Atherton as all-state picks on that side of the ball.
Total, eight players secured some level of all-state recognition and 13 Bobcats earned first-team honors in the Tri-County Conference.
The Bobcats are turning their attention to other sports this school year and a future in football without 14 hard-working seniors who will graduate in the spring. But the memories of this fall surely will be lasting, even as the program is poised to continue making runs at top finishes.
"There have been a lot of well wishes, to our kids and our staff, and the school as a whole," Mensing said. "There are so many people who invest in a football program at all schools, let alone one getting that deep into the playoffs. All of those people who have invested and worked at it have some pride and sense of accomplishment."
Past Teams of the Month, 2017-18
October: Beaverton volleyball - Report
September: Shepherd girls golf - Report
PHOTOS: (Top) Ottawa Lake Whiteford raises its Division 8 championship trophy at Ford Field last month. (Middle) Senior Eli Shelton leads the Bobcats onto the field.