1,000-Point Pair Pacing Another John Glenn Contender
March 3, 2021
Abi Tarrant knew how close Carly McCrum was to 1,000 career points and wanted to make sure her Bay City John Glenn teammate's accomplishment was celebrated.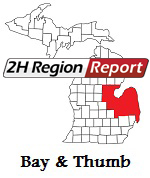 On Feb. 17, when McCrum achieved the milestone in a victory against Alma, the John Glenn fans in attendance cheered the moment while waving homemade signs, which they had been carrying thanks in large part to an effort spearheaded by Tarrant.
"Last year, I broke the (school career) rebound record, and all of the student section, everybody made posters, and it was a huge moment for me," Tarrant said. "I knew she was getting her 1,000 points that week, so I wanted her to have the same type of environment. Even though the student section wasn't there, she could still have that kind of energy from the crowd when she hit it."
It was only after the celebration for McCrum subsided that Tarrant realized just how close she was to the same milestone: 16 points.
"I knew exactly where she was because I had been planning the poster thing," Tarrant said. "(One thousand points) kind of snuck up on me. I didn't know I was that close to her. But in the game it happened, I knew."
Tarrant achieved her own milestone the next time out, a John Glenn victory on Feb. 19 against Birch Run, giving the Bobcats a pair of 1,000-point scorers in the same class.
McCrum now sits at 1,053 career points and Tarrant has 1,046 as they have led the Bobcats to a 7-1 start to the season and a top-five ranking in The Associated Press Division 2 poll. Their lone loss came in double overtime against Frankenmuth, another top-five team.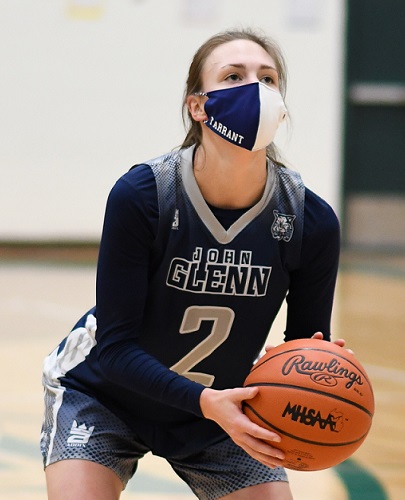 "I just thought it was a really cool experience," McCrum said. "We've both been on varsity since our freshmen year, and we've played with each other on the same travel team, so it was very cool that we hit it in the same week. We both feel like this team is really special, and our goal is to win a state championship."
Tarrant and McCrum became the seventh and eighth players in school history to hit the 1,000-point mark. It's the second time John Glenn has had classmates reach the milestone, joining 2016 graduates Jenai LaPorte (1,547 points) and Cassidy Boensch (1,403). Boensch did play her first two seasons at Au Gres-Sims. 
"I've been really spoiled," John Glenn coach Cory Snider said. "Three of those 1,000-point scorers (LaPorte, Boensch and 2017 graduate Kalle Martinez) were all on the same team. The five kids I've had (reach 1,000 points) have all been on the same teams, so that's a really unique situation. You don't hear of that a whole lot. They make me look way smarter than I am."
McCrum and Tarrant are both four-year varsity players for Snider, and for McCrum, it was clear early on that she would become another of the school's great scorers. She was the team's leading scorer during her freshman (14 points per game) and sophomore (14.2) seasons.
"Carly has been the steady, calm influence on our team for four years," Snider said. "It's pretty incredible to be able to come in as a freshman and give us (14.2) points per game when she was (the focus) on everybody's scouting report her freshman year."
McCrum said it was a role she was comfortable with, as she had taken it on through middle school as a travel player.
"It wasn't something really new for me," said McCrum, a 5-foot-10 guard who has signed with Ferris State. "Probably my freshman year, I did feel some pressure and it got in my head, but it's gotten a lot better, and I've gotten more comfortable with that."
While she's thrived in that role, and has established herself as a strong outside shooter, McCrum would rather be the one setting up teammates.
"She has such a high basketball IQ," Snider said. "She's more of a true playmaker than a natural scorer. She has a super high basketball IQ and loves to find the open player. She enjoys making an assist as much as she enjoys scoring a basket."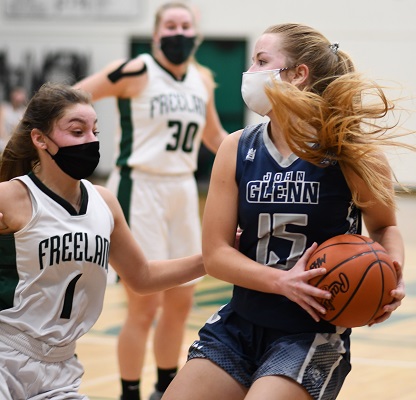 While McCrum was filling up the scoresheet early on, Tarrant had to find a different way to make an impact for the Bobcats. Despite her size – she's 5-7 now – that wound up being rebounding.
"Freshman year, I was just kind of in the right place at the right time, and I think that's a lot of it," said Tarrant, who is committed to Hope College. "A lot of those are rebounds that the posts don't want to get, like running out of bounds. I would sneak up behind people to get them – I just always find myself somewhere near it. My dad told me that if you're not going to score, then you have to do something. I guess I just picked that."
Tarrant has done that better than anyone in school history, racking up 732 career rebounds. 
"She just played with such a high motor, and she had such a desire to be really good," Snider said. "Her growth as a player has been incredible from her freshman year to now as a senior. It's more growth than I've seen from any other player. It's unbelievable."
Tarrant's scoring picked up in a big way a year ago, as she averaged 19.4 points per game, setting a junior-year record for points at John Glenn. 
"I think we molded more as a team," Tarrant said. "We started playing a lot better together. At first, I think it was hard. Freshman year, Carly was the best player through and through, then sophomore year I stepped up my game a little bit. Junior year, we figured out how our games complement each other. This year, we're playing amazing together."
With a strong supporting cast surrounding them, McCrum and Tarrant hope to take John Glenn back to the heights it reached not long ago. The Bobcats were a Class B semifinalist in 2016 but have had their season ended by Freeland every year since, including in the District Final the past three seasons.
But they feel this could be the year they add some team trophies to the individual successes they've been able to rack up.
"It would mean a lot," McCrum said. "Abi and I have been on the same team since freshman year. Some of the girls, we have been together since sophomore year. We've all been together for a long time. First of all, we want to win Districts. We've lost three years in a row to Freeland. I think it would be so awesome. We've all been together for so long, and we've always talked about going so far."

Paul Costanzo served as a sportswriter at The Port Huron Times Herald from 2006-15, including three years as lead sportswriter, and prior to that as sports editor at the Hillsdale Daily News from 2005-06. He can be reached at paulcostanzo3@gmail.com with story ideas for Genesee, Lapeer, St. Clair, Sanilac, Huron, Tuscola, Saginaw, Bay, Arenac, Midland and Gladwin counties.
PHOTOS: (Top) Bay City John Glenn's Abi Tarrant, left, and Carly McCrum make strong moves to the hoop against Alma this season. (Middle) Tarrant focuses for a free throw. (Below) McCrum maintains possession against Freeland. (Photos by Jodi Stopyak.)