Breslin Bound: 2021-22 Girls Report Week 12
District brackets are posted, almost every league championship is decided, and we're closing in on the start of the girls basketball postseason in Michigan.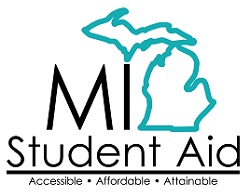 Tourney time begins a week from today, and this will be our final "Breslin Bound" of this format for the 2021-22 girls season as next week we'll preview the most intriguing District brackets from across the state.
"Breslin Bound" is powered by MI Student Aid and based on results and schedules posted for each school at MHSAA.com.
Week in Review
The countdown of last week's five most intriguing results: 
1. Bloomfield Hills Marian 45, Farmington Hills Mercy 44 (OT) The Mustangs (12-6) would go on four days later to defeat Dearborn Divine Child 44-36 to win the Detroit Catholic League Bishop championship, but edging Central champion Mercy (14-3) on the way caused the first big stir.
2. West Bloomfield 65, Detroit Edison 62 The Lakers (15-1) furthered their status as a Division 1 favorite by handing Division 2 No. 1 Edison (8-4) its first in-state loss since 2017-18.
3. Detroit Edison 60, Ypsilanti Arbor Prep 52 The Pioneers did, however, quickly bounce back from that loss to hand Division 3 No. 1 Arbor Prep (15-2) just its second defeat.
4. Portland 53, Lansing Catholic 41 The Raiders' only loss this season was 55-52 to Lansing Catholic on Jan. 14, and Portland (17-1) put itself in line to share the Capital Area Activities Conference White title with the Cougars (16-1) by avenging it.
5. Elk Rapids 56, Harbor Springs 49 The Elks (16-2) avenged their only Lake Michigan Conference defeat, 49-48 on Jan. 21, to clinch the league title and send Harbor Springs (17-2) into second.
Watch List
With an eye toward March, here are two teams in each division making sparks:
Division 1
Byron Center (15-2) The Bulldogs have clinched their third-straight Ottawa-Kent Conference White championship with two league games to play and only two single-digit margins over the first 12. Byron Center finished a regular-season sweep of Grand Rapids Christian (13-5) with a 53-44 victory last week and also nearly doubled up O-K Gold co-leader Grand Rapids South Christian (15-3) earlier this season. The Bulldogs sit No. 11 in Division 1 MPR, with the losses to No. 1 Hudsonville (16-2) and No. 8 Rockford (16-2) in December.  
Parma Western (17-1) The Panthers have clinched a share of the Interstate 8 Athletic Conference title – their third straight – heading into Tuesday's matchup with second-place Marshall. Western's only defeat came to Edison on Jan. 25, 60-47, and the Panthers are the only other team to defeat Arbor Prep. And that was just one of an impressive slate of wins, including others over East Lansing (13-4), Brooklyn Columbia Central (12-4), Grass Lake (13-4), Marshall (13-5) and Jackson Northwest (13-5) twice. Western reached the Semifinals last season in Division 2.
Division 2
Ann Arbor Father Gabriel Richard (13-6) In a Catholic League Central featuring three top-15 Division 1 teams, Gabriel Richard's run may not have gotten as much notice. But minus losses to Mercy, Marian and Divine Child, the Irish would be 13-1 – and they handed Divine Child (15-3) a 41-32 defeat Feb. 8 after delivering a 45-36 loss to Marian a week before. The team's only other defeat came to Lansing Catholic, and it handed Madison Heights Bishop Foley (14-1) its lone loss. This is the third season Father Gabriel Richard has reached 13 wins, and it advanced to the Division 2 Quarterfinals last season.
Imlay City (16-3) The Spartans can finish a perfect run through the Blue Water Area Conference for the second season in a row Tuesday at Almont, and they've clinched a third-straight outright championship. The league includes three more teams 11-7 or better, and Imlay City swept all three to go with solid victories over Deckerville (13-4) and Warren Cousino (13-5). The losses also no doubt provided some valuable prep as the team looks to build on last year's Quarterfinal run – the Spartans fell to Arbor Prep, Macomb L'Anse Creuse North (19-1) and Lake Fenton (15-2).
Division 3
Madison Heights Bishop Foley (14-1) A Detroit Catholic League Cardinal championship won Saturday added to the achievements this winter for the Ventures, who also claimed the Catholic League Intersectional #1 title and have won 12 games by double digits. As they seek to build on last year's Quarterfinal run, Bishop Foley should take confidence from the Cardinal title-deciding win over Wixom St. Catherine (14-3) and a big early victory over Clawson (17-2), among others. The lone loss came by six to Father Gabriel Richard (see above).
Watervliet (16-1) The Panthers finished a perfect run through the Southwestern Athletic Conference Lakeshore last week, with their closest win in any game this season by 13 points and their only loss to Kalamazoo Christian (15-4) by three on Feb. 1. Pairs of wins came over Gobles (11-7) and Saugatuck (12-6). Watervliet moved up to No. 7 in Division 3 MPR and gets another strong test Thursday at No. 6 Schoolcraft (17-1) in a SAC crossover of league champions.
Division 4
Allen Park Inter-City Baptist (11-7) Even with seven losses, Inter-City Baptist sits No. 11 in Division 4 MPR because of a schedule with 10 games against teams with double-digit wins. The Chargers defeated Auburn Hills Oakland Christian (13-4), Rochester Hills Lutheran Northwest (11-7) and Grosse Pointe Woods University Liggett (10-4) among others, tying with Oakland Christian for second in the Michigan Independent Athletic Conference Blue behind only Division 4 top-ranked Plymouth Christian Academy.
Pittsford (14-3) The Wildcats have won 12 straight since beginning the season 2-3, as they've also bounced back from going 6-7 a year ago. They've clinched a share of the Southern Central Athletic Association East title with three league games left this week. Pittsford has defeated Colon (14-4), swept Hillsdale Academy (11-5) and also downed Waldron (10-7), with one of those early losses coming at Athens (16-1).
Can't-Miss Contests
Be on the lookout for results of these games coming up:  
Monday – Detroit Mumford (8-6) vs. Detroit Renaissance (13-5) at Oakland University – Renaissance won their Detroit Public School League Blue matchup 67-56 on Jan. 24, but they're meeting again in the league tournament final.
Tuesday – Bloomingdale (17-1) at Hartford (16-2) – Two games remain on the Southwest 10 Conference schedule for both as they sit tied atop the standings and with Hartford having won the first meeting 37-31 on Jan. 11.
Tuesday – Chelsea (16-2) at Tecumseh (18-1) – Chelsea has a one-game lead on Tecumseh with one to play on the Southeastern Conference East schedule, and having given Tecumseh its only loss 64-40 on Feb. 1.
Tuesday – Midland Dow (17-1) at Flint Carman-Ainsworth (15-3) – The winner clinches a share of the Saginaw Valley League title with one more game to play for both. 
Thursday – KLAA championship game at West finalist – Hartland (17-1) or Howell (14-4) could host Wayne Memorial (17-1) or Belleville (13-5), dependent on tonight's semifinals.
Second Half's weekly "Breslin Bound" previews and reviews are powered by MI Student Aid, a part of the Office of Postsecondary Financial Planning located within the Michigan Department of Treasury. MI Student Aid encourages students to pursue postsecondary education by providing access to student financial resources and information. MI Student Aid administers the state's 529 college savings programs (MET/MESP), as well as scholarship and grant programs that help make college Accessible, Affordable and Attainable for you. Connect with MI Student Aid at www.michigan.gov/mistudentaid and find more information on Facebook and Twitter @mistudentaid.
PHOTO Wayne Memorial, here against Dearborn last week, will play for the overall Kensington Lakes Activities Association championship after clinching the East title. (Photo by Douglas Bargerstock.)