Eaton Rapids Adds to History-Making Run
By Geoff Kimmerly
Second Half editor
EAST LANSING – Bailey Baker plans to graduate from Eaton Rapids this spring with 16 varsity letters won in four sports. Like others on her basketball team, she's had plenty of success on others as well.
But there's something special about what the Greyhounds have accomplished this week during the longest run in school hoops history.
Eaton Rapids played in its first Class B Semifinal on Friday, and will try for its first MHSAA championship Saturday night after downing reigning runner-up and No. 9-ranked Flint Powers Catholic 46-36 at the Breslin Center.
The Greyhounds – an honorable mention in the final Associated Press Class B poll – have eliminated three top-10 teams during the tournament, including also No. 6 Ypsilanti Arbor Prep in the Quarterfinal and No. 9 Olivet in the District Final. And they continued another impressive postseason streak as well – they've beaten all of their playoff opponents by at least 10 points.
 "We all have side sports, but this is the one we're all together," said Baker, who also next weekend will receive an MHSAA Scholar-Athlete Award. "We've wanted this forever, and to finally have this opportunity is amazing.
"Win or lose, it's going to be my favorite high school memory."
Eaton Rapids can make this historical run even sweeter by getting past top-ranked and undefeated Grand Rapids South Christian in the Final at 6 p.m. Saturday.
It's unwise to count the Greyhounds (22-5) out.
They've had strong teams during coach Willis Whitmyer's 15 seasons, but the best usually ran into frequent championship contenders DeWitt, Portland or others down the road.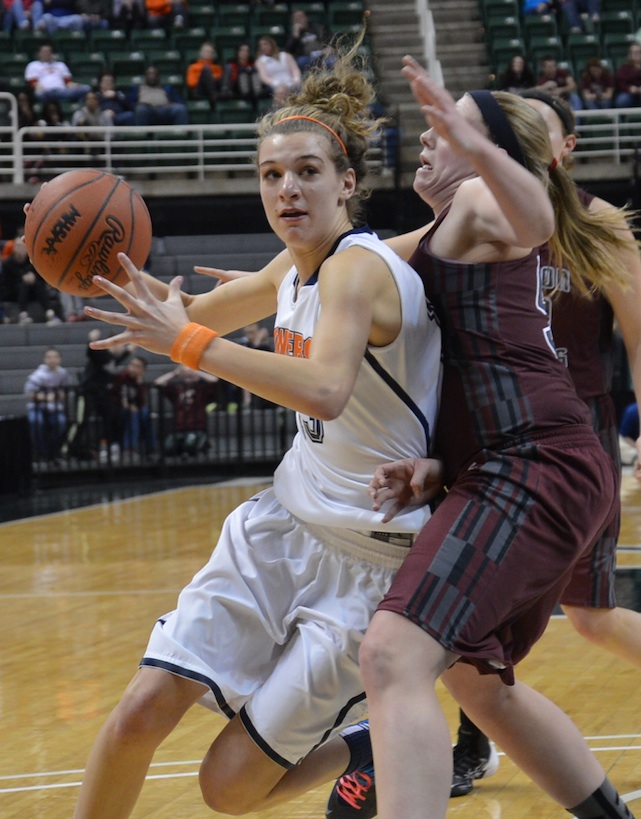 Eaton Rapids also is playing with some emotional edge. All five starters are seniors, and there are eight total.  Whitmyer said longtime assistant Richard Stoken will be leaving the program after 13 seasons, and Whitmyer said he's also not sure if he'll be back next winter.
"We've had five teams I thought could've gotten here in my tenure, but we found some way to screw it up or the other team took it from us," Whitmyer said. "This is huge for us. It's huge for the community. They're wrapped up in it, and they should be. They're a huge part of it."
The latest stunning performance began with a 14-2 run during Friday's first five minutes. The Greyhounds carried an eight-point lead into the final three minutes of the first half.
But Powers was not to go that quietly, especially with a lineup filled with contributors from last season's championship game run. The Chargers (23-3) gained a one-point lead heading into the final minute of the third quarter.
It was short-lived. Eaton Rapids senior center Allie Ditmer scored at the buzzer to give the Greyhounds back the advantage, and they never trailed again.
"We battled back, but I think we started to run out of gas a little bit. I think battling back took a toll on us," Powers coach Thom Staudacher said.
"It definitely hurts. We're usually on the other end of the stick."
Eaton Rapids kept Powers' trio of senior leading scorers to 19 points, down from their combined average of 33 per game. The Greyhounds also outrebounded the Chargers 38-22, thanks in large part to Dittmer's 14 boards to go with a game-high 15 points.
Baker provided another little surprise as well. A 54-percent free-throw shooter, she connected on 11 of 12 attempts for the majority of her 13 total points.
"Just being a senior, and with how much we wanted it this year, rather than getting me more nervous it made me more calm," Baker said of going to the line. "I should be taking those free throws. I'm a senior now. I need to have that leadership."
Powers will graduate six seniors who helped return the program to the state's elite. Sara Ruhstorfer and sophomore Francesca Coury led Friday with eight points, while senior Michela Coury had 10 rebounds.
Click for a full box score and video from the press conference.
PHOTOS: (Top) Eaton Rapids' Bailey Baker pushes past Powers' Michela Coury during Friday's Semifinal. (Middle) Coury makes her way to the basket despite being defended closely.
HIGHLIGHTS: (1) Flint Powers trailed Eaton Rapids from the beginning of the game until Ally Haran makes a midcourt steal and converts it into a basket to tie the score at 26-26. (2) After her team fell behind in the final minute of the third quarter, Eaton Rapids' Allie Dittmer scores at the buzzer to put the Greyhounds on top to stay against Flint Powers.