Flushing Celebrates 'Banner' Season
March 18, 2017
EAST LANSING – Breanna Perry was tired of looking at a lonely state championship banner in the Flushing gymnasium – especially one twice her age.
So the Flushing senior and her teammates went out and got another one.
The Raiders defeated East Kentwood 49-38 Saturday in the MHSAA Class A girls basketball championship game at the Breslin Center. It was the school's first MHSAA Finals title in the sport, and first in any since winning a girls golf title in 1977.
"We had one banner, and it was how many years ago?" said Perry, who had 12 points and 13 rebounds in the win. "It's nice to have another banner, and it's nice that it's recent. I'm going to have to come back like every day just to look at it."
Flushing (24-3) was making its first appearance in a girls basketball championship game, and had just one run to the Semifinals (1976) in program history. It entered the postseason not only outside The Associated Press' top 10 rankings in Class A, but also wasn't listed in the "others receiving votes" category.
On the way to the title, the Raiders knocked off No. 4 Midland Dow – which had defeated them earlier in the season – and reigning Class A champion Warren Cousino.
"This whole tournament has been an out-of-body experience for me, and I think for all the other girls," Flushing senior Carson Wilson said. "We're just still trying to comprehend it all. It's a lot to take in."
While Flushing was a veteran team – with four seniors in the starting lineup – it was short on postseason experience, as the program had not made it out of the Regional since 2009. That didn't seem to bother the Raiders on the biggest stage.
"It's the greatest feeling in the world right now, to be able to be part of what these guys have accomplished at Flushing," Raiders coach Larry Ford said. "What they did today and throughout the whole tournament, I think was nothing short of special – almost, probably, divine in some respects. They're a team that stays true to themselves, and they showed that today. Everything for these guys starts on the defensive end, and they let the offense take care of itself."
Lauren Newman led Flushing with 19 points, 13 of which came in the second half. Shelby Morrow added 10 points and six rebounds, while Kamryn Chappell had five assists. Perry added four steals and three blocks.
Corinne Jemison led East Kentwood (26-2) with 12 points, while Mauriya Barnes had seven. East Kentwood shot 28.1 percent from the field, and was held to six second-chance points despite grabbing 18 offensive rebounds.
"We shot very poorly from the free throw line (36.4 percent) and we shot very poorly from the floor," East Kentwood coach Jimmy Carter said. "You're not going to win a game like that against a good team with that type of shooting."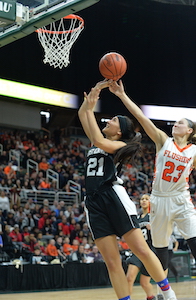 Flushing held a 19-17 lead at the half after getting points from six players, led by six points from Newman.
Aggressiveness on defense and the offensive glass kept the Falcons close in the half, as they shot just 21.4 percent from the field, compared to 47.1 percent for Flushing. East Kentwood grabbed 11 offensive rebounds in the first half, and forced 14 Flushing turnovers. East Kentwood had an 11-5 advantage in points off turnovers at the half.
But in the third quarter, Flushing cleaned things up, both on the offensive glass and in the turnover department, to start to pull away from the Falcons. Perry had seven rebounds in the quarter to spark the effort.
"I think we were a little bit more focused, and effort was part of it," Ford said. "That first half was pretty physical, so we talked about what we had to do at the half – bear down and get a little more physical without fouling. We knew we had to take care of the turnover situation, and I think we cut down our turnover situation."
The Raiders led by as many as 15 points in the fourth quarter, and as the clock ticked down, the student section sang "We Are the Champions," and Ford was able to give his seniors a curtain call.
"I don't think it's really hit me that we are state champions," Newman said. "It kind of just feels like another game in our season. But to achieve that goal and finally get a banner to put up, it's an unreal feeling and it's a great accomplishment for our team."
While East Kentwood didn't get to finish the season with the same feeling, the Falcons were able to lift their program to a place most didn't expect it to be four years after winning just one game.
"I'm really proud of our team," East Kentwood senior Andraya Johnson said. "We went from being an unranked team to being second in the state. That's a pretty big deal even though we didn't win."
PHOTOS: (Top) Flushing's Breanna Perry pushes the ball upcourt during Saturday's Class A Final. (Middle) East Kentwood's Andraya Johnson (21) gets a shot past the outstretched hand of Flushing's Lauren Newman.