Haslett Again Meets Great Expectations
March 20, 2015
By Geoff Kimmerly
Second Half editor 
EAST LANSING – Expectations for Haslett's girls basketball team were set during a run to the Class A Regional Finals a year ago keyed by a lineup that would remain mostly intact for this winter.
Those expectations were fulfilled again Friday at the Breslin Center as the Vikings took a step deeper into the MHSAA Tournament than any team in their program's history. 
Haslett advanced to its first MHSAA Final with a 63-52 win over Benton Harbor, never trailing during the second half while building a lead as large as 14 points.
The Vikings had made the Semifinals only one other season, in 1995. And this return seemed unlikely when one of the core four of seniors was injured midway through the winter. 
"To us, it just means the world, to play for a state championship," said forward Makenna Ott, who missed nine games with a leg injury. "It's us. It could've been another team here. We've worked so hard for this." 
Haslett (22-5) will face Detroit Country Day in the Class B Final at 6 p.m. Saturday.
Ott, the team's leading scorer at 13.2 points per game, missed four of Haslett's five losses this winter, and wasn't at full strength when the Vikings fell to Country Day 57-43 on Feb. 26. 
But if this tournament run has shown how strong the team is at full strength, Friday's win showed how potent the rest of Haslett's lineup is as well.
Ott led with 18 points. But senior forward Karson Tripp added 14 and seven rebounds, senior guard Adrianna Stolicker had 13 points and junior guard Megan Mowid had 11 points, seven rebounds and four steals. Senior point guard Kenzie DeCook added seven points and a team-high four assists, and as a group they played 154 of a possible 160 minutes.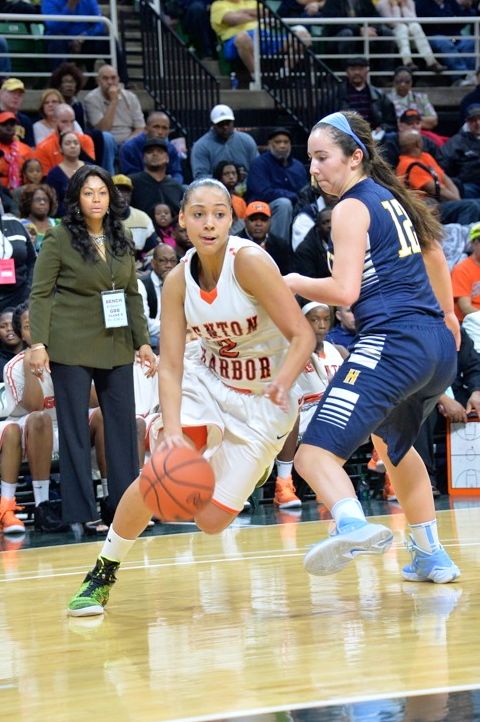 And yet, they sensed they might be tiring Benton Harbor out with a pace the seemed especially frenetic for a team subbing so rarely.
"Their team had so much firepower, I would've liked to see us get a bigger lead earlier so we could relax more and not be quite so worried about every possession," Haslett coach Bob Currier said. "(But) I kept looking behind me at my assistant coach, and I said I think they're more tired than we are. We kept pushing the ball, and that separated us." 
The teams played point for point until Stolicker's 3-pointer with 2:36 left in the first half ignited a 9-0 run to finish the second quarter. Tripp hit a 3-pointer midway through the third quarter to start a 12-2 run that put Haslett up 14 points with eight minutes to play.
Miss Basketball finalist and Michigan State recruit Kalabrya Gondrezick scored 20 points and junior sister Kysre had 17. But Benton Harbor (20-6) shot only 35 percent from the floor – compared to 47 percent for Haslett – and never cut the lead below nine points. 
"I don't know if the atmosphere was euphoric for some. Kysre and Kalabrya are used to this atmosphere as such, but it was the first trip to the final four for this group of young ladies," said Benton Harbor coach Lisa Harvey-Gondrezick, who also is the mother of Kysre and Kalabrya. "We were a little stifled offensively, and I don't think we executed our gameplan well enough."
Haslett entered the postseason ranked No. 8 in Class B and has eliminated three top-five teams over the last three weeks.
The thought that the Vikings had the potential to finish number one may have seemed daunting at times this winter – but giving themselves an opportunity always was part of the plan. 
"We've wanted this from the beginning," Stolicker said. "We knew we were going to do whatever it took to get to this point. It's always been a goal." 
Click for the full box score.
PHOTOS: (Top) Haslett huddles after advancing to its first MHSAA Final. (Middle) Benton Harbor's Kysre Gondrezick works to get around Haslett's Megan Mowid.