Hudsonville Earns Historic Win with Signature Skill
EAST LANSING – Hudsonville head coach Casey Glass is beyond the point where he'll mince words — particularly when it comes to his team's defensive play.
He knows how good his Eagles are.
"It's not a secret anymore, but I think we're one of the best defensive teams in the state of Michigan," Glass said. "We've got kids that come out every day ready to play and D it up."
That was the case for Glass and his team during their Division 1 Semifinal game against Midland Dow Wednesday at the Breslin Center in East Lansing. Hudsonville put on a defensive clinic, holding the Chargers scoreless for the first 6½ minutes of the fourth quarter and limiting them to just 14 second-half points during a 49-35 victory which catapulted the Eagles into the championship game, where they'll face Detroit Renaissance.
"You get Alaina (Diaz) and Eva Joldersma on their two best players, and we really just tried to use a little bit of extra height and athleticism to shut down their two best players and I thought we did a really good job of that," Glass said.
Dow's top two scorers, Alexa Kolnitys and Jada Garner, came into the game averaging a combined 30.6 points per contest. But they were limited to just 14 against the Eagles.
"I feel like most of our game is (about) defense, and every day at practice we push ourselves to play defense," said Diaz, who finished with eight points, seven rebounds and a pair of steals. "We play against each other and push each other to play harder."
Hudsonville led by seven after one quarter and upped its lead to 17-8 moments into the second. But Dow went on a 10-0 run, fueled by a pair of 3-pointers by juniors Kennedy Caldwell and Abby Rey, a putback by Kolnitys and a pair of free throws by Rey, to take an 18-17 lead with 4:32 left in the first half.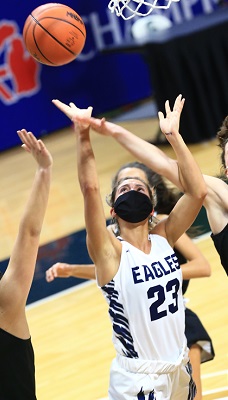 "We make our run in the second quarter, when we hit a few 3s and you get on a roll and take a lead. Then in the second half, we go 0-for-9 from beyond the 3-point line," Dow coach Kyle Theisen said. "All year long, we've said that when we're making shots, we can beat anybody, and when we're missing shots, anybody can beat us. That's what the second half was. We were missing shots. We got good looks at 3s and they didn't go down for us."
For the game, Dow shot just 12 for 46 from the field, including 4 for 15 from 3-point range.
"We don't usually shoot that poorly," Theisen continued. "We got the shots we wanted, but sometimes they just don't go down. I absolutely loved the effort of our girls. I loved the all-out hustle on every play and never giving up.
"Diaz did a good job. We tried to get some switches on ball screens and she did a really good job of getting over the top or underneath on those ball screens. We were trying to attack some of their bigs with our guards, and she made it difficult. She's a really good defender on the ball.
"When you have that much height protecting the rim on the help side, there were no easy points to be had."
Rey led Dow with 13 points, including a pair of 3-pointers. Kolnitys had 10 points and 11 rebounds for the Chargers, who finished their season 22-1.
"Got to give (Midland Dow) credit, they're well coached," Glass said. "Those girls gave everything they had. Fortunately for us tonight, we had a little bit more in the tank."
Hudsonville sophomore Maddie Petroelje led her team with 15 points. Junior Jaci Tubergen had seven points and a team-best 11 rebounds, while senior Emmalynn Costen added six points and 10 rebounds. The Eagles (22-1) will now take on Renaissance (13-4) in Friday's Division 1 championship game, a first-time appearance in the finale for Hudsonville. The Phoenix defeated Wayne Memorial, 75-72, in Wednesday's first Semifinal.
"Renaissance is a team that puts a lot of pressure on you," Glass said. "We're fortunate to have kids on our team that can handle that pressure. We'll get back to Hudsonville, watch some film and get back to the drawing board and come up with a game plan for Friday."
PHOTOS: (Top) Hudsonville's Alaina Diaz (23) makes her move as Dow's Jada Garner defends Wednesday at Breslin Center. (Middle) Diaz works to grab a loose ball while surrounded by Chargers.(Click for more from Hockey Weekly Action Photos.)