Keyser's Final Mission: Lead Bucs Into Title Mix
January 9, 2019
By Tom Kendra
Special for Second Half
Alli Keyser wore a big smile coming out of the locker room Tuesday night, as if she just had completed a career night.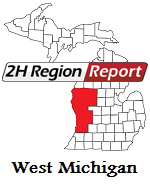 In reality, the Grand Haven senior point guard was coming off one of her worst statistical nights in memory, scoring seven points (on 3-of-16 shooting) with six assists and four steals.
But the smile was a direct result of the Buccaneers' 44-30 win over neighboring and Ottawa-Kent Conference Red rival Holland West Ottawa, which upped their record to a perfect 7-0 on the season.
"At this point in my career, I am just happy when we win," explained the 5-7 Keyser, who started all 22 games for Haven as a freshman and has been the team's starting point guard since. "I was off tonight, but other people stepped up and made up for it, which is great. We are going to need all of us to play well if we want to make a run."
Keyser's individual legacy at Grand Haven is already well-established.
Keyser, who committed to play basketball at Northwood University the summer before her junior year, broke her high school's all-time steals record last month, besting the total achieved by 2003 graduate Julie Henderson. Keyser is also on pace to break Henderson's all-time assists record.
As for scoring, Keyser recently moved past Abby Cole into fifth all-time in school history. If Keyser averages about 11 points per game the rest of the season, she will pass a "who's who" of former Buccaneers greats – specifically Alex Law, Maggie Dwyer, Allison Miller and Emma Veach – and leave as the school's all-time leading scorer as well.
"The ironic thing is that Ally is going to leave here with all of these individual records, but she is the definition of a true team player," said 21st-year Grand Haven coach Katie Kowalczyk-Fulmer. "She is the consummate point guard, always looking to set up her teammates and help them get better. She is an incredibly talented player, but she's a better leader."
Keyser has two specific goals for her senior year: win an O-K Red title and then make a long tournament run.
Grand Haven won back-to-back Class A championships in 2012 and 2013, but since then the Bucs have not been able to advance out of Districts – running into roadblocks of Muskegon Mona Shores (led by 2017 Miss Basketball Jordan Walker) and more recently Muskegon High.
This could be the year the Bucs break through, but it won't be easy with two of the most athletic teams in the state standing in their way.
In the conference, Haven has finished second behind East Kentwood the past two years. The Falcons are loaded once again led by backcourt stars Mauriya Barnes and Alexis McCully.
In Districts, the Bucs lost by one point to Muskegon last year, and the Big Reds appear to be even better this winter with senior point guard and Michigan State commit Alyza Winston. As fate would have it, Grand Haven will play Muskegon on the opening night of the Class A District at Muskegon Reeths-Puffer.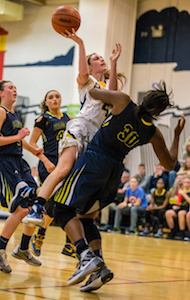 "We have a chance with this group to do some special things," said Kowalczyk-Fulmer, who is assisted by Katie Erickson and Norm Greene. "The problem is we have to beat some great teams to achieve our goals. Right now, we really have to get a lot better in order to do that. Fortunately, the season is a marathon and not a sprint."
All three of those teams – Grand Haven, East Kentwood and Muskegon – are likely to be ranked in the top five when the first state Associated Press girls basketball rankings are released next week.
As has been the case for the past four years, the Bucs' offense is keyed by Keyser.
Keyser, who also happens to be the leader and playmaker for Grand Haven's soccer team, possesses the speed, ball-handling ability and poise to get the ball up the court against pressure from the likes of East Kentwood and Muskegon.
From there, the Buccaneers can hurt teams with their size inside. Seniors Esther Byington (6-3) and Kelly Olthof (6-1), who both missed most of their junior seasons with injuries, are back and healthy and are a formidable 1-2 punch on the interior. Both will play basketball next year at the Division II college level, Byington at Northern Michigan and Olthof at Lake Superior State.
Haven's imposing post presence opens up plenty of 3-point shooting opportunities for junior Jolee Houle and senior Anna Strom.
Houle was on fire Tuesday night, burying five 3-pointers en route to a game-high 21 points. Olthof had a strong game inside with 10 points on 5-of-8 shooting, with a team-high nine rebounds.
"That's my main job as a point guard, is to get everyone involved and then get it to the hot hand," explained Keyser, who has been first-team all-conference the past three years and honorable mention all-state last winter. "It really doesn't matter who it is. We've had games where most of our scoring came from the inside, and other games where it's been outside shooting. We just have to be able to do both, and then we're tough to stop."
It's when Grand Haven gets stagnant or starts struggling that Keyser takes over.
She has been remarkably consistent throughout her four-year varsity career, averaging 15.2 points per game her freshman season and 16.1 points this winter, along with 5.1 steals and five assists per game.
While Keyser's speed, court vision and shooting touch always have been there, the biggest change in her game over the past four years is from a leadership perspective.
"I have become much more vocal," said Keyser, who plans to major in business management at Northwood. "I was quiet as a freshman and sophomore and didn't want to overstep my bounds. Now I'm more comfortable speaking up."

Tom Kendra worked 23 years at The Muskegon Chronicle, including five as assistant sports editor and the final six as sports editor through 2011. E-mail him at kendra.tom@gmail.com with story ideas for Muskegon, Oceana, Mason, Lake, Oceola, Mecosta and Newaygo counties.
PHOTO: (Top) Grand Haven's Alli Keyser pushes the ball upcourt, a frequent occurrence during her four seasons as a starter. (Middle) Keyser makes a strong move to the basket. (Photos by Tim Reilly.)