Lakes 'Family' Ready to Run Again
December 13, 2018
WATERFORD – Waterford Our Lady of the Lakes has taken a big step forward and become a perennial state power in girls basketball since Steve Robak became the coach before the 2007-08 season.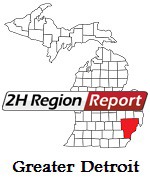 Robak guided the Lakers to a Regional Final that first winter and a Quarterfinal appearance in 2009 before Our Lady went on to play in its first MHSAA Final in the sport – and tie the Class D girls basketball record with three straight titles. The Lakers followed that run by losing in the 2013 championship game.
Although Our Lady hasn't reached a Final since, the Lakers have been to the Semifinals three times (including last winter) and as far as the Quarterfinals on another occasion. The only season the Lakers haven't won at least a District title under Robak was 2013-14.
Any coach who has experienced similar success will tell you it takes a certain amount of talent to reach this level. Robak is no different. But at this Detroit Catholic League school, you'll find achieving such success goes far beyond talent.
Our Lady of the Lakes offers a community aspect to the high school experience that only a few small public and non-public schools provide. The students and faculty are like family, no more so than for Robak and his extended family.
Robak, 51, is a graduate of Our Lady and attended school there for 12 years, from 1st-12th grade. The school offers students a K-12 education and is one of four within the Catholic League to do so, along with Allen Park Cabrini, Dearborn Divine Child, Royal Oak Shrine and Clarkston Everest Collegiate. Thirty or 40 years ago this was quite common within the Detroit Catholic League. It isn't so now and makes places like Our Lady rare, a fact not lost on those who attend or work within a parish school.
Vic Michaels is the director of athletics for the Detroit Catholic League, and in the 1980s was the boys basketball coach at Center Line St. Clement when it was a parish school.
"Years ago there were a lot of schools like that," he said. "It's a comfortable environment. You have the support of the parish. The kids continue through high school and, yes, you will get some new students. But (your) classmates, for the most part, remain the same."
Robak is the oldest of seven children, all of whom went to Our Lady of the Lakes.
"There's a real comfort there," Robak said. "You've been friends for seven or eight years before you get to high school. We've had some come in the ninth grade, but it's a small number. We've had two transfers in our program in my tenure.
"When you're at a parochial school, (and people say), 'Oh, you recruit.' That doesn't happen here. Our players come up through the system. That's not to say we haven't had some go on to play in college. I'm not a travel-AAU guy at all. A good athlete will be found no matter where you play."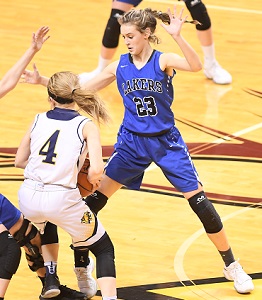 Another word that's often associated with a winning program is stability. When Robak took over the program, his brother Paul came on as an assistant before switching to take over the boys program six years later. Replacing him was Tim Ross, the Robaks' brother-in-law. Last season Paul returned to the girls program as an assistant.
We're just starting with this family thing.
Steve had two daughters play for him: Lauren, a 2011 graduate, and Lexie, who graduated two years later. Both were all-staters. Ross had two daughters come through the system, Lindsay and Megan. And not to be left out, Paul's oldest daughter, Brooklyn, is a sophomore on the team this season and one of the top players. Paul has another daughter, Elli, but she's still in grade school. Another niece, Maria Oliver, is a freshman on the team.
Want more? Steve has two more daughters, currently in grade school, who are expected to be a part of the program in the future.
And therein lies a big reason for the program's success. The students are in the same building from the elementary level through high school. The younger ones look up to those on varsity, and the coaches at all levels are on the same page teaching the same system.
"We get to the younger coaches, showing them how to teach our younger kids through clinics and stuff," Steve said. "A lot of times volunteers are needed. When you have coaches who have the same philosophy, it helps. Also, winning helps. Winning has helped get kids out who might not have played."
This season the Lakers are in a bit of a transition. Three starters graduated and there are just two seniors, two juniors and no junior varsity. Our Lady is 0-3 having lost to Flint Hamady, Romeo and Harper Woods Chandler Park, all from higher enrollment divisions, with a combined record of 9-1.
Isabelle Kline started playing basketball at Our Lady when she was in 6th grade. Kline rarely missed a varsity home game while in grade school and noticed the high level of determination those players displayed – which she said played a major role in her work ethic and development.
Now a junior, Kline, a three-year varsity player, is one of two starters returning. She said even though there isn't a lot of experience, the team is progressing despite a slow start.
"We have a young team but the transition has been very good," she said. "We've been bonding as a team.
"We came into (the game against Romeo) with our heads low, and that wasn't the right thing to do. But we played incredible. We were talking on defense. It was a team effort. We played great team defense.
"We knew those (first three) teams we're really good. When we saw who we were playing it was like, 'Steve, what are you doing?' But we played a tough (nonconference) schedule last year with Detroit Country Day and (Ypsilanti) Arbor Prep and we made it to the semis. We know we have to play good teams to get better."

Tom Markowski is a correspondent for the State Champs! Sports Network and previously directed its web coverage. He also covered primarily high school sports for the The Detroit News from 1984-2014, focusing on the Detroit area and contributing to statewide coverage of football and basketball. Contact him at tmarkowski@statechampsnetwork.com with story ideas for Oakland, Macomb and Wayne counties.
PHOTOS: (Top) Our Lady coach Steve Robak (standing) directs his team during last season's Class D Semifinal against Chassell at Van Noord Arena. (Middle) Isabelle Kline (23) blocks a path as the Panthers look to push the ball up the floor.