Lenawee Christian's Title Time Arrives
March 17, 2018
By Geoff Kimmerly
Second Half editor
GRAND RAPIDS – As daughter of the coach and sister of the star, sophomore Dani Salenbien was in unique position to forecast the success of this season's Adrian Lenawee Christian girls basketball team.
She knew one thing for sure.
"I know we can do anything when we play together," Salenbien said. "We're fighters and we haven't stopped fighting this whole season, so I'm proud of every single one of them."
Two days after freshman sister Bree sank a last-second overtime shot to send their team to the championship game, Lenawee Christian won it. The Cougars caught fire during Saturday's second half to claim their first MHSAA girls basketball title with a 57-36 win over Chassell at Van Noord Arena.
Lenawee Christian previously had finished Class D runner-up in 2010 and was making its first trip to Finals weekend since that title game run. The Cougars capped a season that saw them finish 26-1, with their only loss by one point to Class A Monroe.
They had only one senior on the roster, and 51 of their points Saturday were scored by Bree Salenbien or sophomores.
"Three or four weeks ago, we started hitting our stride a bit," said Lenawee Christian coach Jamie Salenbien, who's also Bree and Dani's father. "And I told Coach, 'Wow, something good is happening.' They're jelling well, the chemistry's good, they're sacrificing for each other, and to boot we were getting a lot of progress as far as the skill level goes – shooting, ball handling and passing. It all got crisper.
"And we peaked at the right time, so we're just really thankful for that."
Leading by a point at the break Saturday, Lenawee Christian went on a 19-7 run over the final 7½ minutes of the third quarter to build a 13-point lead. The Cougars then held Chassell to only four points – on 20 percent shooting – during the fourth quarter.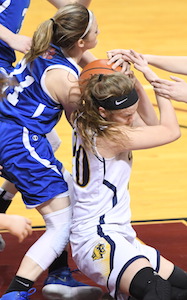 Bree Salenbien, the team's leading scorer this winter at more than 21 points per game, left the floor briefly during the first half after twisting an ankle. The 6-foot-2 guard finished with 20 points and 11 rebounds – and despite hitting only 7 of 21 shots from the floor. She disrupted Chassell's defense just by being out there and opening up space for teammates.
Sophomore Libby Miller added 11 points, while Dani Salenbien and sophomore Caitlin Anderson both scored 10. Salenbien had six assists and five steals, and Anderson grabbed seven rebounds.
"We kinda let her control a little bit of the second half. I felt like we scrambled a little bit, over-helping and not getting back where we needed to be – we had too much help and not enough on-the-ball defense," Chassell coach Brandi Hainault said.
"I felt we had momentum from the first half into the second half. They hit some big shots, and we weren't hitting ours, and eventually you dig yourself a hole."
Senior center Sydney Danison led Chassell (26-2) with 17 points, seven rebounds and three blocked shots, showing sharp post moves especially early on. Senior guard Milly Allen, also a Semifinal star Thursday, added 10 points.
Chassell was making its first MHSAA championship game appearance in girls basketball and first in either girls or boys since 1958.
"They've done something no other Chassell team had done," Hainault said. "They're a team that deserves to be here, and I couldn't be prouder of what they've done.
"The first time being here, it's a great thing. I couldn't ask for anything more, except maybe the win. It's a hard thing – these girls played with a lot of heart, played with a lot of hustle and did the right things. A lot of our mistakes just cost us the game today."
PHOTOS: (Top) Lenawee Christian celebrates its first MHSAA girls basketball championship after claiming Saturday's Class D Final. (Middle) Chassell's Sydney Danison and Lenawee Christian's Brooke Brinning battle for possession.