Marshall Believes, Earns Title Game Trip
March 18, 2016
By Geoff Kimmerly
Second Half editor 
EAST LANSING – Believe it. Marshall will play Saturday for its first MHSAA girls basketball championship.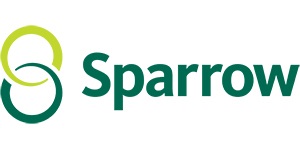 But only because the Redhawks believed they would – all the way through two free throws with 1.4 seconds to play that made it so. 
Junior Nikki Tucker was "a little nervous" when the future of her team's best season in more than 30 years fell to her ability to make a free throw – and hopefully two – with Marshall trailing by a point and barely a second left on the clock.

What transpired next cemented the final few moments of Friday's Class B Semifinal against Bay City John Glenn among the series of finishes that are remembered annually this time of year, and sent Marshall into Saturday's championship game with a 43-42 win.
"My teammates talked to me and my coach talked to me, and I realized that I could do it," Tucker said. "Jill (Konkle) told me, "Nikki, you do this every day in practice.' And I said, 'Yeah, I do.' I knew there would be no doubt I was going to put them in, and we were going to win, because that's what I needed to do to win and that's what we were going to do."
Marshall (25-1), ranked No. 7 heading into the postseason, will take on No. 3 Grand Rapids South Christian at 6 p.m. Saturday in its first Final since finishing Class B runner-up in 1981. 
Redhawks coach Sal Konkle was a player on that team, and her words before and during Friday's game prodded her players to believe they could make it to Saturday, even if, as she said after, "almost every other fan in here, any basketball junkie, would say that Marshall wasn't going to win."
That may have been a bit of an exaggeration, but it's tough to argue with her assumption. Although both teams had only one loss entering the postseason, John Glenn (25-2) had beaten the top-ranked team in Class A, Southfield Lathrup, and went on to beat three top-10 Class B teams on the way to Breslin. The Bobcats' only loss before Friday came against Ypsilanti Arbor Prep, which will play Saturday for the Class C title.
And John Glenn featured three players who could star on most teams in Michigan, including Miss Basketball finalist Cassidy Boench – who nearly ended the Semifinal as the crunch time hero.
"She was huge. I don't know how many of (her rebounds) were in that fourth quarter, but quite a few," said John Glenn coach Cory Snider of the 6-foot-3 Boench and her 16 rebounds, including six during the final period. "I thought that she had to play with a little bit of a different attitude early on in the game when she got in foul trouble. That took away some of her aggressiveness, her ability to go get rebounds. And then when she made it through the third quarter with still only three (fouls), she was able to become a little more aggressive and I thought that that showed in her rebounding."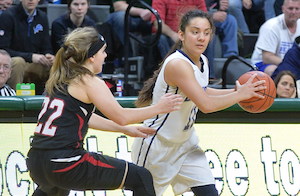 Neither team led by more than four points over the final 14:53 of the game, with John Glenn holding that advantage with 3:56 to play. Junior guard Taryn Long made a 3-pointer to pull Marshall within one, and Tucker's basket with 42 seconds left put the Redhawks ahead by a point.
But Tucker's foul with 14 seconds left sent Boensch, attempting a putback, to the line for two free throws – and she made both to give the Bobcats the one-point advantage at 42-41.
"We practice those all the time in our gym, and I just cleared my head I guess," Boensch said. "I knew that my team had my back no matter what, so (I) just focused."
Marshall's ensuing inbounds pass fell back out of bounds off a John Glenn player. The Redhawks eventually got the ball into Jill Konkle's hands, and her last-second layup attempt bounced in and out of the basket – but Tucker was there to gather the rebound and draw a foul, this time from Boensch who was going for a block.
The rest is Finals history.
"I told the girls, 'After Nikki makes these, don't foul.' Plain and simple," Coach Konkle said. "I was confident she was going to make them. And honestly, if we wanted anybody at the line, it's Nikki."
John Glenn's final shot of the game fell short.
Tucker, only a 61-percent free throw shooter heading into the week, made 5 of 6 Friday and finished with 14 points and seven rebounds. Long added 10 points.
Senior guard Jenai LaPorte, who will graduate as John Glenn's all-time leading scorer, added 16 points to her total. Boensch had 14 points.
"It's been a crazy run in the tournament this year. I think it's even better knowing that we're going to the state finals and a lot people didn't think we could do it," Tucker said. "Everyone's like, 'Oh, where's Marshall?' Well, we're in the state finals now."
"You just want your kids … to experience what you experienced in high school," Konkle added. "Going to the state finals was one of the best experiences I ever had. Mind you, we lost, and these guys are going to see to it that we don't lose. … (But) the fact that we're in the state finals is something these guys have dreamed about forever. I've dreamed of it for them, and now they're making it come true."
The Girls Basketball Finals are presented by Sparrow Health System. 
PHOTOS: (Top) Marshall players surround Nikki Tucker after her free throws sent the Redhawks to the Class B Final. (Middle) John Glenn guard Kalle Martinez (11) looks to get past Marshall's Jill Konkle.