Miller Twins Push Each Other to Greatness
February 27, 2019
The toughest defender Sarah Miller has ever faced on a basketball court has been with her since birth.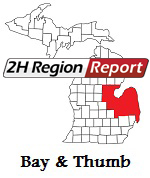 This isn't going to be about the Birch Run junior facing down personal challenges or looking into the mirror to stare down her greatest opponent. In fact, despite the fact she's her twin, Emmaly Miller is not at all a mirror image of her sister. She's just that good on defense.
"She's very, I don't know the word to say – she's feisty," Sarah Miller said. "(Playing against Emmaly) in practices, it makes me move more without the ball, and that definitely benefits me in a game, helps me get open. She also gets in my head really easily. She knows how to tick me off."
While it may make for some laborious practices, it's also helped create the school's most prolific scorer. Sarah Miller set the school record for career points this past Friday in a win against Essexville-Garber, reaching 1,380. It's a remarkable feat considering she still has the postseason and her entire senior year to add to the record.
Or maybe it's the other way around, and it's created an incredible defender in Emmaly Miller, who has been tasked with guarding the opposition's best offensive player for much of her career, and has thrived in that role.
Or maybe it's both. Either way, when it comes to a game and they aren't forced to compete against one another, it's helping Birch Run.
"I always call it twin telepathy," Birch Run coach Dan Kramer said. "They play a lot of those Gus Mackers in the offseason, and they know each other's tendencies. They play really well with one another. We have a couple plays that they read each other so well on. We run one play with them, we actually call it 'money,' and eight out of 10 times, it's two (points). It's amazing."
The Panthers are 12-8 on the season, and begin Division 2 District play March 6 against the winner of Monday's Caro/Bridgeport opener. 
The team got off to a slow start, losing its first three games while it attempted to find a new way to play, and Sarah Miller struggled with a foot injury. The Panthers won 11 of their next 14, however, and are playing well headed into the postseason.
"We beefed up our schedule a little this year to help us prepare for the Districts and the league," Kramer said. "We really had a tough time defending the post early in the year. We have no size; we just have them go and try to beat (the opposition's) bigs up the floor. They're learning."
When changing things up, it's nice to have a set of talented twins to help usher it in. Emmaly Miller is the team's point guard, while Sarah Miller plays as a two-guard and a wing. It's a combination that has proven fruitful for the Panthers.
"This might be weird, but we always say we have some sort of telepathy going on," Sarah Miller said. "I feel like when I go somewhere, she'll know where I'm going to be. I can move without the ball, and she'll find me. Emmaly is always the person who will find the open girl. She always knows where somebody is going to be. Her view of the floor is phenomenal."
The Miller twins may be proof that the twin thing is actually a thing. Because as in sync as they are on the court, they're not exactly on the same page off it.
"Her and I are polar opposites," Sarah Miller said. "She ran cross country (as a sophomore), I play volleyball. She doesn't really like basketball – well, she does, but she tells people that she doesn't. Emmaly is super interested in history, and I think history is the most boring thing in the world. I love math, she – she just shook her head, she hates math. Emmaly likes rap, I like country. There are so many other things we don't have in common. Every time we're in the car, there's always an argument."
Emmaly Miller is more interested in track & field. As a sophomore, she was an MHSAA Finals qualifier and the Tri-Valley Conference East champion in the 400 meters. 
Still, she was a varsity basketball player as a freshman, even if she wasn't sure she belonged at first.
"It was very intimidating, and I felt like a lot of the reason I was on varsity was because they pulled Sarah up and didn't want to separate the twins," Emmaly Miller said. "It took a while before Kramer was like, 'No, you belong here.'"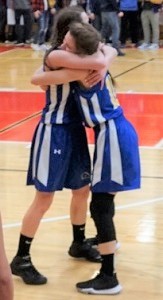 Kramer said that he saw something in Emmaly early on that gave him the confidence she could compete at the varsity level in her first year.
"Emmaly had never played point guard, and we brought them both to team camp in Charlevoix and we could not get anyone to keep from turning it over," Kramer said. "I said, 'Emmaly, run the point,' and we saw flashes and kind of turned her into a point guard. It's not her natural position, but she's so fast, she can turn girls inside out. She's tough to stop when she puts her mind to it."
Kramer said his team is at its best when Emmaly Miller is being more aggressive and taking as many as 10 shots per game. Getting into that mindset is a bit more difficult for her.
"I've definitely had confidence issues when it comes to shooting," she said. "I really don't like doing it that much in general. However, I do know that I am most likely the fastest person on the court, so getting past defenders is pretty easy for me."
It's the defensive end where Emmaly Miller shines the most, however.
"You don't want her guarding you, because she will shut you down," Kramer said. "That's the one thing we have that those other teams don't have, is Emmaly Miller. If Emmaly played Sarah, I think she would hold her to half of what she scores."
Fortunately for the Panthers, that can happen only in practice, and Sarah Miller has been scoring on everyone for the past three years. She flashed onto the scene immediately, scoring 17 points in the first half of her first game as a freshman.
"Literally, the second game of summer camp, I told my assistant, 'She's going to be first-team all-conference her freshman year,'" Kramer said. 
He was right, and as a sophomore, Sarah Miller was named all-state in Class B by The Associated Press. She's averaging nearly 25 points per game this season and has 2,000 career points in her sights.
"I had no idea I was going to break (the school record), so when they announced it, I was shocked," Sarah Miller said. "I'm obviously not done yet, and I know I've completed something, but there's more I need to do. I'm definitely going to try to push myself to get 2,000 points. I think that's something I can accomplish having Emmaly with me and that bond we have."
Sarah Miller recently committed to play basketball after high school at Saginaw Valley State University. She's excited to have that out of the way, and for the future. 
Despite all their differences, and the fact they sometimes want to fight each other in practice or while picking music in the car, she's not as excited about the very real chance it could mean she and her sister will go their separate ways.
"We were talking about it last week, and I just started crying," Sarah Miller said. "She wants to go to Michigan State, and I said, 'If you're going to Michigan State, we're going to be so far apart.' It's hard to take in. She's my twin, and we've been together since we were in the womb."

Paul Costanzo served as a sportswriter at The Port Huron Times Herald from 2006-15, including three years as lead sportswriter, and prior to that as sports editor at the Hillsdale Daily News from 2005-06. He can be reached at paulcostanzo3@gmail.com with story ideas for Genesee, Lapeer, St. Clair, Sanilac, Huron, Tuscola, Saginaw, Bay, Arenac, Midland and Gladwin counties.
PHOTOS: (Top) Twins Emmaly (left) and Sarah Miller make up a talented backcourt for Birch Run. (Middle) The sisters share a quick hug during a game this season. (Photos courtesy of the Birch Run girls basketball program.)