Munising Neighbors Share In Successes
February 28, 2017
By Dennis Grall
Special for Second Half
MUNISING – It would be hard to believe there are many more accomplished neighboring homes than those of Marissa Immel and Frankie Mattson in Munising.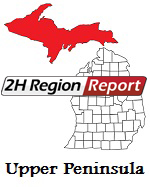 Between them, the Munising High School seniors are both 4.0 students, share their class' top spot academically, and will graduate with a combined 41 varsity athletic letters, a staggering 21 by Immel.
Both serve on a variety of clubs, with Immel on the MHSAA Student Advisory Council that requires her to travel some six hours each way to Lansing once a month. And they hope to lead the Mustangs downstate together to finish this basketball season, with the first step a Class C District opener Wednesday against Ishpeming.
"We've been able to push each other through the years to be the best we can be," said Immel. "We really try to manage our time the best we can. We plan things out ahead of time.
"Sports mean a lot to me. It is something my family values. School comes first, then sports. It teaches a lot of life lessons, and it is really fun to participate and learn new things."
The connection began before they were born.
Their mothers, Bette (Jahn) Immel and Carrie (Hamilla) Mattson, played on rival teams during high school, at Manistique and Munising, respectively. Immel was the girls basketball coach for grades 3-6 and her husband Dale was coach for grades 7-8, with Frankie's dad Matt their high school basketball coach.
Both girls topped the 1,000-point scoring mark this season, and the passes that put them into that club came from each other. Mattson, a center, is approaching 1,000 career rebounds. Immel is the team's point guard.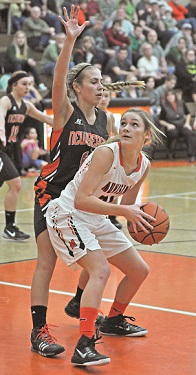 The athletic success they have shared is incredible. Their basketball team finished the regular season 20-0 and ranked No. 1 in the media's Upper Peninsula Class A-B-C poll. Both were part of two U.P. Finals tennis titles, Mattson at No. 1 singles and Immel at No. 2 doubles. That tennis success was difficult because Munising has just two courts in town and all the meets are on the road.
They also helped the Mustangs collect four volleyball District titles and three Regional track & field titles, with both earning all-state in the latter.
Both girls played five varsity sports each year, Immel going one-up in letters by running cross country – as a freshman in 2013 she was individual runner-up at the U.P. Division 3 Final as Munising won the team title. Both girls also play golf.
With an enrollment of just more than 200 students, Munising allows athletes to play two sports in the same season to increase participation – but they must pick a sport as their priority for when both teams have events on the same day.
Mattson said the neighbors "hang out all the time. We go to open gyms; we lift weights together. I see Marissa as a support system, and that helps us get through everything we do."
They go to meetings together – both are in Key Club and student council (Mattson is vice-president, Immel is treasurer) – and Immel is president of the school's National Honor Society chapter while Mattson is secretary. Both have earned all-state recognition from the Basketball Coaches Association of Michigan and both serve on the Alger Regional Community Foundation youth advisory council.
"We have meetings for our clubs, we practice every day. You're only in high school once, so you might as well do what you can," said Mattson.
Basketball is the favorite sport for both girls. "We have played together for so long (since first grade) that I know what she is thinking, and the same thing with her," said Mattson. "It has helped our bond. I put all my trust in Marissa to run plays. It is so awesome that I can depend on her."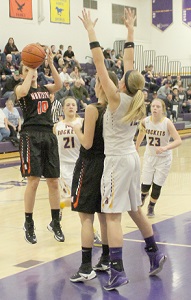 The key to their basketball success, said Immel, is "our whole team came together and we support each other. We try to get everyone involved. Our whole team participates in our success."
Mattson knew the pass from Immel set up her 1,000th point, but did not realize her pass to Immel for 1,000 did it until the crowd began celebrating. "It was awesome," she said.
For point guards, like Immel, reaching 1,000 points does not happen as often because that position requires more passing than shooting. "We move it around a lot," said Mattson. "She's very gracious with her passes, and she shoots when she's open.
"The key to basketball is we have all matured and we're seniors. We're here to show everyone what we have been working for the last couple of years."
Having her father as head coach helps make all the success more special. "It is honestly awesome, knowing he is my support system at home and on the court," she said.
They will bring the game home and talk about team and individual aspects and look at film together. "There is no harm talking about good things or bad things. There is no tension between us," Mattson said.
Immel said "it is crazy to think that we're almost done with all these sports. It will be different without having that much going on in our lives."
Immel plans to join her sister Katie at Michigan State University and possibly study speech pathology. Mattson plans to attend either Michigan Tech or Central Michigan for an educational degree.
Another classmate, Bailey Downs, also has earned 20 varsity athletic letters.

Denny Grall retired in 2012 after 39 years at the Escanaba Daily Press and four at the Green Bay Press-Gazette, plus 15 months for WLST radio in Escanaba; he served as the Daily Press sports editor from 1970-80 and again from 1984-2012, and served as interim sports editor during most of the 2016-17 school year. Grall was inducted into the Upper Peninsula Sports Hall of Fame in 2002 and serves as its executive secretary. E-mail him at sportsdenesky@gmail.com with story ideas for the Upper Peninsula.
PHOTOS: (Top) Munising's Frankie Mattson (left) and Marissa Immel stand with posters celebrating their 1,000th career points scored this season. (Middle) Mattson works the post during a 2015-16 game against Newberry. (Below) Immel puts a shot up over the outstretched hands of a Rapid River defender. (Top photo courtesy of the Immel family, action photos by the Marquette Mining Journal.)