Newaygo Eyeing Another Playoff Run Led by Crew That's Been There
December 2, 2021
NEWAYGO - Newaygo made a "Hoosiers"-like run to the Division 2 girls basketball championship game in April, but in its first game back Tuesday, the Lions found themselves trailing at halftime.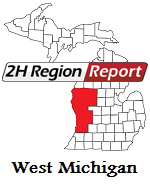 Time for seventh-year Newaygo coach Nate Thomasma to peel the paint off the locker room walls?
Nah.
"We were in there about three minutes," laughed Thomasma, who returns five of the eight players from last year's magical team. "I just told them we need to do this, this and this and, if we do, then our shots will start falling."
The Lions must have done those three things, as they outscored visiting Shelby 29-7 in the second half to turn a one-point halftime deficit into a comfortable 47-26 nonleague victory.
Over the final 16 minutes, the Lions looked like a team that could make another tournament run like last season's, which didn't end until a 52-32 Finals loss to Portland at Michigan State University's Breslin Center.
Newaygo got the state's attention in 2020 with a stunning upset of No. 5-ranked Grand Rapids Christian in the Regional Semifinals on a long-range, 3-pointer from then-sophomore Jaxi Long with six seconds remaining. That excitement was wiped away quickly, as the season ended abruptly the next day due to the COVID pandemic.
The "Little Lions" with their eight-player roster picked up right where they left off last postseason, knocking off perennial powers Grand Rapid West Catholic in Regionals and Detroit Country Day in the Semifinals at Van Andel Arena, before running out of gas in the championship game.
It was a ride to remember for the town of 2,471 residents, located about 30 miles northwest of Grand Rapids, which has just two state championships in school history – won by the back-to-back Class C girls basketball champions in 1985 and 1986.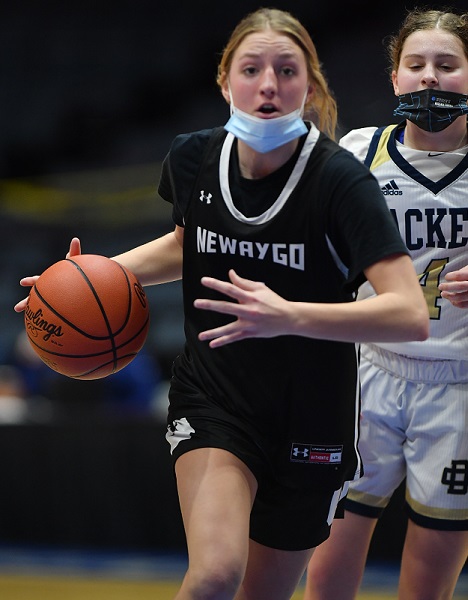 The Lions are back at it again with a 10-player roster, including five starters who were part of last year's team – senior forwards Emmerson Goodin, Kayla Fisk and Lily Swinehart, senior guard Jaxi Long and junior guard Grace Painter.
"I really think we have a chance to go just as far," said Long, whose older sister Jaylee was the star last year and is now getting increasing minutes on the varsity team as a freshman at Cornerstone University in Grand Rapids. "We need to play great defense, rely on each other and trust our abilities."
Jaxi Long showed the ability to heat up from long range, nailing five 3-pointers and scoring 16 of her game-high 24 points to key the second-half run and bring the excited student section in "The Jungle" to its feet. Long added six rebounds and three steals.
As good as Long was after halftime, it was the 5-foot-10 Goodin who kept Newaygo close in the first half, scoring 10 of her 15 points before the break. Goodin grabbed a game-high nine rebounds (putting her over the 500-career rebounds plateau), along with three blocked shots.
Long and Goodin are the captains and unquestioned leaders of this year's team, which played elevated competition this summer after the Finals appearance, including a demanding week at Grand Valley State's team camp.
"It felt like we had a target on our backs and that everyone was coming for us," said Goodin, who was also one of the standouts on Newaygo's volleyball team this fall, which won a District championship. "We learned how to fight back. It made us a lot better playing those bigger teams that we are not supposed to be able to beat."
Goodin is the team's top returning scorer (13 points per game) and rebounder (nine per game). Long averaged 11 points, five assists and four rebounds last year.
Fisk could be the "X factor" on this year's Newaygo team, with her 5-10 height and long wingspan making her a disruptive force on defense, particularly on the point of the Lions' halfcourt trap. Fisk finished Tuesday's game with six points, six steals and four rebounds.
Thomasma, who received honorable mention Division 2 Coach of the Year recognition last season, knows he has a seasoned, veteran team this fall – with four of the team's five starters being seniors – while all five players on the bench are underclassmen.
"He is positive, and his criticism is always constructive criticism," said Goodin. "He gets after us, but he doesn't just yell at us for no reason."
Newaygo entered last year's postseason unranked, before reeling off a series of upsets. The Lions finished 14-0 in the Central State Activities Association Gold and 21-2 overall, with both losses coming against Portland.
Newaygo celebrated its runner-up finish with a new banner for the gymnasium, which was unveiled before a football game Sept. 24. Since that time, Thomasma has tried not to look back.
"These girls are confident because of the success we've had the past two years," said Thomasma, who is assisted by Dan Maki. "But this is a new season. We're going to attack it and make our own legacy."

Tom Kendra worked 23 years at The Muskegon Chronicle, including five as assistant sports editor and the final six as sports editor through 2011. E-mail him at kendra.tom@gmail.com with story ideas for Muskegon, Oceana, Mason, Lake, Oceola, Mecosta and Newaygo counties.
PHOTOS Newaygo's Jaxi Long (13) directs her teammates during last season's Division 2 Semifinal win over Detroit Country Day. (Middle) Kayla Fisk brings the ball up court at the Breslin Center. (Photos by Hockey Weekly Action Photos.)