Next Win Will be 500th for Ida's Leonard
November 30, 2018
By Doug Donnelly
Special for Second Half
IDA – There are ups and downs in everyone's coaching career. Unless you are Tim Leonard.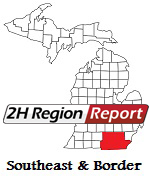 Leonard starts his 28th season as head coach of the Ida High School girls basketball team Tuesday. With a win at home against Monroe Jefferson, Leonard would join the exclusive 500-win club.
The Bluestreaks varsity won at least 12 games every one of his first 27 seasons at Ida. His record is a shiny 499-112.
"That's a credit to our kids and coaching staff," said Leonard. "Through all of the years, all of our kids have worked hard for everything. They've come to practice every day, and they have played hard."
Leonard is a retired Michigan State Police detective who started coaching at Ida, his alma mater, in 1986 when he was hired as the boys freshman basketball coach. He took over the Ida junior varsity boys the following season and coached them for 15. 
In the meantime, he coached Ida's 8th-grade girls team in 1989 and 1990 and got the Ida girls varsity job in 1991. Ida went 22-2 that season, winning a Class C District crown and the Lenawee County Athletic Association championship.
It was a sign of things to come for Leonard and Ida.
In the years since, his accomplishments have been remarkable:
16 LCAA titles

10 District championships

2 Associated Press Coach of the Year awards
Leonard said basketball was a sport he always had loved. He's grateful he was able to coach while working for the state police.
"I think a lot of people get into law enforcement for some of the same reasons they get into coaching or educating kids," Leonard said. "It's because of a desire to work with young people, to guide them, to help them along the way."
As a detective, Leonard would often deal with cases in which children were not always in the most positive light. Coaching, he says, helped counter that.
"Coaching definitely allowed that balance for me," he said. "In law enforcement, you are often dealing with the negative side. Coaching allows you to work with kids that are doing positive things."
Ida has done a lot of positive things over Leonard's tenure. He's become the winningest girls basketball coach in Monroe County history. His 1999 Bluestreaks hold the school record for wins with 23. The 2016-17 team was his latest to win 20 games when it went 20-3. That was the 11th time in his career that Ida won at least 20 games.
"I'm pretty proud of the fact that in our down years, we still were able to win 12 or 14 games," he said. "The girls just always seem to buy into what we are teaching them."
Leonard hasn't been afraid to change with the times. In his early coaching days, his teams were known for a fast, get-up-and-down-the-floor pace with full-court, man-to-man defense. As different athletes cycled through the Ida program, Leonard was able to adapt to fit the strengths of his roster.
"To be successful, one of the things you have to be willing to do is change," he said. "You have to figure out what suits the kids the best. We've been pretty flexible throughout the years."
In the last few years, Ida's transitioned from the full-court press to a 2-2-1 zone press. It's been a subtle change, but the success has continued. Ida is the reigning LCAA champion and has won three consecutive District crowns. Ida will play in Division 2 this season.
This winter, Ida returns just one starter in Taylor Wegener, but has experienced players coming back along with athletic newcomers. Opponents aren't expecting anything easy when they take on Ida.
"This year is going to be interesting," Leonard said. "We are still learning, still adjusting. We're still getting our legs under us. It might take a little while, but I think it will come together."
After Leonard retired from the state police, he became Ida's athletic director, a position he still holds. He's also turned basketball into family – his daughter Anne, who was a 1,000-point scorer at Ida, and son Chris are assistant coaches.
While the victories have piled up, Leonard said it's never been about that.
"It's certainly not about the wins and losses," he said. "It's definitely to make a difference in young people's lives, to mentor and help the kids mature. That's what it has always been about."

Doug Donnelly has served as a sports and news reporter and city editor over 25 years, writing for the Daily Chief-Union in Upper Sandusky, Ohio from 1992-1995, the Monroe Evening News from 1995-2012 and the Adrian Daily Telegram since 2013. He's also written a book on high school basketball in Monroe County and compiles record books for various schools in southeast Michigan. E-mail him at DougDonnelly@hotmail.com with story ideas for Jackson, Washtenaw, Hillsdale, Lenawee and Monroe counties.
PHOTO: Ida girls basketball coach Tim Leonard instructs one of his players. (Photo by Tom Hawley.)